Novak Djokovic vs Rafael Nadal LIVE: French Open 2021 semi-final latest updates from Roland Garros
It's here, Novak Djokovic vs Rafael Nadal meet again in a colossal French Open 2021 semi-final.
This is one of the all-time great rivalries in sport, with Djokovic holding a slight advantage overall, leading 29-28 in the head-to-head.
But it is the Spaniard who holds an overall advantage head-to-head in Grand Slams, 20-18. With the reigning champion at Roland Garros naturally holding a dominant record on the clay in Paris over the Serbian, leading 13-1.
"Let's face it, it's the biggest challenge that you can have playing on clay against Nadal on this court in which he has had so much success in his career," Djokovic remarked, not mixing his words or downplaying the challenge in front of him. "In the final stages of a Grand Slam, it doesn't get bigger than that."
The pair have won 38 Grand Slam titles between them, and Djokovic is bidding to become the first player of the Open era to win every Grand Slam at least twice.
While Nadal is looking to extend a ludicrous record of 13 successive titles at Roland Garros, with his staggering record of 105 wins from his 107 career matches. The famous defeats came in 2009, losing to Robin Soderling 2-6 7-6(2) 4-6 6-7(2) in the 4th Round, while Djokovic did get the better of him on the clay in 2015, winning 7-5, 6-3, 6-1, but he would ultimately lose in the final to Stan Wawrinka, though redemption came a year later with the title in 2016.
"We know each other well. Everybody knows that in these kind of matches anything can happen," Nadal said after sweeping past Argentine 10th seed Diego Schwartzman in the quarter-finals. "The player who is playing better that day is the player that is going to have better chances. That's it.
"It is going to be an important match for both of us. But is a semi-final, not a final. That's a big difference. Even the winner of that match needs to keep going and there remains a lot of work to do to try to achieve the final goal here."
Please follow live updates from the conclusion of Alexander Zverev vs Stefanos Tsitsipas, before the main event of Djokovic vs Nadal.
Read more:
Rafael Nadal responds to rare drop of set to reach French Open semi-finals
French Open: How to watch Nadal vs Djokovic semi-final online and on TV today
Rafael Nadal and Novak Djokovic set for 'great battle' in French Open semi-final
Zverev* vs Tsitsipas 3-6 3-6 6-4 6-4 2-5 (*denotes last server) – Tsitisipas into the French Open final
Ace from Zverev to kick off the game. He is then undone though with a lovely slice drop shot from Tsitsipas which Zverev can't turn back over the net.
A powerful forehand from the Greek sends Zverev off balance and he fails to keep the ball in once more. 15-30. Tsitsipas two points away from victory now.
Another Zverev backhand goes long to bring up TWO MATCH POINTS. Tsitsipas fails to keep his return in as Zverev takes one opportunity away from him.
And then a sensational drop shot denies Tsitsipas victory! Wonderful dink from Zverev and the Greek can't get to it!
We're not done yet though. Tsitsipas finds a powerful forehand to bring up an advantage and third match point.
Ace. Deuce.
Zverev then gets so unlucky as he clips the net with a forehand as he approaches the net and it spins wide. Then a big serve brings up deuce once more! I need to start a new post…
Zverev vs Tsitsipas* 3-6 3-6 6-4 6-4 2-5 (*denotes last server)
Tsitsipas starting to overwork Zverev on the longer rallies and Zverev cries out in desperation and the Greek leaves him in despair to move to 30-0.
A crosscourt forehand puts the Greek in control of the third point in the game and Zverev has no answer, looping the ball far too long.
Zverev finds a ferocious forehand down the line to close the gap but Tsitsipas then closes the door with a big serve out wide.
Tsitsipas is one game away from the final.
Zverev* vs Tsitsipas 3-6 3-6 6-4 6-4 2-4 (*denotes last server)
A lovely topspin forehand cuts the court off and sends Tsitsipas scrambling to not avail at the start of the game. Zverev then lands a big serve which can't be kept in and an ace follows that for 40-0.
The new ball being lapped up by Zverev in this game until he produces a seventh double fault of the match.
But another ace gives the German the game. Pressure back on Tsitsipas to hold his serve.
Zverev vs Tsitsipas* 3-6 3-6 6-4 6-4 1-4 (*denotes last server)
After a wayward shot at the start of the game from Tsitsipas, Zverev looks to have 0-30 on a plate but skews his forehand wide of the line.
You can't give the German a second chance though as he does bring up 15-30 following a mishit from Tsitsipas.
But Zverev can't keep his return of serve in and then over-hits a slice to keep him in the point.
Tsitsipas with a serve to close out the game and show superb determination to hold his nerve.
Zverev* vs Tsitsipas 3-6 3-6 6-4 6-4 1-3 (*denotes last server)
A double fault for Zverev takes the game to 15-15. Only his sixth double of the match.
But he responds with a pinpoint accurate bullet forehand down the line as Tsitsipas approached the net.
A wayward backhand brings up 30-30 as Tsitsipas senses an opportunity. And a messy high-ball rally is won by the Greek to bring up break point and a MASSIVE opportunity.
Zverev finds the net with a forehand and Tsitsipas has the break!
Zverev vs Tsitsipas* 3-6 3-6 6-4 6-4 1-2 (*denotes last server)
Tsitsipas is finding his feet again when it comes to the longer points. An exchange is brought to an end with a venomous forehand from Tsitsipas and he then does the same with his backhand to take it to 40-0.
An ace brings up a love game. Is the tide swinging back in Tsitsipas' favour?
Zverev* vs Tsitsipas 3-6 3-6 6-4 6-4 1-1 (*denotes last server)
Tsitsipas draws Zverev to the net but the German is equal to it and deftly flicks the ball past his man to bring up 30-0.
A big serve down the middle of the court takes him to 40-0 but he is then outfought on successive points as Tsitsipas uses smart positional play to caress a volley home for 40-30.
But the Greek can't quite level things up as he tiredly finds the net with a forehand and we're level.
Zverev vs Tsitsipas* 3-6 3-6 6-4 6-4 0-1 (*denotes last server)
Zverev gets the better of Tsitsipas in the first rally of the final set with some powerful groundstrokes – the German showing his superior attrition at the moment.
He then forces the Greek onto the back foot and finishes with a simple smash as Tsitsipas cries out before his opponent even hit the shot.
A double fault and it's 0-40! Tsitsipas is all over the shop but manages to find a big serve which Zverev parries into the net.
Tsitsipas then hits a nice cross-court backhand to reduce the deficit to 30-40 and another huge serves brings up deuce.
Both men travel to the net for a pulsating tussle which Tsitsipas wins and then an unreturned serve sees him hold!
Remarkable five points in a row.
Zverev vs Tsitsipas 3-6 3-6 6-4 6-4
Zverev has shown extraordinary mental and physical strength to claw his way back into this one.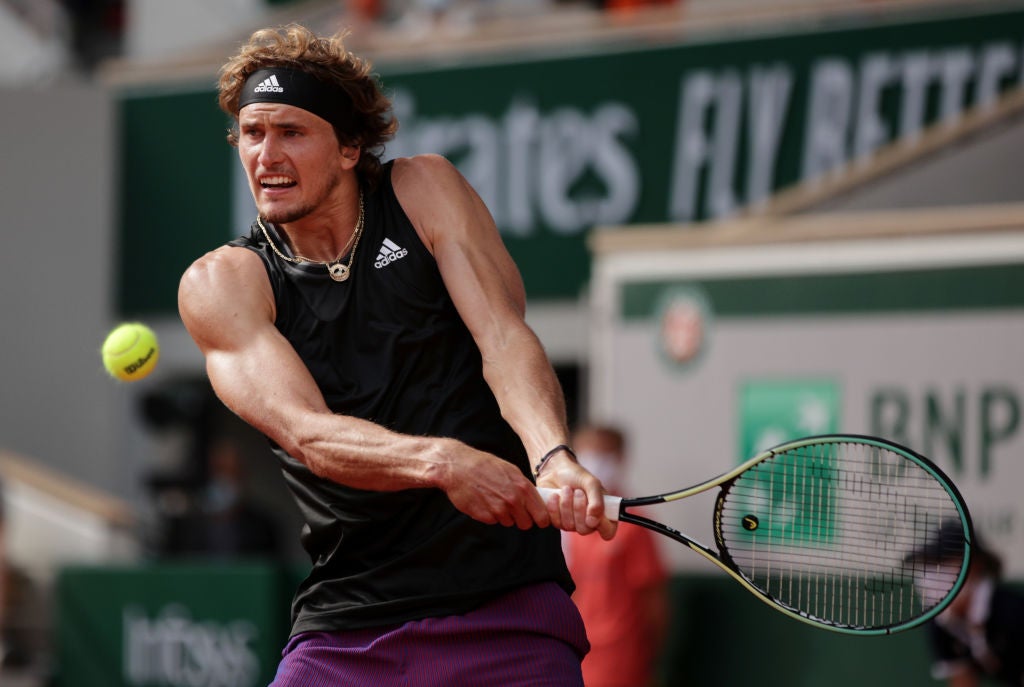 Zverev* vs Tsitsipas 3-6 3-6 6-4 6-4 (*denotes last server)
Zverev grinds out a difficult service game to close out the set and force this semi-final to a decider. A superb rally a 0-15 down was won by the German and he fought tooth and nail to ensure his serve would not be broken.
We're going the distance.
Source: Read Full Article