'We believed we could do something special': How meticulous England ended their penalty shootout pain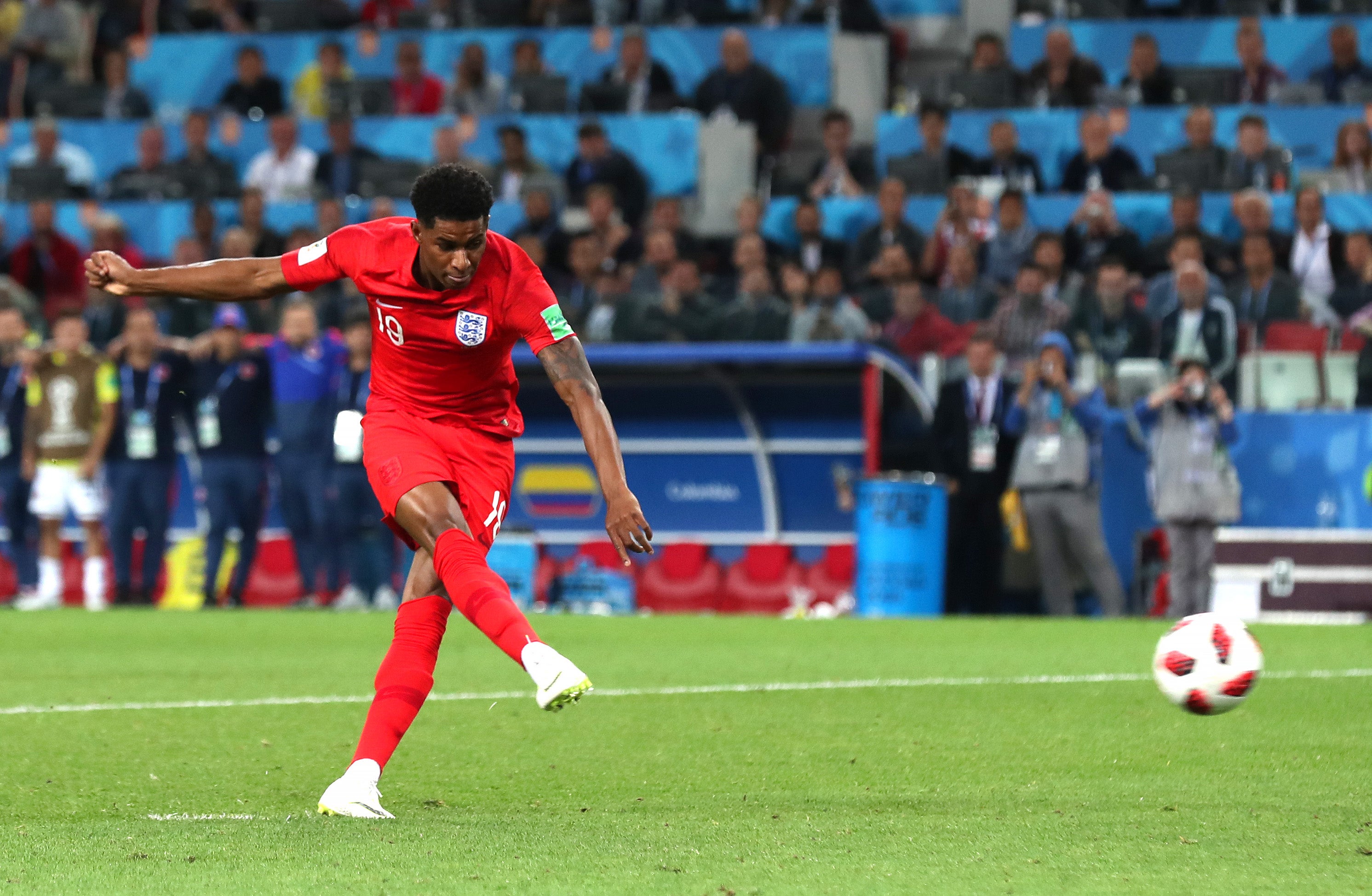 Marcus Rashford fires home his penalty
When Rashford stepped up to take England's second penalty, with England 2–1 down in the shoot-out, "Picks just gave me the ball – we used that little routine as something to settle us down, so it felt just like how it was when we practised". Although more than 20 million in the UK and millions more throughout the world were watching, for Rashford "it was a normal situation". The routine with Pickford helped normalise a moment that legions of former England players found an ordeal.
And so as Rashford embarked upon his penalty, he was not consumed by fear of failure, just by the task – ordinarily simple enough for such a skilful player – of beating a goalkeeper from 12 yards. He managed to "just put everything to one side. And at the end of the day it was just a penalty, and if you do what you've been practising then nine times out of 10 you'll score. You just want to be clear on what you're doing.
"Mentally, you need to relax and think about how many times you've scored penalties, and just getting that confident feeling when you're stepping up. So I just try and concentrate on that.
"Doing the actual penalty wasn't as bad as people think – when you're as focused as we were at the time it was almost normal."
Rashford did his trademark shuffle run-up, and then dispatched the ball emphatically to the bottom right-hand corner. David Ospina, Colombia's goalkeeper, never had a chance. After celebrating, Rashford completed the last bit of his routine – going up to Pickford, wishing him good luck for the next penalty he would face.
A few minutes later, England won their first ever World Cup penalty shoot-out. Pickford – following advice given by England's backroom staff about which way to dive – parried a penalty from Colombia's Carlos Bacca with his left hand after diving to his right. Eric Dier calmly scored the decisive penalty, triggering pandemonium and, for England fans reared on penalty failure, disbelief.
"We did our research, with [Martyn] Margetson [the goalkeeping coach] and the analysis staff," Pickford explained after the game. "I had a fair feeling. Falcao was really the only one who didn't go 'his' way. But it's about: set; react; and go with power."
No longer is an agonising penalty shoot-out defeat the first image that people have when England are mentioned. "I think right now everyone has a different picture, a different painting in their heads of the England national team," Rashford said.
For now, at least, the curse had been lifted.
This is an extract from The Best: How Elite Athletes are Made which is out now featuring interviews with Marcus Rashford, Siya Kolisi, Steph Curry, Ada Hegerberg, Jamie Carragher, Pete Sampras and Elena Delle Donne.
The Best: How Elite Athletes Are Made is available to buy now
Source: Read Full Article