Tottenham outclass Brentford to reach Carabao Cup final
Son Heung-min celebrates scoring Spurs' second
It evidently means a lot to Mourinho, given the almost unnecessary strength of his starting XI. That may yet come at some cost, given the injury Pierre-Emile Højbjerg suffered in a challenge from the red-carded Joshua Dasilva that Mourinho audibly shouted was a "disgrace".
The price of progress, perhaps. Mourinho and Daniel Levy would no doubt say a first trophy – any trophy – since 2008 is what he was brought for, and was the one thing missing from Mauricio Pochettino's time.
Independent Football Newsletter
Get the latest football headlines direct to your inbox twice a week
Read our full mailing list consent terms here
Independent Football Newsletter
Get the latest football headlines direct to your inbox twice a week
Read our full mailing list consent terms here
Championship clubs like Stoke City and Brentford still aren't the most challenging opposition, although Thomas Frank's team remain a supremely run side constantly overachieving, and who put it up to Spurs here. Mourinho needed that favourable VAR call before Son Heung-Min eventually secured the victory, Ivan Toney's header at 1-0 having been ruled out thanks to the positioning of Moussa Sissoko's knee.
The midfielder may well have been the man of the match, and Mourinho can point to his resurgence as one of the ways a League Cup win would reflect wider improvements in the team; a signpost.
The opening goal was certainly a landmark moment for Sissoko.
Most of all, it was just a piece of higher Premier League quality, although many might not have expected that from the scorer in terms of finishing. The eventual header was Sissoko's first shot of 2020-21. That's the entire season, not just this year.
Even if Sissoko was someway rusty in front of goal, the cross from Sergio Reguilon was so exquisite and inviting that it would have been perfect for almost anyone. There were of course fair questions over whether the full-back should even have been starting given the controversy about his Christmas together, but you can imagine Mourinho would have told him exactly how he could start making it up to the club.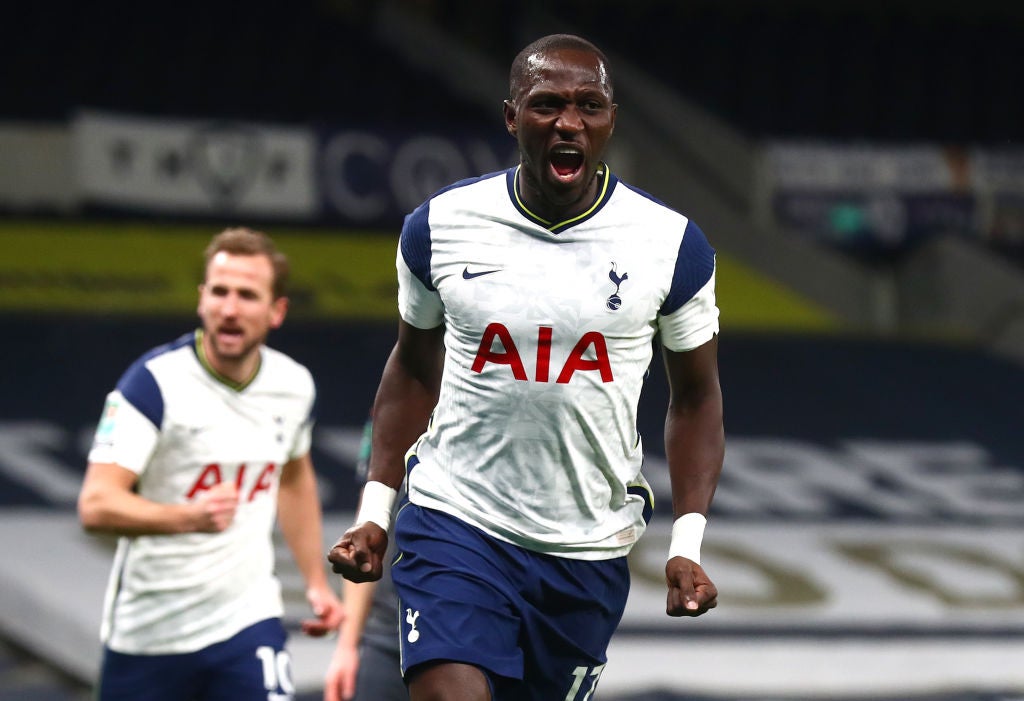 Moussa Sissoko celebrates scoring Spurs' opener
This was quite a delivery, and quite a goal. For his part, Sissiko matched it with his header, guiding it right into the top corner past David Raya so brilliantly. It's fair to say the midfielder appearing in such an area to head home – or even just shoot – didn't appear too much in Brentford's pre-match preparations.
Spurs, nevertheless, were in precisely the kind of situation Mourinho prepares better for than any other: 1-0 up against an inferior side. It was almost ideal for him given the rigours of the calendar of late, the context of the game, and the strength of his XI.
They could sit back solidly, conserve energy, and counter when necessary.
Bright as Thomas Frank's ideas at Brentford are, they're always going to be less likely to open you than a Premier League side. The closest they got in the first half was a Joshua Dasilva shot that Son Heung-Min blocked, although a similar interception from Serge Aurier against Ivan Toney on the start of the second half required a bit more intensity.
Spurs naturally looked more dangerous on the break, most notably before the break with one Lucas Moura chance. Son then almost scored another wonder goal with a guided volley, this time from a fine Sissoko cross. He was having that kind of game.
There then came his second most influential moment, even if he didn't know all that much about it. It was a case of the inches mattering in such cup runs, though, as Sissoko's knee ensured Toney had just gone offside before heading in.
As if to emphasise the knife-edge nature of the moment, and what might have been for Brentford, Son immediately scored that fine winner. Spurs were through, Mourinho back to a familiar stage.
Currently level on four League Cups with Sir Alex Ferguson and Brian Clough, the Portuguese can become the competition's most successful manager on his own. Many will argue the merit of that in the modern game.
Mourinho, for his part, would just argue the merits of winning trophies in the modern game.
Source: Read Full Article