The eight-month gap that sums up Manchester United's alarming decline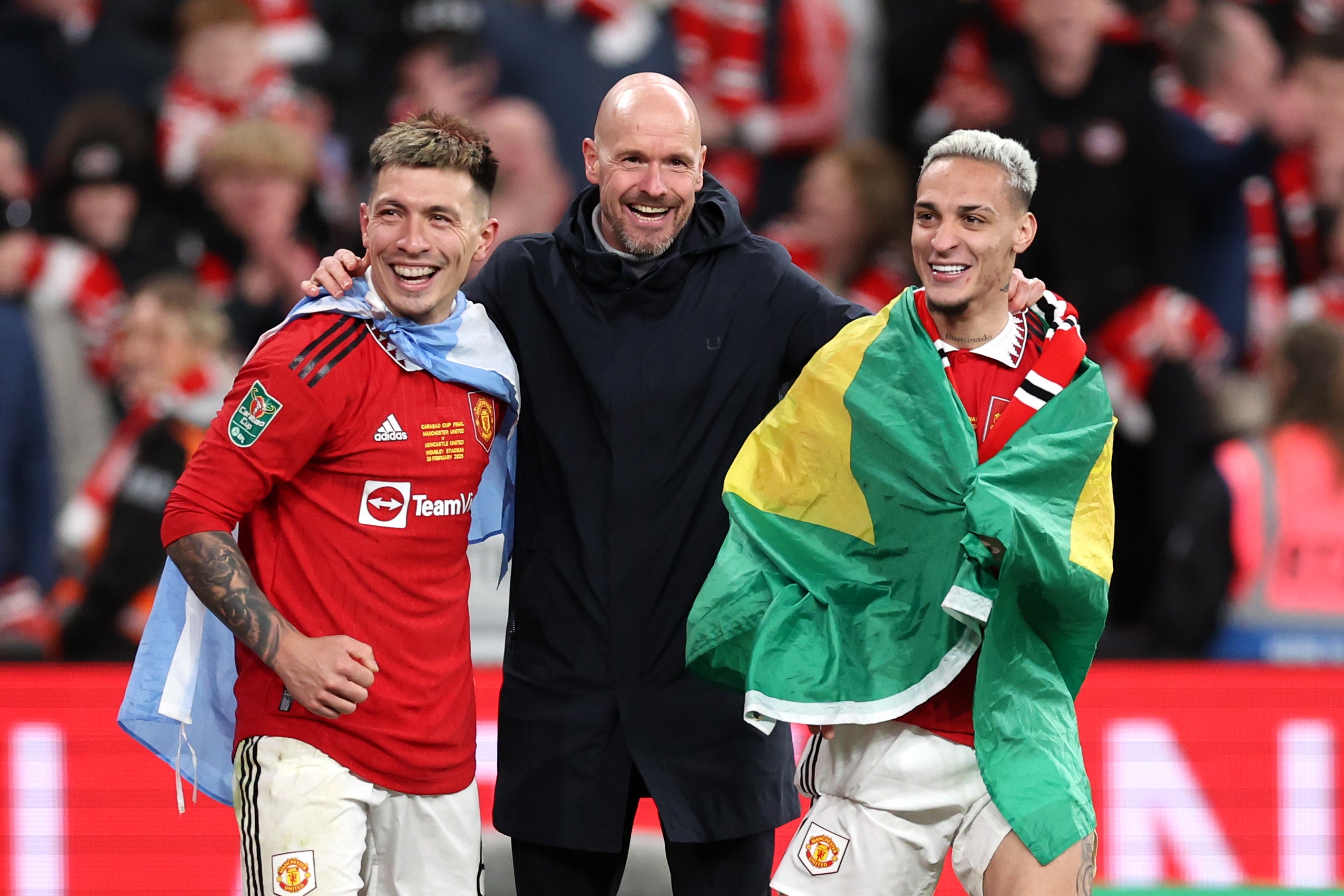 Ten Hag celebrates with Martinez and Antony on the Wembley pitch
Certainly after a season that – at the end of February, anyway – seemed to have boundless possibilities has come one that offers rather fewer: there was no quadruple last year, though there was varying degrees of success in three competitions. But now the danger is their defence of the Carabao Cup ends at the start of November. United risk going out of the Champions League – and perhaps even Europe altogether – in the group stages. There was the hint of a title challenge last season, but there will be none this year: eight points off the top four, this could be another season when United are cast out of contention for the Champions League spots in autumn and never recover.
Wembley may have represented a turning point: just not in the way United hoped. Newcastle were arguably the last elite side Ten Hag's team beat: they have since tasted victory against Real Betis and Aston Villa, who went on to finish sixth and seventh in Spain and England respectively, and a shambolic Chelsea, two years after they won the Champions League but as they limped to a lower-half finish; they overcame Brighton in the FA Cup semi-finals, but only on penalties. But they had defeated Liverpool in August, Arsenal in September, Tottenham in October, Manchester City in January and Barcelona and Newcastle in February.
Since then, the temptation is to say they have failed all the major tests. A week after Wembley, they were embarrassed 7-0 at Anfield. They lost to Liverpool in March, Newcastle and Sevilla in April, Brighton in May, City in June, Tottenham in August, Arsenal, Brighton and Bayern Munich in September, Galatasaray and City in October. The definition of elite can be debated but the broader trend is clear: United are beaten by the finer teams they face and, whereas that was confined to away games last season, now they have four losses at Old Trafford, too. If the league table is a barometer, the best side they have seen off this season is Brentford: even that required an injury-time rescue act by Scott McTominay. And in the current campaign, the Carabao Cup victory over Crystal Palace is their only triumph by more than one goal and the only genuinely convincing one.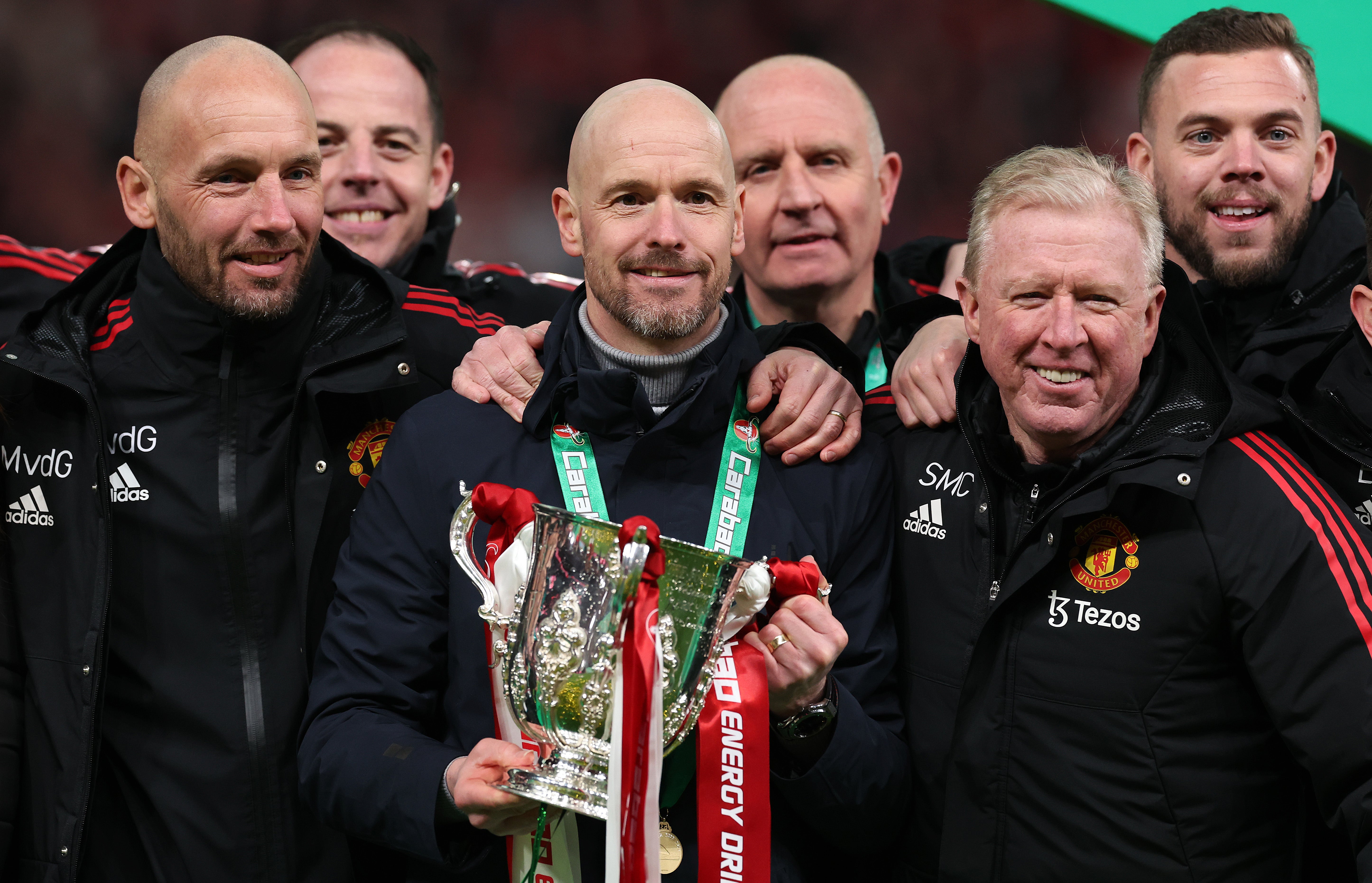 United's fortunes have changed ever since beating Newcastle in the Carabao Cup final
And if the burden of proof at Wembley seemed to rest with the beaten finalists, since then, Newcastle have beaten United, Tottenham, Brighton, Villa, City and Paris Saint-Germain, albeit all at St James' Park but, in most cases, emphatically.
While Newcastle have lost seven total games since the Carabao Cup final, United seven this season alone. After that run of just two defeats in 31, they have now lost 12 of their last 31. However the numbers are crunched, Ten Hag's suggestion on Sunday that United are heading in the right direction feels hard to justify. The evidence is that they have regressed since February.
Certainly it has been a chastening time for the scorers that day. Casemiro was substituted at half-time during his last outing, sent off in the previous one. Rashford has not scored in his last nine United games. And yet, with Newcastle beginning a week that brings meetings with Arsenal and Borussia Dortmund, with the absences of Alexander Isak, Harvey Barnes, Jacob Murphy, Sandro Tonali and Sven Botman meaning Eddie Howe lacks options, it could be a fine time to face the Magpies. But even if theirs is a weakened team, the task for Ten Hag's United is still to end their eight-month wait. If Manchester United used to be the best, now they need to show they can overcome anyone even vaguely close to being the best.
Source: Read Full Article