Rejuvenated Azzurri will be waiting for sombre Italy on the other side
Roberto Mancini was supposed to be unveiling his radiant Azzurri at Wembley this evening but instead a sombre Italy is engulfed in an unspeakable tragedy.
This is a country now reluctantly depriving families torn apart by the coronavirus of holding funerals for their loved ones. So inspiring a nation to rediscover its romance towards their first sporting love feels worthless at this time.
Indeed, Mancini himself has lost a childhood friend to the pandemic, which has taken more than 7,000 lives in Italy alone.
Download the new Independent Premium app
Sharing the full story, not just the headlines
"The sight of that convoy of military vehicles filing its way out of Bergamo carrying coffins was like a punch in the face," Mancini admitted last week. "Nobody was prepared for this hell on earth."
The outpouring of grief still has no end in sight and when football does eventually return it will find a population on its knees. Therefore its usual role of providing light relief from life's struggles could prove more valuable than ever before.
Mancini has quietly overseen a tactical revolution which may now provoke more joy than even he initially anticipated. This is a team that boldly took the step of discarding the DNA passed down through generations to acquire four World Cups.
Intent on charming their fans, this brave and expansive style has provoked pride and excitement after initial scepticism. While Mancini's belief that the identity of this team can unite the country may eventually resonate well beyond the stands.
"The days of playing defensive counter-attacking football are over," Mancini defiantly declared last month. "We are proud to have rekindled the Italians' love for the national side.
"Football is a factor of unity, if the Italian national team plays well and Italy win, they are happy."
The mere idea of failing to qualify for the World Cup was blasphemous before that gloomy nadir back in 2017 when Sweden denied them a place on the biggest stage of all for the first time since 1958. But now, a perfect 10 wins from 10 in qualification for the next European Championships – whenever that may be – has this great nation dreaming once more.
Many will still be familiar with the veteran presence of Leonardo Bonucci and Giorgio Cheillini, who remain with their wisdom sure to prove vital to this youthful side when they inevitably face adversity. Behind a back line forever judged on a storied past is Gianluigi Donnarumma. The Milan goalkeeper, still only 21, is starting to flourish as he escapes the shadow of the iconic Gianluigi Buffon.
There is also an exceedingly deep midfield with enough verve and panache to make Andrea Pirlo brim with pride. No longer is one player burdened with providing craft and setting the tempo though. Instead, Mancini's wealth of options include Chelsea's Jorginho, the bite of Nico Barella, Stefano Sensi and Marco Verratti and the precocious talent of Sandro Tonali and Nico Zaniolo. All of whom, in whatever combination Mancini sees fit, provide the foundation for this side to relentlessly pursue chances and goals galore.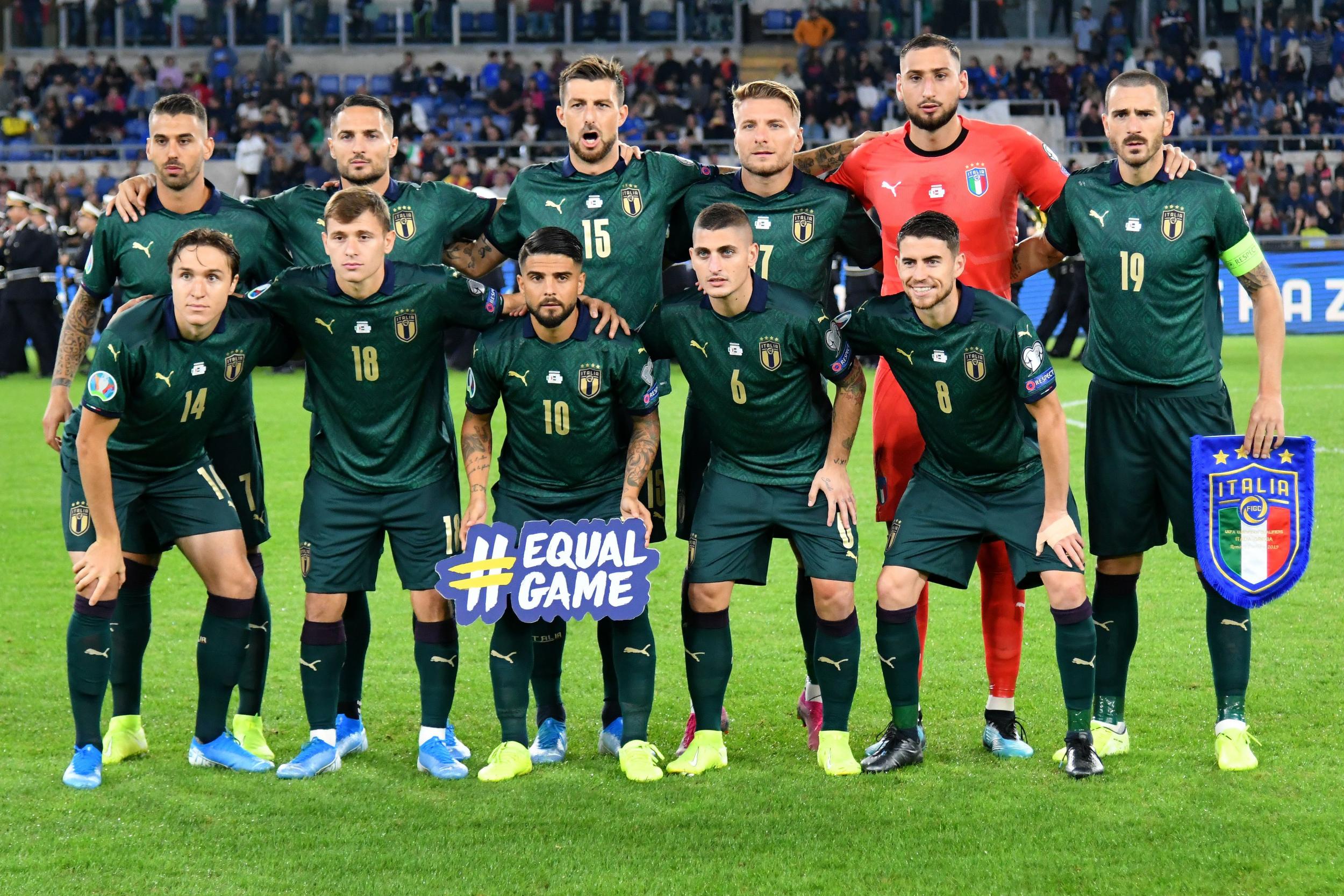 Lorenzo Insigne and Federico Chiesa inject fantasy into a front line spearheaded by Ciro Immobile. Perhaps unfashionable, the Lazio striker is currently running away in the race for the capocannoniere with 27 goals – six more than Cristiano Ronaldo.
An 11th consecutive victory (a national record) in the 9-1 demolition of Armenia provoked Jorginho into claiming "there is a little bit of Brazil in this Italy". It's hard to disagree.
But opportunities to demonstrate further progress in friendlies against fellow heavyweights England and Germany have now rightfully vanished given the circumstances.
So while priorities lie elsewhere today as Serie A enters its third successive weekend without games, there is only hope this nightmare will end soon. And when this country eventually does escape this darkest of hours, Mancini and his team must be waiting to illuminate this proud nation once more.
Source: Read Full Article