Mexico vs Poland LIVE: World Cup 2022 latest score and goal updates as Robert Lewandowski misses penalty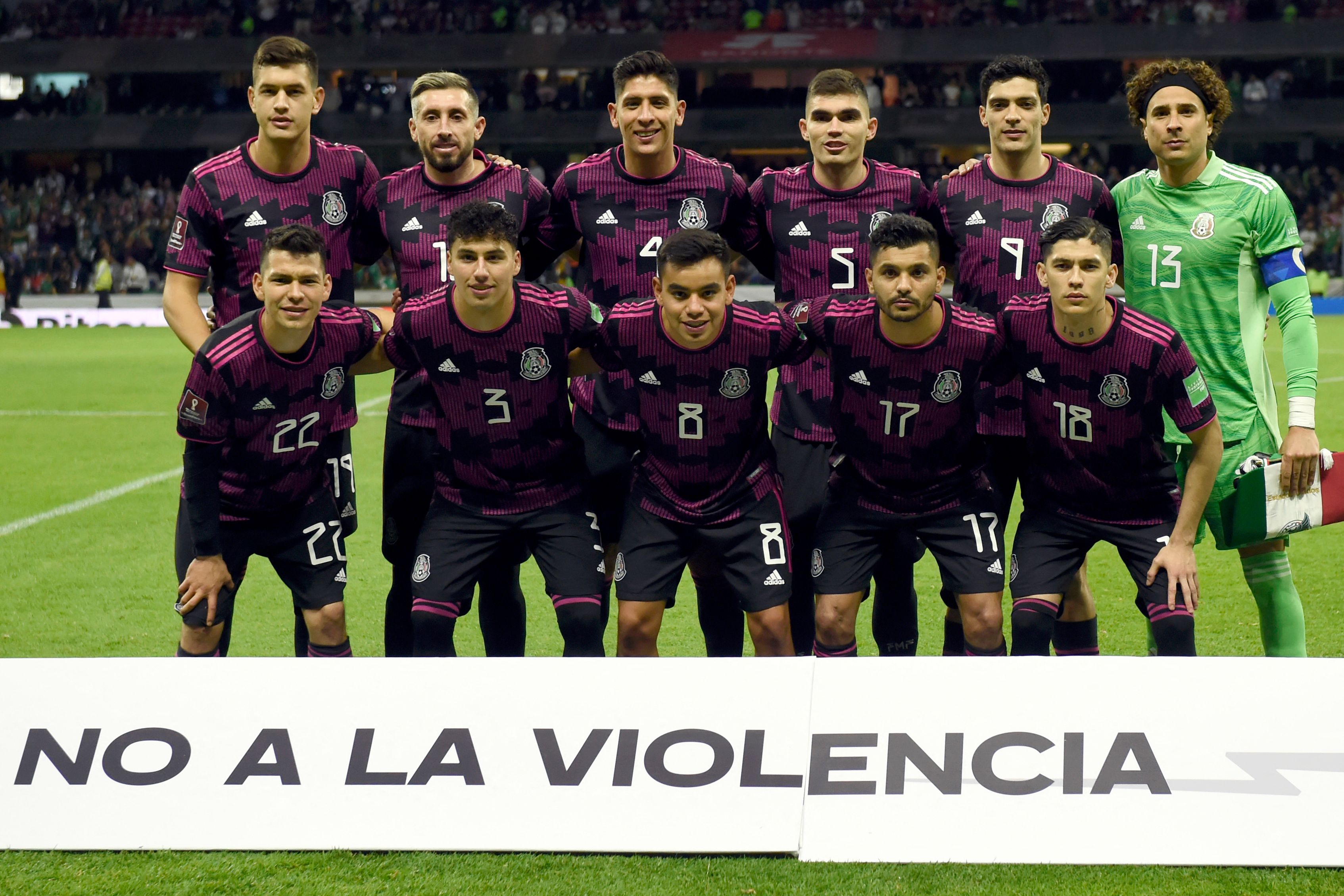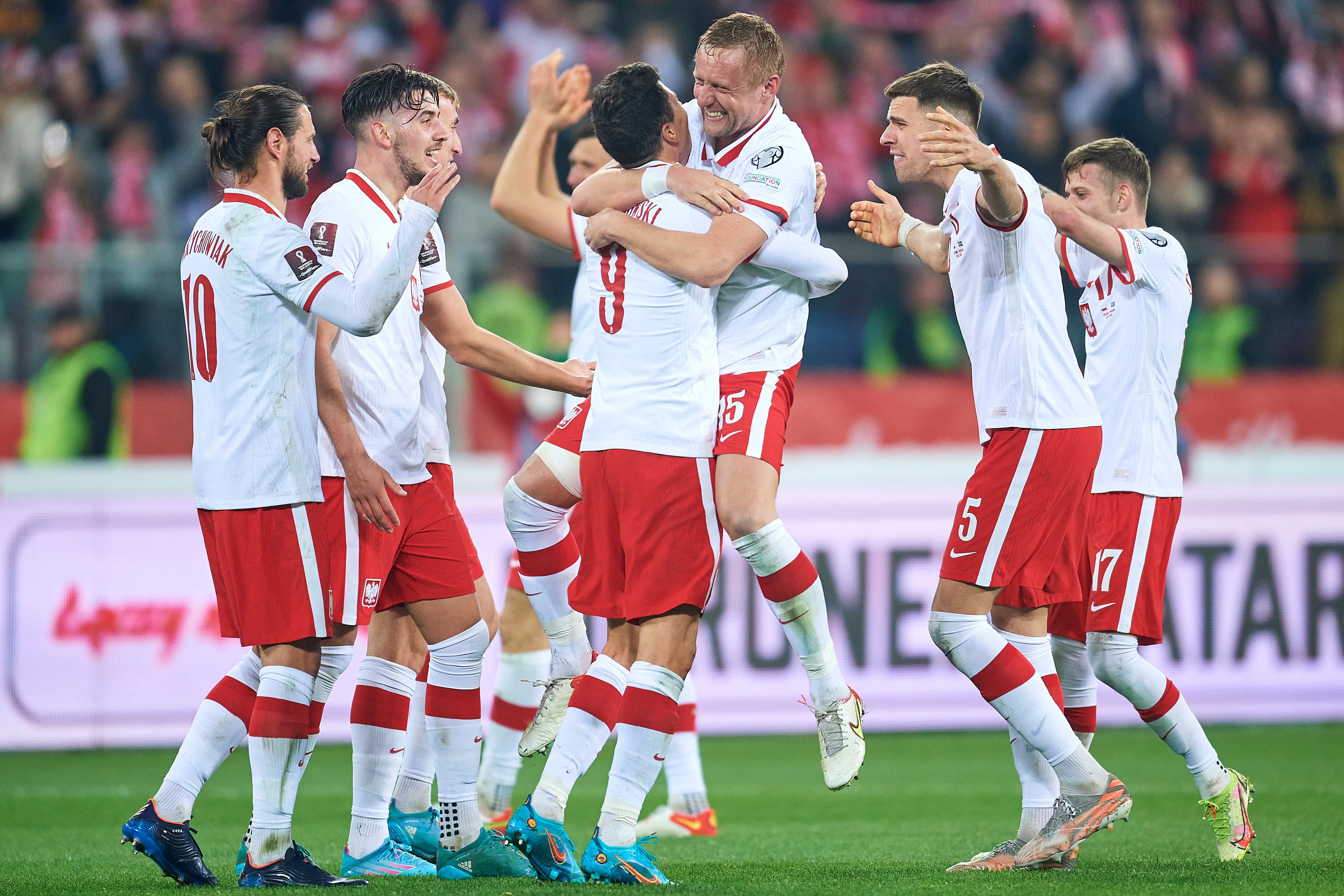 Mexico 0-0 Poland
65 mins: CHANCE!
A Mexico cross is whipped in, and a quick-reaction header diverts the ball towards goal at some pace!
Szczesny shows good reflexes to dive across goal and parry the ball away!
Mexico 0-0 Poland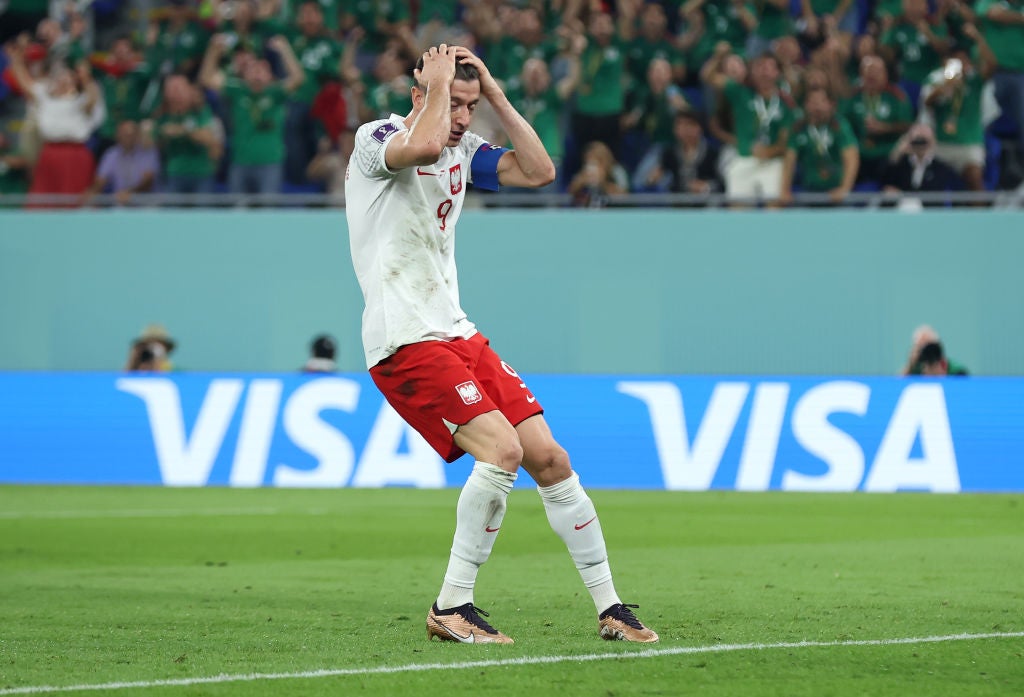 Robert Lewandowski reacts to his penalty miss for Poland against Mexico
Mexico 0-0 Poland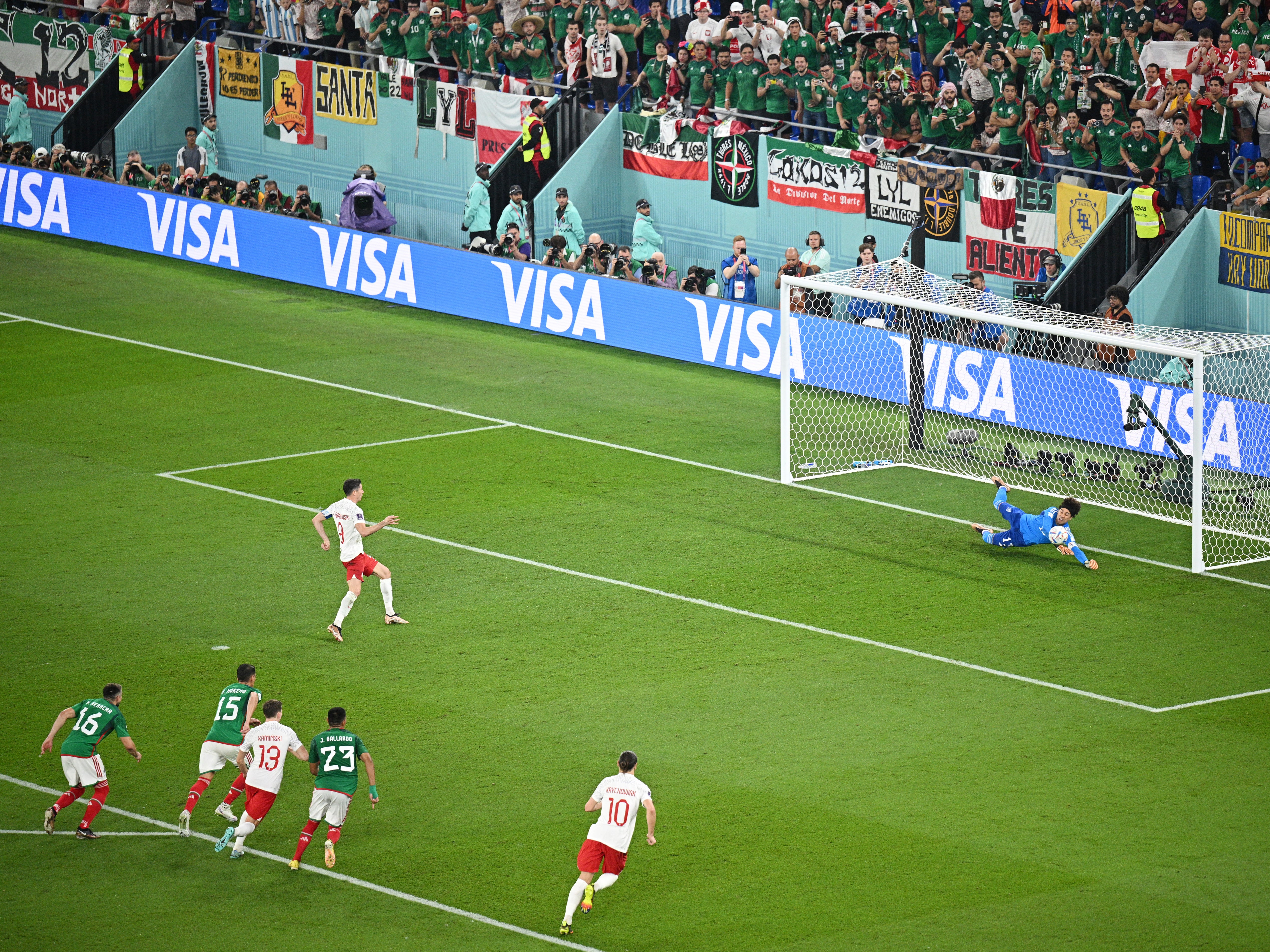 Mexico goalkeeper Guillermo Ochoa saves Robert Lewandowski's penalty
Mexico 0-0 Poland
61 mins: A yellow card is awarded, but it's not clear if it's for Mexico's coach or assistant coach.
Mexico 0-0 Poland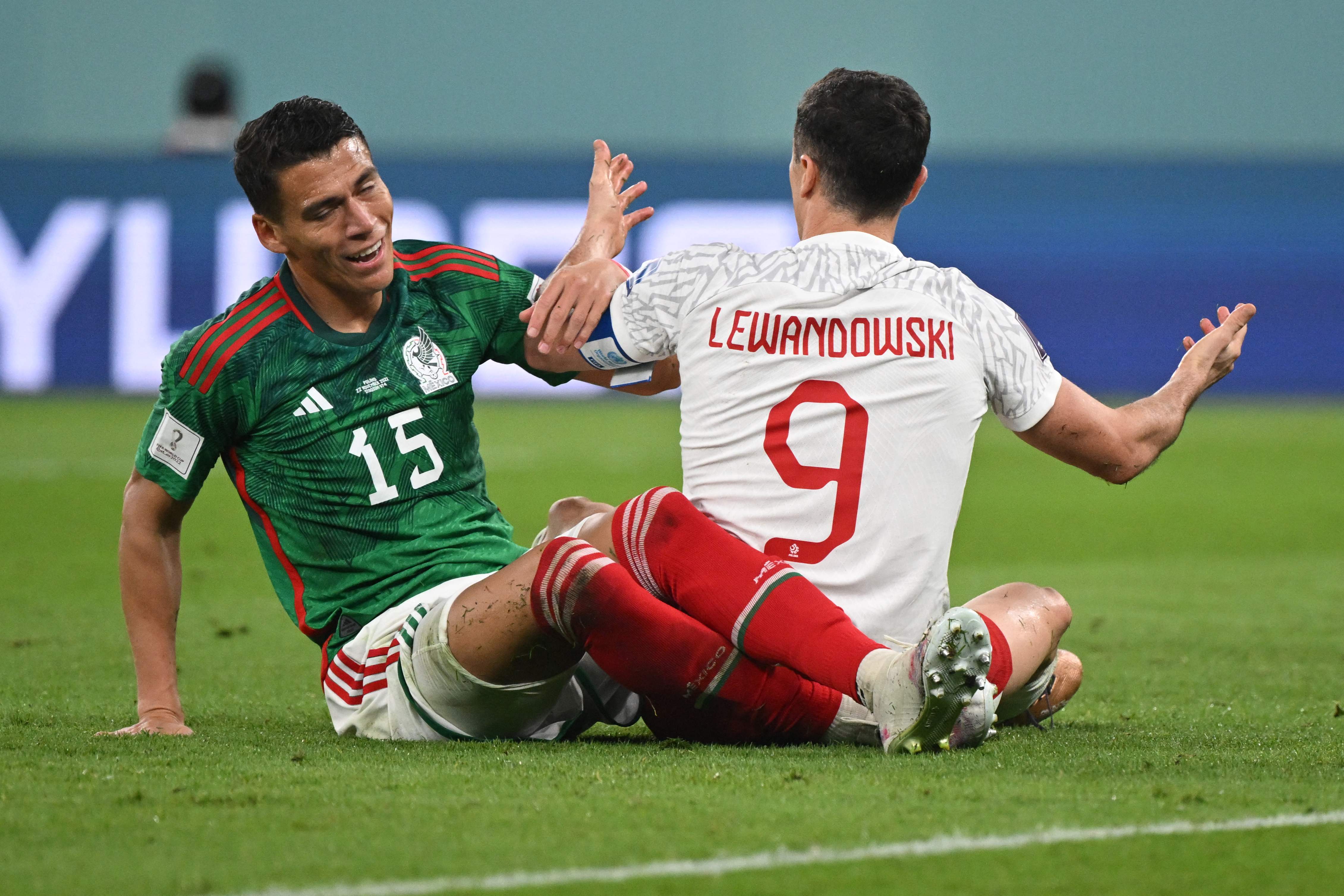 Hector Moreno gave away a penalty with a challenge on Robert Lewandowski
Mexico 0-0 Poland
57 mins: PENALTY SAVED!
Lewandowski shoots low and hard to Ochoa's left, but the Mexico goalkeeper is equal to it!
There's a scramble for the ball thereafter, but Mexico survive – for now!
Mexico 0-0 Poland
56 mins: It looked like a 50-50 battle at first, with Lewandowski using his strength well, but Moreno was grabbing the Poland striker's shirt throughout.
Lewandowski will take this, obviously.
Mexico 0-0 Poland
56 mins: PENALTY TO POLAND!
The referee goes to the monitor, and he gives a penalty to Poland after their first decent move of the match!
Mexico 0-0 Poland
54 mins: All of a sudden, Poland decide to press! And what would you know? They get a great chance out of it!
A pass is slung into the feet of Lewandowski just inside the Mexico box, and he turns well before running at goal…
He's shoulder to shoulder with Moreno, and the Poland captain loses out.
Better, though, from Poland! That looked dangerous for Mexico for a moment.
In fact… the referee is going to check for a penalty! Moreno looked to have pulled on Lewandowski's shirt…
Mexico 0-0 Poland
53 mins: Lozano scoops a lovely pass over the Poland defence and onto Sanchez inside the box… and Sanchez wins a corner.
Szczesny comes out and punches it clear, but Mexico will attack again, this time with Lozano out on the left…
He cuts inside and curls a shot towards goal, but he slips as he hits it! Szczesny catches the effort comfortably.
Register for free to continue reading
Registration is a free and easy way to support our truly independent journalism
By registering, you will also enjoy limited access to Premium articles, exclusive newsletters, commenting, and virtual events with our leading journalists
{{#verifyErrors}} {{message}} {{/verifyErrors}} {{^verifyErrors}} {{message}} {{/verifyErrors}}
By clicking 'Create my account' you confirm that your data has been entered correctly and you have read and agree to our Terms of use, Cookie policy and Privacy notice.
This site is protected by reCAPTCHA and the Google Privacy policy and Terms of service apply.
Already have an account? sign in
By clicking 'Register' you confirm that your data has been entered correctly and you have read and agree to our Terms of use, Cookie policy and Privacy notice.
This site is protected by reCAPTCHA and the Google Privacy policy and Terms of service apply.
Register for free to continue reading
Registration is a free and easy way to support our truly independent journalism
By registering, you will also enjoy limited access to Premium articles, exclusive newsletters, commenting, and virtual events with our leading journalists
{{#verifyErrors}} {{message}} {{/verifyErrors}} {{^verifyErrors}} {{message}} {{/verifyErrors}}
By clicking 'Create my account' you confirm that your data has been entered correctly and you have read and agree to our Terms of use, Cookie policy and Privacy notice.
This site is protected by reCAPTCHA and the Google Privacy policy and Terms of service apply.
Already have an account? sign in
By clicking 'Register' you confirm that your data has been entered correctly and you have read and agree to our Terms of use, Cookie policy and Privacy notice.
This site is protected by reCAPTCHA and the Google Privacy policy and Terms of service apply.
Source: Read Full Article