James McClean issues extraordinary attack on 'uneducated cavemen' fans then quotes IRA martyr after being abused on pitch for not wearing poppy
James McClean has described a section of supporters "uneducated cavemen" after the Stoke City footballer suffered a torrent of abuse for refusing to wear a Remembrance Day poppy.
Footage posted on social media showed Middlesbrough supporters in a corner of Stoke's bet365 Stadium hurl abuse at the Republic of Ireland international, who came on as a late substitute in the 0-0 draw between the two sides on Saturday afternoon.
As McClean made his way to the players' tunnel, Middlesbrough supporters booed the winger and unleashed a stream of invective, as stewards pushed a number of fans – all of them men – back from the perimeter fence.
Late on Saturday night, McClean, who was also booed by some home fans, responded by quoting Bobby Sands, a member of the Provisional IRA who infamously died in 1981 on hunger strike while imprisoned in Northern Ireland.
"They have nothing in their whole imperial arsenal that can break the spirit of one Irishman who doesn't want to be broken," McClean wrote, quoting Sands.
He continued: "Your abuse, your throwing things, your booing, do your worst… to the home fans that are actually educated and support me, thank you.
"To the section of uneducated cavemen in the left-hand corner of the Boothen End stand that want to song their anti-Irish song each game and call me a Fenian this and that… I am a PROUD FENIAN no c@#t will ever change that, so sing away."
Gary Rowett, Stoke's manager, defended his player and accused away fans of using it as an opportunity to "goad somebody".
WARNING: VIDEO BELOW FEATURES REPEATED USE OF FOUL AND ABUSIVE LANGUAGE
"It's his belief and he's strong enough to come out and with his belief, whether you agree with it or not," he told the Stoke Sentinel.
McClean had confirmed earlier in the week he would not wear a poppy, a decision he has made every year – and been consistently abused for – since first moving to England to join Sunderland in 2011.
"I know many people won't agree with my decision or even attempt to gain an understanding of why I don't wear a poppy," he said on Tuesday.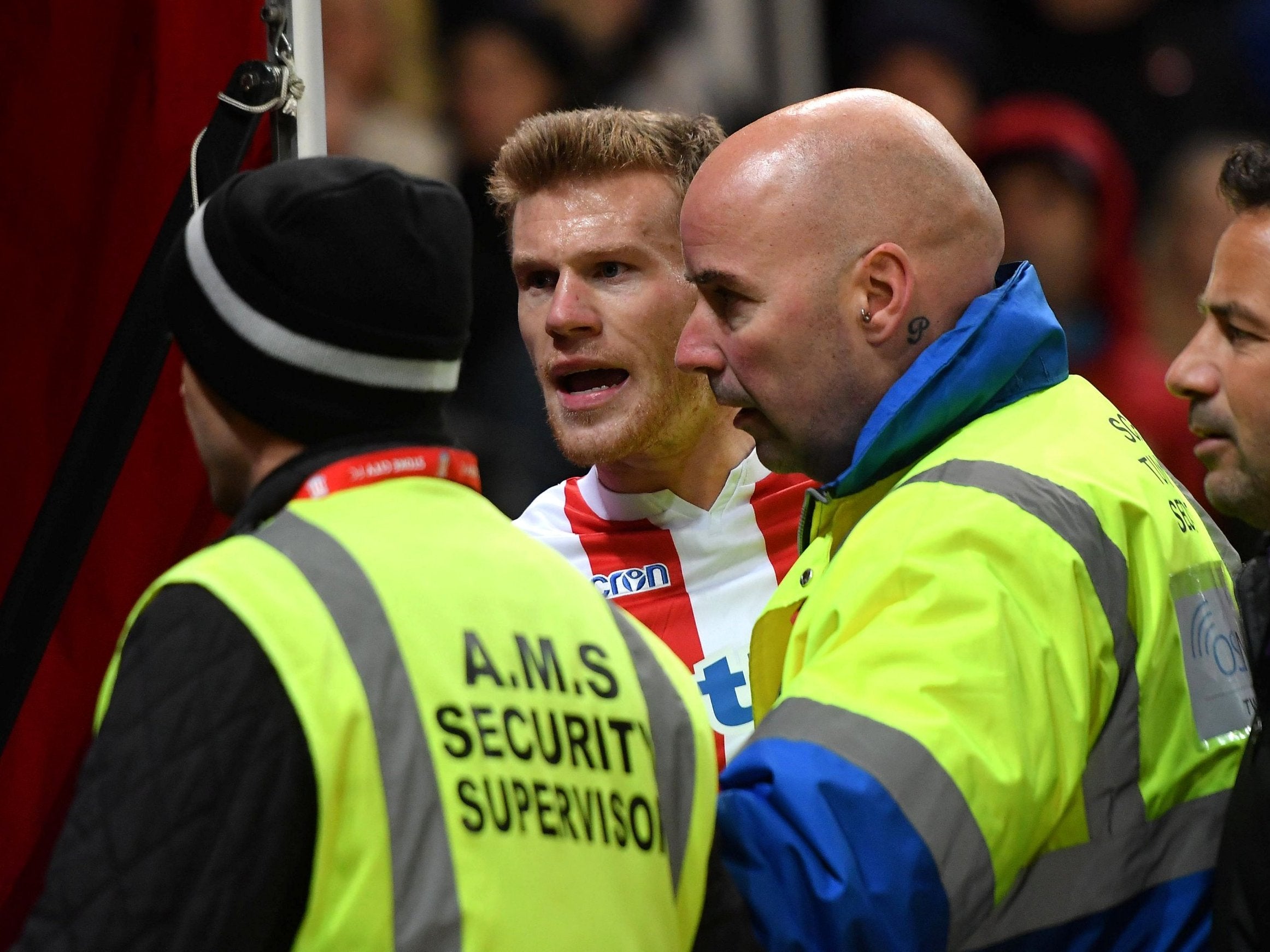 "I accept that but I would ask people to be respectful of the choice I have made, just as I'm respectful of people who do choose to wear a poppy."
McClean was born and brought up in city of Derry, in Northern Ireland. He grew up on Creggan estate, where six of the people killed on Bloody Sunday in 1972 came from.
Bloody Sunday was one of the most significant events of The Troubles conflict in the country, when British soldiers shot 28 unarmed civilians during a peaceful protest march.
McClean objects to wearing the poppy because the symbol commemorates military personnel who have died in war – and not just soldiers who lost their lives in the First and Second World Wars.
Follow the Independent Sport on Instagram here, for all of the best images, videos and stories from around the sporting world.
Source: Read Full Article