Atletico Madrid must ditch defensive shackles to overthrow Chelsea
Joao Felix is a forward that has been given a lot of focus in Chelsea's preparation for Wednesday, but it's telling that there have been more concerns about him within Atletico Madrid. Many sources say the Portuguese is disgruntled with his constrained role under Diego Simeone, to the point his camp have been investigating potential summer moves to the Premier League. It also felt so conspicuous he was put up for the pre-game press conference.
Some of the problem could be summed up in the first leg. Felix spent the majority of the game 70 yards from goal, mostly defending. It didn't feel like the best use of one of football's most promising young forwards.
Then again, this entire tie could offer something of a referendum on the best approach to Champions League knock-outs, not to mention Simeone's own future.
It should be acknowledged that the 1-0 first-leg defeat was a bit of an aberration in Atletico's season, since the signing of Luis Suarez has generally seen them play about 30 yards higher up the pitch. Even that, however, has still been within a tactical framework based on defensive solidity and reaction – not to mention the Uruguayan doing something out of nothing.
The big question for this game is whether Atletico are capable of sufficiently shifting approach to be attacking enough to overturn a first-leg deficit.
That uncertainty in turn reflects the relative uncertainty surrounding Simeone's career right now, as well as an increasing fragility in their position at the top of the Spanish league.
Independent Football Newsletter
Get the latest football headlines direct to your inbox twice a week
Read our privacy notice
Independent Football Newsletter
Get the latest football headlines direct to your inbox twice a week
Read our privacy notice
Read more
What has happened to Spanish football?
How Neymar's transfer changed football forever
It should be stressed that the Argentine has undeniably been one of the modern Champions League's great figures, someone who defines the difficulty of the level. Atletico have long been a side you just don't want to face. Simeone reaching two finals with his first great team, having also won the 2014 Spanish title, remains a supreme feat of defiance in the modern game.
His status is almost elevated, however, because he also stands alone in terms of approach. Simeone is the only manager who regularly reaches the latter stages and still practices a defence-based game.
Jose Mourinho, one of his spiritual predecessors, has not even got past the last-16 since Simeone knocked his Chelsea out of the 2013-14 semi-finals. None of the other semi-finalists in that time have implemented the same tactics.
And as Atletico have grown financially, so too have debates about Simeone's approach. This has been the main issue with Felix. Atletico have been able to afford a better calibre of star, but haven't put them to best use.
It is similarly known that a few elite European clubs – including Manchester United and Chelsea – have not pursued initial interest in Simeone because of his football ideology. Diogo Jota was thinking the same when he rejected a move to Atletico in the summer.
There is increasing evidence such a philosophy is too basic in the modern game, that it doesn't stand up as well as it used to because of the increased sophistication of attacking tactics, as well as sports science.
That evidence in itself illustrates the evolution of European football, since the classic cast-iron defence used to be a core quality of the level – an elusive trait of a team you couldn't get near. Along the same lines, a 2-0 lead used to be almost insurmountable once you got to these stages. Atletico were almost a throwback in this regard. The number of spectacular comebacks in the last few years are the most visible indication of change. Big leads have almost meant nothing. Atletico endured one comeback themselves, in 2018-19, when – yes – a 2-0 lead over Juventus was undone by a Cristiano Ronaldo hat-trick.
That added to another piece of evidence, which is the fact Simeone himself hasn't got past the quarter-finals since 2017.
Chelsea's approach is meanwhile as much of a repudiation of the style.
Thomas Tuchel has so far managed a defensive record that Simeone would envy, but it hasn't been based on sitting deep. Quite the opposite. It's been built into a fluid positional game, the defensive record a by-product rather than the intention. Keeping the ball, or keeping pressing structure right up the field, is how you keep clean sheets now.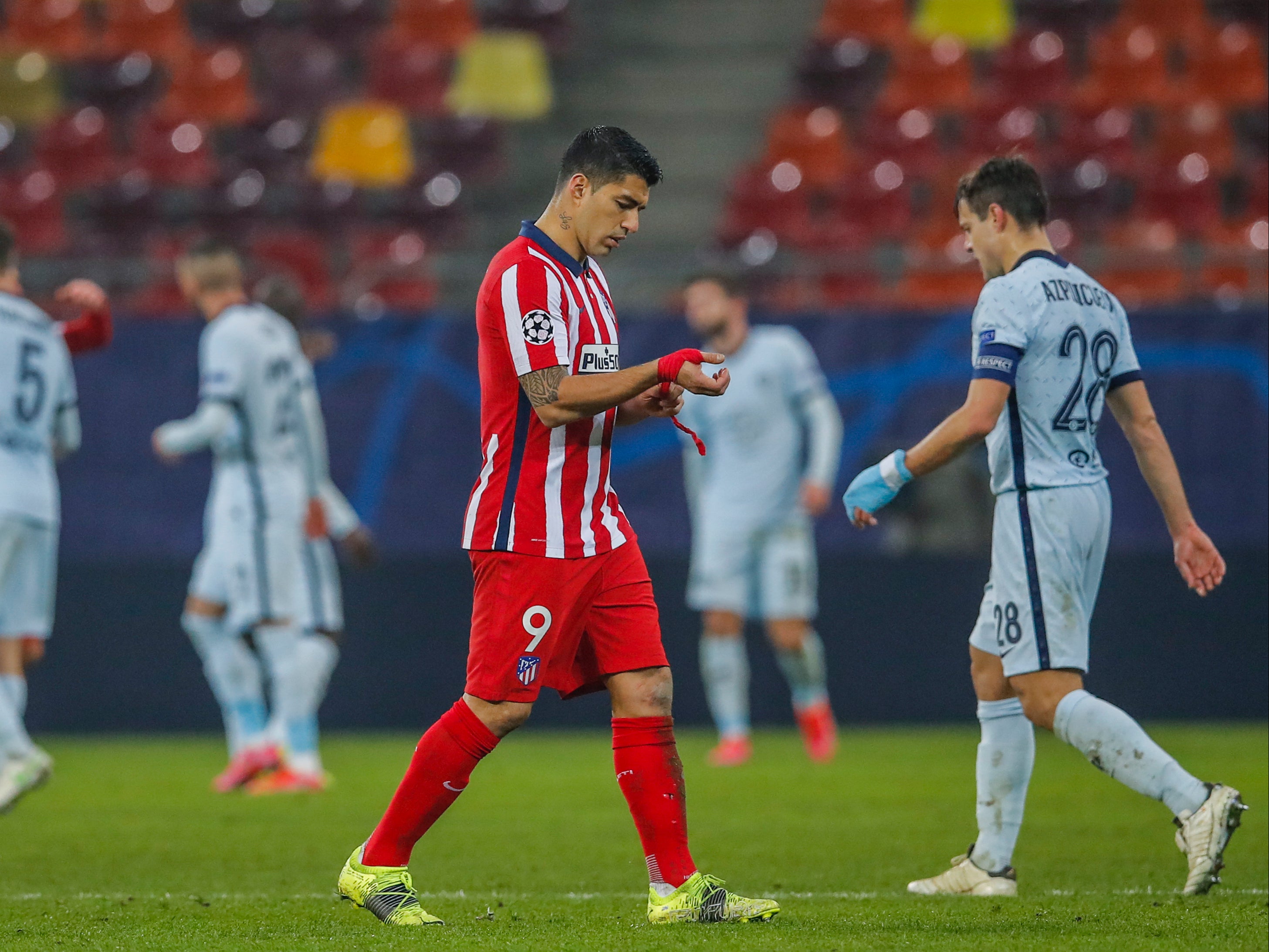 Luis Suarez's signing has allowed Atletico to play higher up the pitch
Atletico, however, must do more than keep a clean sheet. That is why this game is so weighted, in terms of greater significance for the game. Simeone has to deviate from his usual approach, and go out to score. His previous record doesn't bode all that well.
In 29 previous Champions League knock-out games, including two finals, there have been 22 occasions when Atletico have only scored one goal or less – nine blanks, and 13 matches where they've scored once.
Such minimalism is unlikely to be enough on Wednesday, unless they can again get through on penalties. It is telling that, since Simeone has been Atletico manager, they have been involved in the only two shoot-outs that the two-legged Champions League knockouts have seen.
Another aberration from all this, however, was the last time Atletico played an English side. That was when they knocked out Liverpool at this time last year, in that notorious last game before the Covid crisis brought a halt to football.
It seemed at the time it might have also brought a halt to Atletico's best chance of the great trophy, precisely because it seemed they had cracked it, and managed to score three times at Anfield.
Even those goals, though, were a consequence of the context rather than any change in tactics. Liverpool were surging forward and bombarding Jan Oblak's goal, perfectly suiting Simeone's counter-attacking game. They had all the space in behind that is required to really make it work. Liverpool played into their hands. In the quarter-finals, Leipzig did not, and eliminated them.
Now, at the start of this second leg, Chelsea have no incentive to offer up such space. Atletico are thereby going to have to offer something more. They're going to have to take the game to Chelsea. That, for all the shifts in Simeone's approach over the last year, is something they're not accustomed to in European football.
Suarez does offer something different, as well as the possibility of producing something out of nothing. Felix would be the same – but that is dependent on how he is used. It feels like that issue will be something much of this game rests on.
Source: Read Full Article