A year on from Qatar, this is the real legacy of the 2022 World Cup
Lionel Messi lifts the Fifa World Cup trophy after Argentina's penalty shootout win over France at Lusail Stadium on 18 December 2022 in Lusail City, Qatar

Sign up to Miguel Delaney's Reading the Game newsletter sent straight to your inbox for free
Sign up to Miguel's Delaney's free weekly newsletter
Thanks for signing up to the
Football email
Lionel Messi may have taken off the bisht but he still carries the air of a man who has won the World Cup. Those who know him say he visibly changed after that night in Lusail almost a year ago, in a good way. It's already been likened to Muhammad Ali after the Rumble in the Jungle. Messi has that unique air of contentment that comes with completing a lifelong ambition. That's not something many people can really say. Fewer still can say they are world champions. That's what Messi can do now. He doesn't need to, though. He just has that air.
Whether the 22nd World Cup changed Qatar or Fifa is a much more complicated question, to go with a truth that is much more than uncomfortable as football approaches the first anniversary.
It didn't really change that much for migrant workers in the country, despite the governing body's appeals to the International Labour Organisation and cosmetic changes to Qatari law. Every human rights body from Amnesty to FairSquare describes it as a "wasted opportunity", words fully justified by documentary evidence from various reports that abuses are "still continuing".
A new Amnesty investigation to coincide with the anniversary details how workers still need permission to change jobs, something labourers interviewed say was even suggested by Qatari government officials. Employers still effectively control workers' presence in the country, jeopardising their legal status and preventing them from changing jobs.
In the most problematic illustration of this, abusive employers still cancel the residence permits or falsely report employees as having "absconded" in response to workers filing complaints or asking to change jobs. Wage theft remains the most common form of exploitation, with pay still low.
Isobel Archer, of the Business and Human Rights Resource Centre, says: "Our data shows migrant workers continue to be at risk in Qatar, with many of the reported abuses occurring in direct contravention of the promised labour reforms. Many of the human rights issues documented in the lead-up to the World Cup have continued since; a disappointing testament to the lack of implementation by government and failure by businesses to uphold their commitments to migrant workers' rights.
"Over the past 11 months, our data shows workers citing recruitment fee-charging, unpaid wages, contract substitutions, extremely poor housing, intimidation and physical violence in the workplace as standard."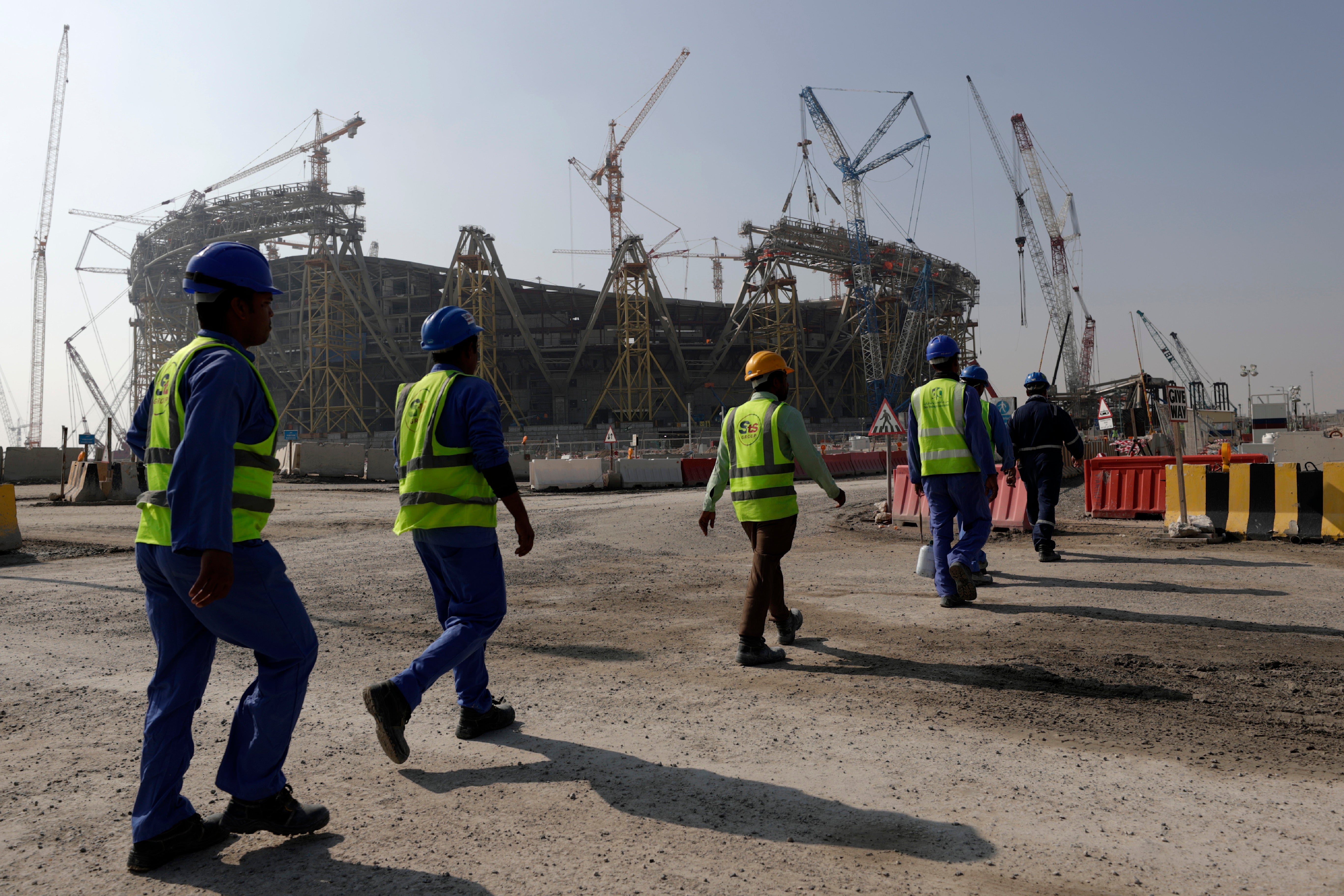 The labour of migrant workers in mostly searing heat was essential to prepare Qatar's stadiums, transport routes and hotels for the month-long tournament
This should always be remembered as the main legacy of Qatar, no matter what happened on the pitch. It was 2022 in one of the wealthiest countries in the world and yet it couldn't have been staged without immense human suffering due to the infrastructure required to host the tournament and the system it was built on. We can't even definitively say how many lost their lives due to Qatar refusing to properly investigate.
"While the thousands of labour abuses endured by migrant workers since Fifa awarded Qatar the right to host the World Cup cannot be undone, they can and must be remedied," Amnesty's new report says. It is here where human rights groups have been most frustrated, though, a feeling that has been compounded by the unexplained decision to award Saudi Arabia the World Cup and ensure all these discussions will play out again on a much greater scale.
There was a symbolism in how the eve of the anniversary coincided with news leaking that Fifa's new main sponsor is to be Aramco. The oil company, of course, has the same chair as Newcastle United in Yasir Al-Rumayyan, who is also the governor of the Public Investment Fund, which owns the English club as well as four Saudi Pro League clubs.
This is the new world that the very decision to award Qatar the World Cup in 2010 created, accelerating a growing sportswashing race between Gulf rivals. That is the second most important part of its legacy. It didn't just change football but can genuinely be cast as the most influential moment in the sport's modern history.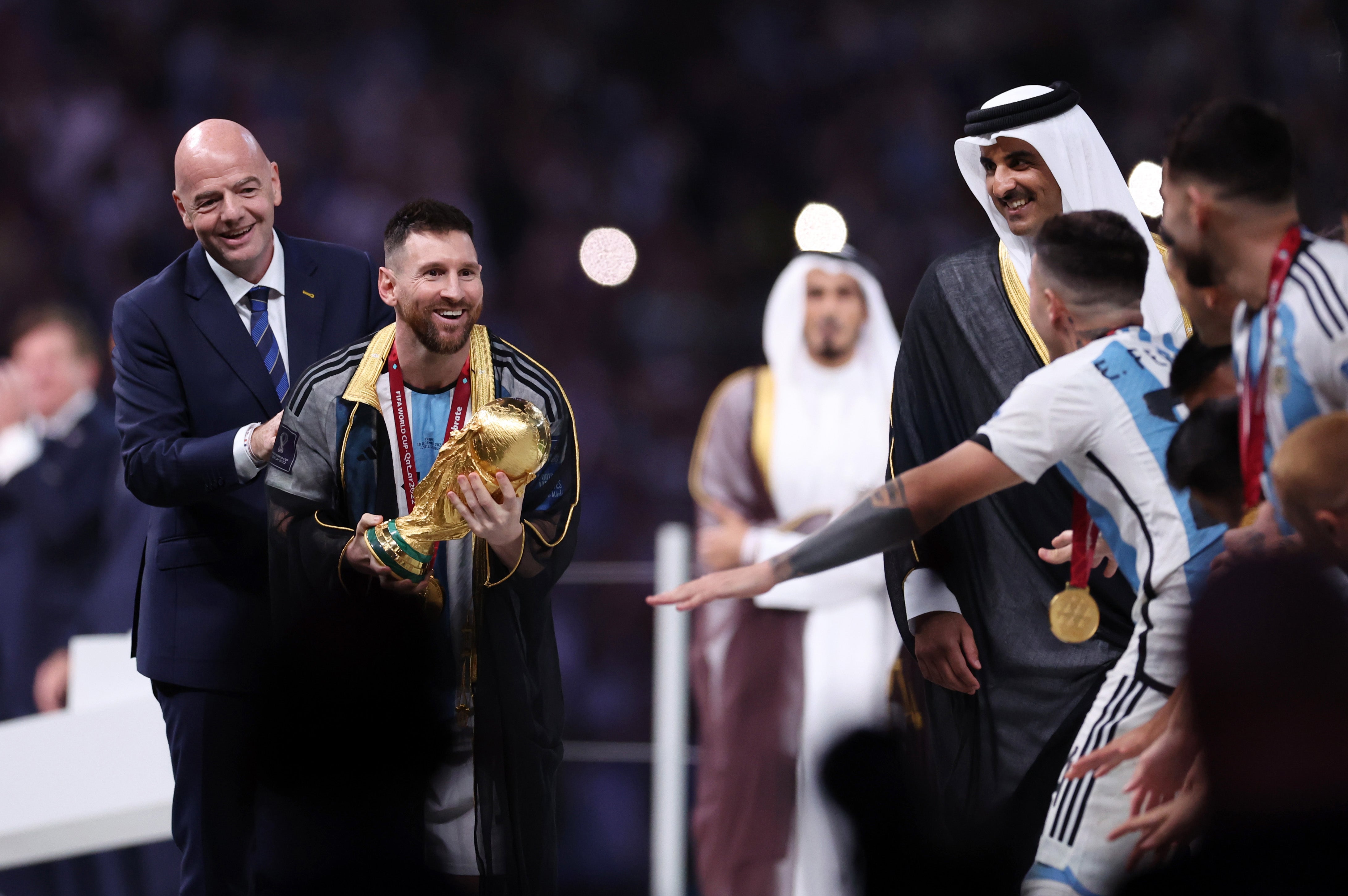 Messi will now always be associated with Qatar in the way Diego Maradona is with the Azteca
As well as shaping the entire game for over a decade, not to mention Gulf relations, the fallout brought regime change at Uefa and Fifa.
This is where the frustration with the remedy process in the aftermath of the tournament has only deepened. Fifa announced a record £6bn revenue from the World Cup as well as the launch of a review into actions it needed to take to ensure there was remedy in line with its 2017 human rights policies.
There have still been no actual details of this. The work of the Human Rights and Social Responsibility Sub-Committee is merely described as "currently ongoing". There have been no details on any prospective "legacy fund" to help migrant workers either.
"It's really surprising they haven't set up a fund," says Mustafa Qadri of Equidem. "Here's a number, here's an email address, here's how you take it forward if you work in a World Cup supply chain and think you are owed.
"Nothing has happened. It's not acceptable. It just feels like a strategy of constantly talking about things to avoid taking responsibility. This is a multibillion-dollar company that can handle this.
"We've been in touch with workers who not only were not paid, when they very peacefully, very mildly, put their case to employers, they were ignored. So when three [workers] stayed in their buses, they were arrested, charged and had to spend months in jail, paying 10,000 Qatari riyal to get out. Did Fifa pay for that? Did Fifa provide legal help? Has Fifa been helping these workers?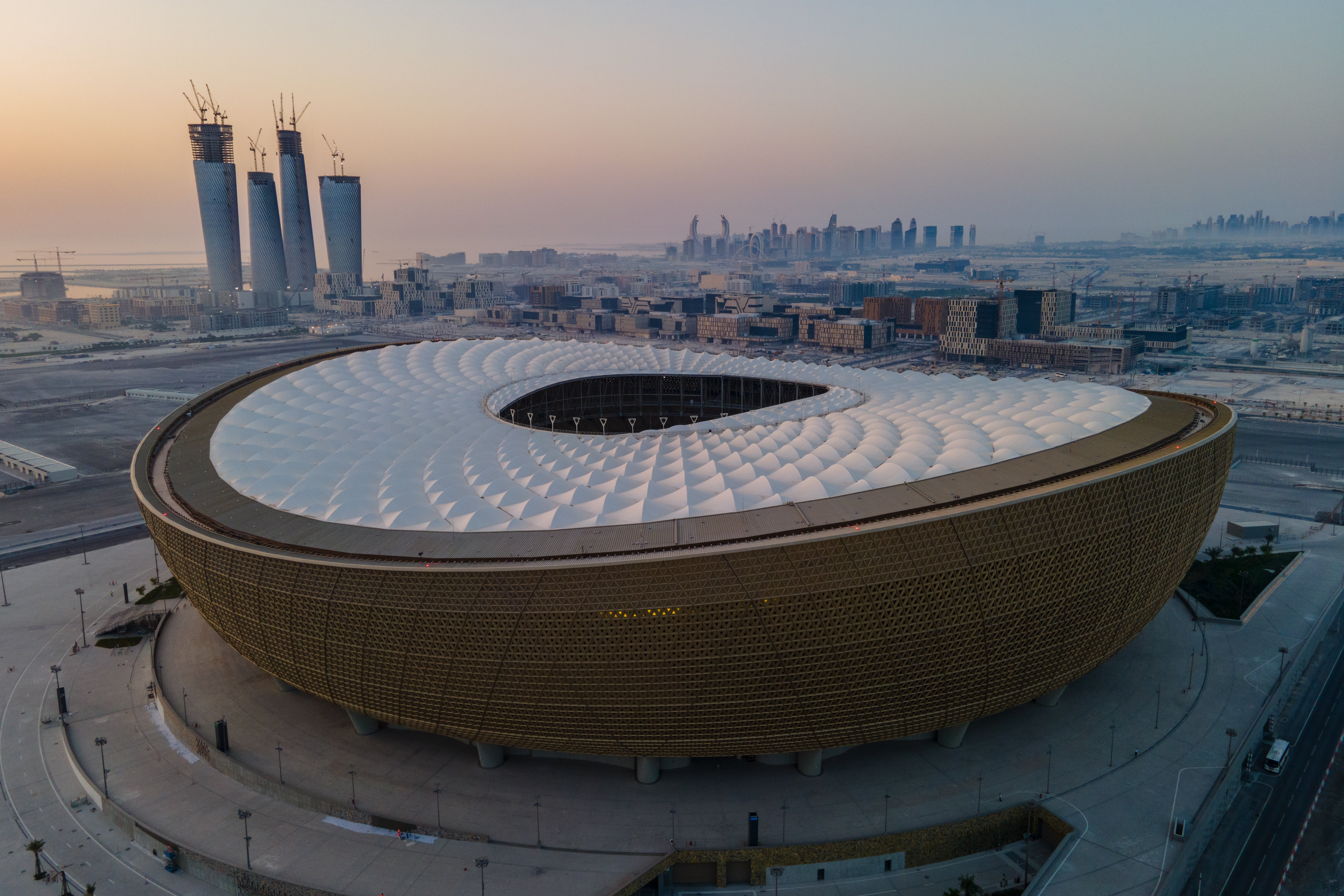 Lusail Stadium staged the tournament final, but the newly built city is described as 'a ghost town'
"It's all an insult to all those workers who made that event possible. And going to Saudi now by default, how does that pass any human rights assessment?"
This is what may become the greatest significance of Qatar in the future. Despite so much intense discussion and so many moral lessons, the outcome has not been to address these issues.
Fifa has instead ensured we're going to have much more of the same. There's going to be another long build-up to a highly controversial and politically charged World Cup, dominated by discussion over migrant labour and human rights, that will require a change to the calendar amid increasing questions over the process that led to this.
Meet the new world, worse than the old world.
As regards the world left in Qatar, the newly built city of Lusail is described as "a ghost town". Sources who have worked in the country say the nationwide atmosphere has been flat since the highs of the World Cup. That is deepened by a broad feeling of a lack of direction since the tournament had been the country's great goal for over a decade.
All of that is still surpassed by the immense pride that a country so small and under so much pressure from far larger neighbours actually pulled this off. That the tournament also featured one of the greatest stories in football history only amplifies that. Messi will now always be associated with Qatar in the way Diego Maradona is with the Azteca. That has made it all worthwhile for the country.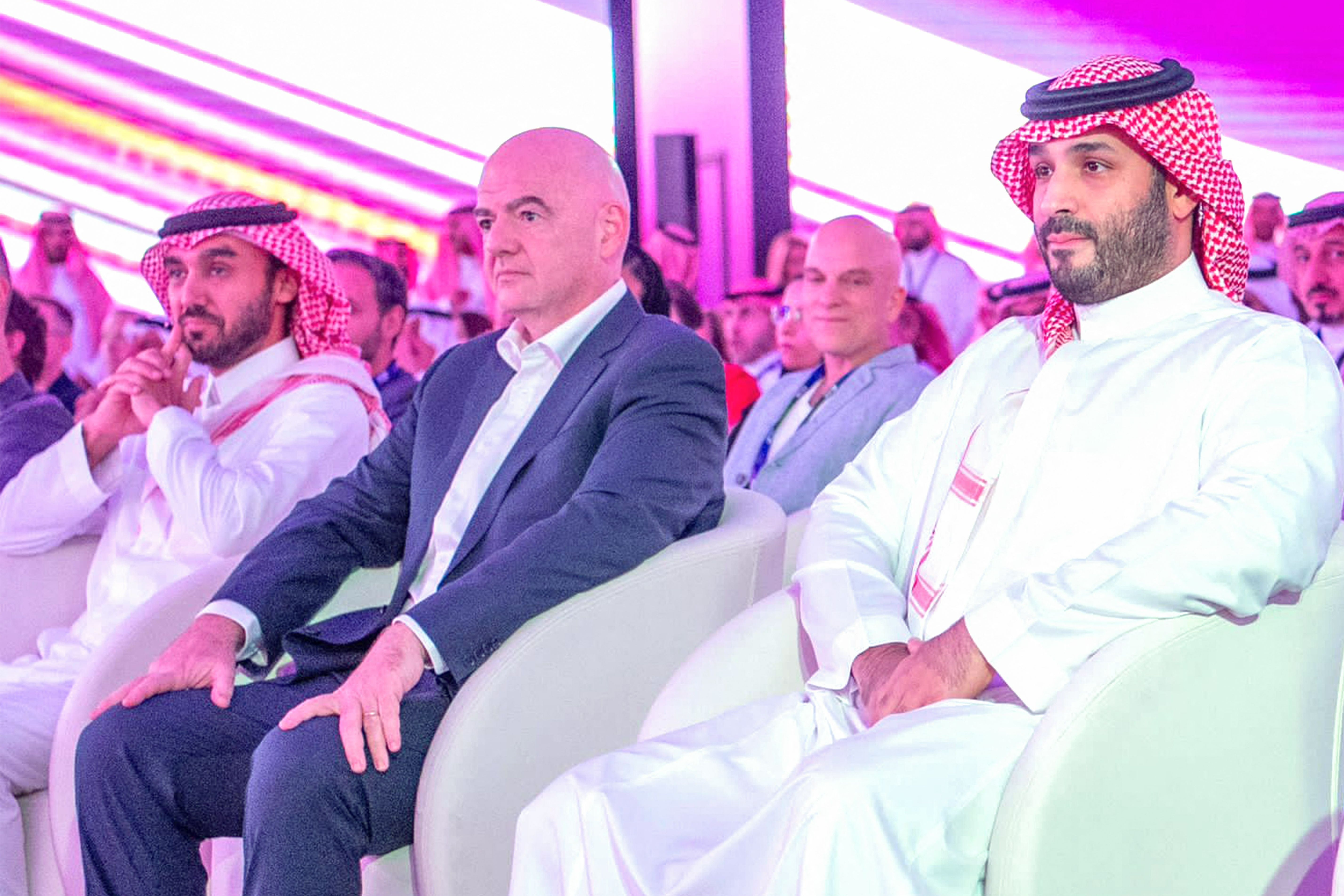 Fifa president Gianni Infantino (centre) with Crown Prince Mohammed bin Salman (right) in Riyadh last month. Saudi Arabia has been awarded the 2034 World Cup
There had been a period in the build-up when Qatar was so aggravated by Western criticism of the whole event that they considered scaling back from football. That has all changed.
The state now wants more. The attempt to buy Manchester United was part of that. Saudi Arabia has seen the benefits of all this and will now get its own World Cup.
Messi, of course, isn't really likely to think of any of this.
The wider game, however, could do with thinking much more about the direct human suffering that World Cup caused.
Source: Read Full Article