Sharks candidates revealed for momentous board elections
Former international Mark McGaw and one of the men who was the inspiration behind the introduction of night games at Shark Park are part of a bloc challenging a ticket pleading for continuity before Cronulla's board elections.
The Sharks, awaiting the findings of the NRL's salary-cap investigation into the club, are preparing for perhaps one of the most momentous governance changes in their history with more than half their board positions deemed vacant after a spate of resignations.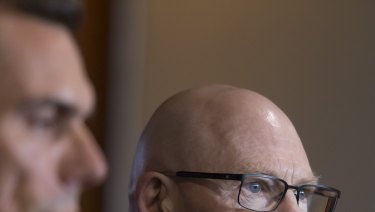 Governance: Cronulla chief executive Barry Russell.Credit:AAP
Eight candidates have lodged nominations for the five available spots.
The new board will be saddled with the huge task of resurrecting the Sharks' financial plight amid rumblings about their ongoing viability and the potential of further sanctions after the NRL's probe into self-reported cap irregularities.
The NRL has been closely monitoring the club's books and only last year asked for more clarity about their future.
Long-time suitor McGaw and John Michels, a former administrator who claimed to have helped save the club from receivership and urged the start of games under floodlights in the Shire, have banded together to challenge the incumbents.
They will be joined by former independent director and retired NSW police sergeant Glenn Gorick.
Current directors including vice-chairman Mark Deutsch and Dane Sorensen have joined financier Martin Kennedy and businessman Steven Mace – both of whom were parachuted onto the Sharks board in December – to form a powerful ticket.
They have enlisted local business identity and De La Salle Junior Rugby League Football Club president Dave Nicholson to run as the fifth member of their group seeking election.
The Sharks' summer has already been one of upheaval as the NRL stepped up its probe into alleged third-party breaches dating back to 2015.
It resulted in the deregistration of premiership-winning coach Shane Flanagan, who was accused of dealing with the club regarding and recruitment and retention against the conditions of his 2014 ban over the peptides scandal. Flanagan has appealed the decision.
The Sharks have also argued against an $800,000 fine stemming from the matter with the Australian Rugby League Commission expected to hand down its findings on Cronulla's salary-cap imbroglio later this week.
Nervous Sharks officials are hoping any sanction won't force them to shed a player so close to the start of the season with former Warriors halfback Shaun Johnson the last player signed for the club.
His eligibility for the round-one clash against Newcastle could be called into question if the Sharks need to do work to become cap compliant in the next couple of weeks.
The Sharks are still trying to secure both front and back of jersey sponsors for this season.
Voting for the open board positions will begin on March 16.
Source: Read Full Article