Pies confident Daicos can avoid second-year blues; 'prison bar' jumper deal struck with Port
In today's AFL briefing, your daily wrap of footy news:
Will young star Nick Daicos be hit with second-year struggles?
Port Adelaide will be able to wear their traditional prison bars jersey after an agreement with Collingwood.
'He better get used it': Pies confident Daicos will handle extra attention
Jon Pierik
Heading into last weekend's practice match between Collingwood and Hawthorn, Nathan Buckley was confident Nick Daicos knew what to expect in his second season at the elite level.
"We all talk about it," Buckley told The Age on what often is dubbed the second-year blues.
"You can only have your first year once, and everything is fresh and new and great. He will have different challenges as every player does as they go through their career, when you don't have a steeper learning curve and the differences in your performance become more incremental, rather than that big leap. But I think he will keep going."
Daicos, a dynamic ball winner in a stunning rookie season capped by being named the league's Rising Star, had a rugged opening to the new season when shadowed by Hawthorn tagger Finn Maginness in a practice match last weekend.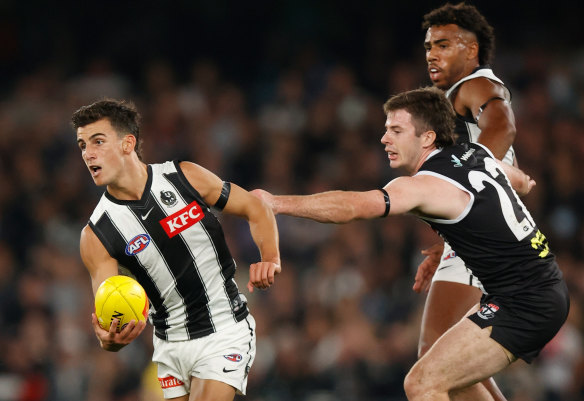 Nick Daicos has had a strong pre-season, and is ready to avoid the second-year blues.Credit:Getty Images
Maginness initially went to Daicos at half-back, before following him to a wing. Daicos finished the evening with a relatively modest 17 touches, having averaged 26 disposals a game last season in a year the Magpies stormed into a preliminary final.
This included having 40 disposals and three goals in a best-on-ground performance against Adelaide in round 18. Come the Brownlow Medal count, Daicos finished equal top on Collingwood's leaderboard alongside Jack Crisp, each with 11 votes.
Too much, however, is often read into practice match form. The Magpies say Daicos has had a superb pre-season, having added muscle, and can be used in a variety of roles.
"He was used so well, half forward, half-back and midfield, so I don't think that will change. He will get thrown where the team needs him, and also what suits him for what he is going through at the time," Buckley said.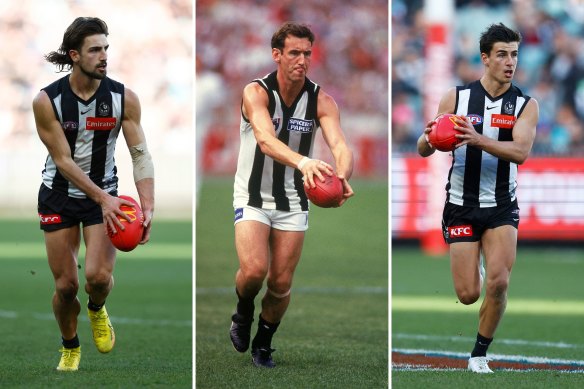 Josh Daicos (left) and Nick hope to emulate their father Peter (centre) and become a Magpies premiership player.Credit:Getty Images
That can only be a good thing, for Hawks coach Sam Mitchell was straight to the point when interviewed during the Launceston clash: "He better get used to it, he's just too good to leave running around."
Daicos' father, Magpies great Peter, has told his son the hard tag was a compliment. The focus on Daicos will be greater this season, but many clubs – unlike the Hawks – prefer not to tag.
The Magpies open their season in a Friday-night blockbuster against Geelong, and the reigning premiers are typically loath to tag.
"He will get his attention, and so be it. It went to another level [last] weekend, that is the way Finn Maginness plays. He just runs with you. But I am sure they have got some party tricks in store," Peter Daicos said.
"They are not going to show their hand [now] – it might be sitting in a goal square. There are a lot more areas you can place him to try and expose players like that."
Skipper Darcy Moore insists Daicos is ready to handle the attention which awaits.
"It's pretty unique for a second-year player to get that amount of attention in a practice game, and I thought he handled it really well," Moore said. "Nick has had another great pre-season, which is exciting. Fortunately, he is a versatile player, can play a few different roles for us, which is great. As a defence, if we can have forward lines worrying about us, then we are doing something right."
Magpies assistant coach Brendon Bolton echoed Peter Daicos' thought, confirming there will be contingency plans if Daicos junior is shadowed, while adding having the youngster deal with the "grind" of a tag was not necessarily a bad thing.
Pies-Power reach agreement on prison bar jumper
AAP
Port Adelaide will wear their historic "prison bar" guernsey in their round three AFL showdown with Adelaide after reaching a long-awaited agreement with Collingwood.
When Port entered the AFL in 1997 they were prevented from using the prison bar jumper, which they wore in the SANFL, amid opposition from Collingwood who maintain the design is too similar to their own guernsey.
The Power have since consistently requested to wear the black-and-white striped heritage guernsey in showdowns, but were barred by the Magpies with former Collingwood president Eddie McGuire stridently opposed to it.
Port Adelaide players changed into the "prison bar" jumper in 2021 to celebrate a Showdown victory.
Port were permitted to wear the guernsey in round two, 2020 as part of their 150th anniversary but had several other requests to wear it knocked back, including in 2021 when players instead changed into the guernsey after a showdown win over Adelaide.
Collingwood's shift in attitude marks a thawing of relations under McGuire's successor Jeff Browne.
"While we own the stripes in the AFL competition, we acknowledge the history and origins of the Port Adelaide Football Club and their contribution to South Australian football over a long period of time," Browne said in a statement on Saturday.
"As president of the club board and following ongoing discussions with Port Adelaide president David Koch, it is our view that we acknowledge the history of Port Adelaide prior to their entry into the AFL and support them to wear their 'prison bar' guernsey in their upcoming home showdown against the Crows in round three."
Koch hailed the agreement as a win for Power fans and hoped to extend the agreement beyond 2023.
"If the last few years have taught us anything it is that the fans are central to our game," he said in a statement.
"Our fans have asked for this guernsey. They understand more than any the importance of heritage and tradition, and we are delighted to be able to wear this guernsey again for our people.
"Collingwood president Jeff Browne and chief executive Craig Kelly have been outstanding to deal with during these discussions."
Keep up to date with the best AFL coverage in the country. Sign up for the Real Footy newsletter.
Most Viewed in Sport
From our partners
Source: Read Full Article