Joseph Manu: England Tests a 'learning curve' for New Zealand newcomer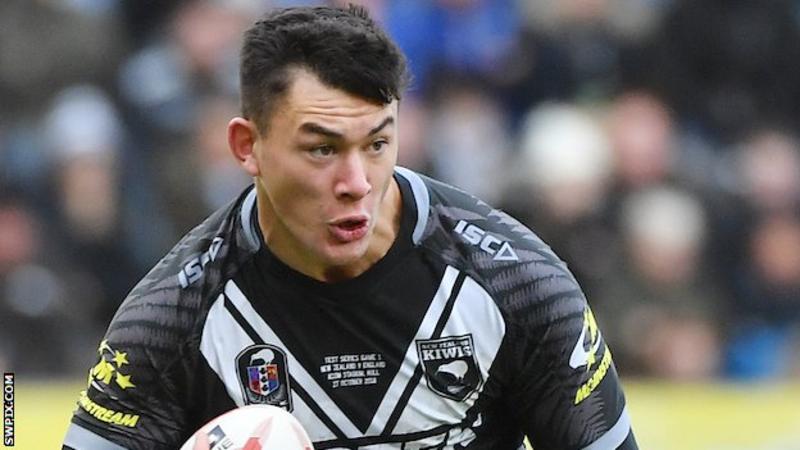 New Zealand's first Test defeat by England was a "tough learning curve" for centre Joseph Manu, who has enjoyed a remarkable 2018 season.
The 22-year-old won the National Rugby League premiership with the Sydney Roosters, and his Test debut against Australia was a dream fulfilled.
He outplayed his clubmate Latrell Mitchell against the Aussies, scoring a try, but was kept quiet by England.
"Coming over I knew it wasn't going to be easy," Manu told BBC Sport.
"There are a few things I need to work on defensively, but we've got two more games and I'm looking forward to the next two weeks. It was a good, tough learning curve."
Manu's reputation has been enhanced by some stellar performances in big games, such as the Grand Final win against Melbourne Storm and victory over the Kangaroos earlier this month.
Mitchell described his fellow three-quarter as an "unbelievable talent" who will become the "best centre in the game one day".
'It's pretty cool to experience this at a young age'
Media playback is not supported on this device
Although Manu was part of the Roosters' under-19 side that represented Australia at the Commonwealth Nines in Glasgow in 2014, being part of a full Test touring side for his native New Zealand is on another level.
The Hamilton-born former Tokoroa High School student has enjoyed a rapid ascent from emerging talent to Roosters' regular, scoring eight tries in 26 NRL games this past season.
"It's pretty awesome," he continued. "It's my first time over here, I used to watch some of these Test games [in England] back when I was a kid and now I'm here.
"It's a lot different to what I've expected, different players, and they have a different playing style.
"It's pretty cool to experience that at a young age and come here touring England has been pretty fun. To play at these stadiums is awesome and the fans have been awesome."
Cultural exchanges
As well as the intensity of Test football, the New Zealand players have been soaking up some culture during their time on the other side of the world.
"We went to a soccer game, at Manchester United against Juventus," Manu continued. "It was a similar crowd – they love their singing and chanting, and we got to stay in Manchester a few nights.
"It's nice being in a different city, different to Australia and New Zealand, I'm just enjoying being here and still buzzing being around the boys.
"It's really tough for Kiwis to come here and get a result, but I'm really enjoying it. I want to come over here and win."
The second Test between England and the Kiwis takes place at Liverpool FC's famous Anfield stadium on Sunday (kick-off 14:30 GMT).
Source: Read Full Article