Back and white: Beams, Magpies grow together
Happy homecoming it may be, but Dayne Beams back at Collingwood is not an action replay. He's a different person, and they're a different club. Life's journey has reshaped both.
When Beams left, he was 24, without ties, going back to Brisbane to be with his ill father, Philip. Now he's 29 with an outlook on the world tempered by the arrival of a young family and his father's death, catalysing his own mental crisis that left him briefly unable to stomach playing.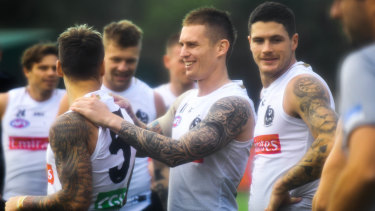 Welcome back: Dayne Beams enjoying life back at the Pies.Credit:Joe Armao
"Watching my Dad fade away was extremely difficult, but it put life into perspective," he said this week.
As he has evolved, so have the Magpies. When Beams left, Collingwood was a men-only football club replete with large personalities but lesser achievements, with growing slows on coach Nathan Buckley, who was then to Beams a distant figure.
Now it is a mega-club teeming with footballers and netballers, men and women. Its playing group, three-quarters turned over since Beams last was among them, is outwardly quieter but none the less feeling its oats after making last year's grand final.
Crucially, it is led by a coach in whom Beams has observed a metamorphosis.
"The biggest change I've seen in Bucks – and this is not to say he wasn't caring – but it's come out a lot more since I've been back," he said.
"From afar, the success they've had was on the back of a lot of close connections Bucks built with the playing group.
"Sometimes we all need to step back and look in the mirror. I know I have. Assess where I am, strengths and weaknesses, what I need to change. Full credit to him."
Let's rewind, to March last year. Football was the bond between Beams and his father, a seven-time best and fairest for Mulwala (the club's medal is named for him). Footy had been the glue and balm as Philip succumbed to prostate cancer, slowly and then all too speedily.
Towards the end, he lived with his son and family, a raw experience for all. Now he was gone.
"Footy wasn't just a game for me, it was what drew me and my dad together," Beams said. "To lose that part of me was devastating."
There weren't too many game days where I didn't cry before the game.
On the morning of what should have been his 150th game, Beams broke down in his Adelaide hotel room and couldn't play. Every new game day took lumps out of him. "I struggled with game day for pretty much the whole season," he said. "There weren't too many game days where I didn't cry before the game."
He had taken on the captaincy, but now it overwhelmed him. He and coach Chris Fagan agreed to a two-week cooling-off period, but then he stepped away.
"It was the best decision I made," he said. "It released the pressure."
He got help, lots of it. He was not timid about seeking it then nor talking about it now.
"I think that stigma's been broken down a bit," Beams said. "Players showing their vulnerability is good for society. It just shows we don't all run out there and wear capes.
"We're normal humans. Like everyone else out there, we have problems."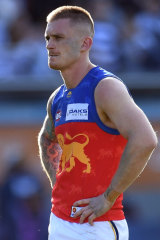 Beams spent four years as a Lion.Credit:AAP
Without his father to act as a bearing, Beams' horizon shifted. His wife, Kelly, was from Melbourne, he had kept his house there and says the Lions always knew he would go back when his contract expired in two years. Now waiting seemed like stagnating. Four weeks before season's end, he told the club he wanted to make the return journey.
It was a protracted business. First, Beams had to be sure that Buckley and Collingwood wanted him back. "Even though I wanted to get back to Melbourne, I didn't want to go to any club than Collingwood," he said.
"I would rather have stayed in Brisbane than go to any other club."
Then he had to convince the Lions, who were young and lacked ready-made leaders. Meantime, speculation swirled. Only when Lachie Neale's move from Fremantle began to materialise did they come around.
"I wanted to make sure the Lions were looked after as well, strange as that may sound," Beams said.
"I would have left in two years. There was no doubt about that. I would have been 30, 31. They would have got compensation for me, but it would have been bugger all. They got a good deal for me, and it worked for both clubs."
Beams regrets nothing about his Brisbane sabbatical. "The most important thing to me is family," he said. "I was able to spend the last four years with my dad."
He foresees much success for the Lions, but feels no pangs. Returning to the Gabba in round five holds few fears. He says he was booed there in Brisbane-Collingwood games anyway, by the preponderantly Collingwood crowd!
Back at the Holden Centre, Beams found many familiar faces among the coaches and backroom staff. Facilities were as he remembered them, down to the last barbell. It was home, but not one he took for granted. He was no one's prodigal son.
"I had no expectations," Beams said. "I didn't think I was coming back to my club. It was a different club. I had to earn the respect of my teammates. That's the way I looked at it. All I wanted was to buy into what the team had created.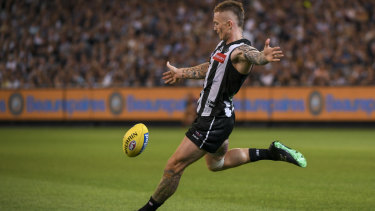 Dayne Beams back in action for Collingwood.Credit:Eddie Jim
"The successful last year was built on the back of connection, care and love we showed one another last year. Obviously, I wasn't a part of that, but it's been obvious this year."
Seamlessly, Beams has slipped back into and fortified Collingwood's already powerful on-ball group. Again going at 30 touches at game, he is the Magpies' moving pictures in midfield. It is as if he never left, except that victory over Richmond last week obliged him to take a Gatorade shower – after game No. 170. He says there won't be another.
As Beams and Collingwood have changed, supposedly so has the game. Beams, though, says it is barely apparent to him. "I've noticed around the centre bounces, you're able to come out the front a bit easier," he said.
"Whether it's made the game any better … I don't know how they measure that in terms of scores or statistics, but in terms of the feeling when I'm out there, I don't notice too much change."
Magpie Beams Mark 2 apparently is in a good place, and not merely on the end of a Scott Pendlebury handball.
He says his life has structure. He misses his mother and brother, of course, but she is all too happy to visit often from Brisbane. His own family is settled and happy, which cheers him.
Going through the things I have I'd like to think has built a bit of resilience in me. I can help other people now.
"My family's everything to me, and I just want to be the best person I can be for them," he said. "With a bit of extra responsibility, of being a husband and father, and the natural growth in me as I get a bit older and wiser, I've become a more mature person.
"Going through the things I have I'd like to think has built a bit of resilience in me. I can help other people now."
Game days, his dad still comes with him. But he no longer blinks back tears at the idea. "He'll always be watching over me, watching my footy wherever he is," he said. "I guess I've just learned to deal with that a bit better. I'm continuing to see my counsellor.
"It's been challenging and confronting, but it's helped me in a lot of ways. I'm no longer having those emotional outbursts before games. It was quite draining. It left me quite fatigued. But I'm no longer having to deal with that.
"I just know that wherever Dad is, he'll be having a beer, watching me."
Source: Read Full Article