AFL Live Scores: Saints out to secure historic finals spot against Giants
The finals equation
St Kilda win, and they're in (it would be their first finals series since 2011).
If they lose they need to hope Melbourne also lose (they play Essendon on Saturday).
The Giants need to win to make it, but they also need the Bulldogs to lose and Melbourne, and to make up percentage.
A loss eliminates the Giants.
Jack Steele of the Saints celebrates a goal in round 10. Credit:Getty Images
Q3 STK 43 GWS 27
BEHIND to the Giants. It was rushed. GWS managed to scamper forward and a big scoring chance ensued. But some desperate defensive work by the Saints stopped the Giants in their tracks.
Q3 STK 43 GWS 26
Approaching the halfway mark of the third quarter and the Saints have edged out to a 17-point lead. That's plenty on a night like this. Another goal to St Kilda and that will spell enormous trouble for the Giants.
Q3 begins … STK 35 GWS 26
Finals on the line for these sides. Looks as if this will go down to the wire … The Giants need to win by A LOT to have a chance of finals you'd think. Saints only need the win.
It's been a tight contest. Credit:Getty Images
Q2 is over … STK STK 35 GWS 26
Half is over, and the Saints hold onto a lead just over a goal.
The Giants got within three points at one stage and managed to spend a bit of time in their opposition's 50m arc, but the Saints had enough chances to go up the other and and hit back.
Both Greene and Butler got into the game with goals in that term. In a tense when either of those players could be the difference with their class and smarts in the forward 50.
Coniglio leads disposals with 14, while Hannebery only has five. Coniglio also has three clearances.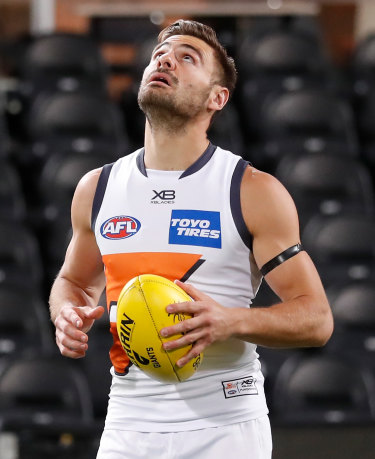 Coniglio is responding well to being dropped. Credit:Getty Images
Q2 STK 35 GWS 25
Goal to the Saints, and just as the GWS danger-man gets into the game it's the Saints danger-man – Dan Butler – who pounces and kicks a goal.
He runs onto a loose ball, accelerates and snaps from close range.
The Green goal
Q2 STK 28 GWS 25
The Giants are within three-points! And ominously, for St Kilda, it's Toby Greene.
He sharks a ball off hands and then as he is falling backwards snaps, high into the air and through the goals.
There were two Saints waiting to pounce so kicking and grabbing in one motion like he did was crucial.
Q2 STK 28 GWS 19
It's a goal to Jake Riccardi, from a set shot after Jeremy Cameron missed a relatively easy one.
Important from the Giants to get that one. They hang in there.
It was a good mark from Riccardi, he's got long arms and a nice leap.
The Steele goal
Q2 STK STK 27 GWS 11
Another goal to the Saints, and it's the Saints main man Jack Steele.
He gets a super quick handball from Seb Ross and snaps from close to the 50m line.
GWS need to hitback pretty quickly.
Most Viewed in Sport
Source: Read Full Article