Renault must close gap on top teams to keep Ricciardo: F1 great
Renault needs Daniel Ricciardo to take a leap of faith if the French Formula One team are to retain the Australian beyond this season, says four-time world champion Alain Prost.
The 64-year-old Frenchman is a special advisor to Renault's F1 outfit, and after the team spluttered to a fifth-place finish in last season's constructors' championship, Prost believes Renault must edge closer to the front-running Mercedes, Ferrari and Red Bull Racing triumvirate in 2020 to keep Ricciardo in their stable.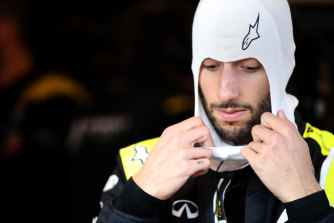 Daniel Ricciardo's two-year deal with Renault ends after this season. Will he stay?Credit:Getty Images
"We have to show and make our best impression without lying. You never know what can happen with big teams offering him a drive.
"We want to keep Daniel, but it has to be a compromise with him being motivated to stay. He has to trust and be confident about what we can do in the future. It's going to be a day-to-day progression through the season to see where we are, and see where we can be next year."
Ricciardo finished day two of testing at the Circuit de Catalunya in third position, recording only 41 laps in the opening four hours of the nine-hour session after early reliability gremlins kept the new RS20 machine stuck in the pits.
Day two of testing finished with veteran Kimi Raikkonen leading the timesheets, the Finn causing the first red flag of the test when his Alfa Romeo broke down at turn nine with 15 minutes remaining soon after he claimed top spot. Raikkonen finished 0.256 seconds ahead of Racing Point's Sergio Perez, with Ricciardo 0.6s adrift of Raikkonen in third.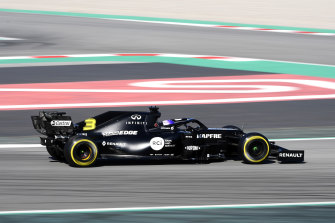 Early signs at F1 pre-season testing have been positive for Renault.Credit:Getty Images
Ricciardo said that while he completed fewer laps than he would have liked, his first impressions of the new car were largely positive after improving his best time of the 4.4-kilometre circuit to one minute 17.749s, 0.124s faster than he managed on the opening day and three-hundredths of a second quicker than his best testing time 12 months ago.
Twelve months on from Ricciardo's first laps in pre-season testing for his new team in Spain, Prost feels his impact inside Renault has been significant. The Australian's ability to galvanise the team last season after Renault's pre-season predictions for 2019 fell flat showed a leadership quality that Prost admits he underestimated.
"He is what we thought he was, more or less. On the track, we knew about his quality, and he is 100 per cent one of the best drivers, so he is who we thought he was in that regard," Prost said.
"But when you're coming from Red Bull and what was a winning car, at this stage of your career it's very difficult to take a step backwards, but he was still giving 100 per cent of his best for the team and always with the smile and good spirit. Because of this he has all the team behind him and close to him.
"The positive surprise for me was the level of commitment a driver like him can have even with not a competitive car."
Source: Read Full Article