Lewis Hamilton: Will he overhaul Michael Schumacher's F1 records?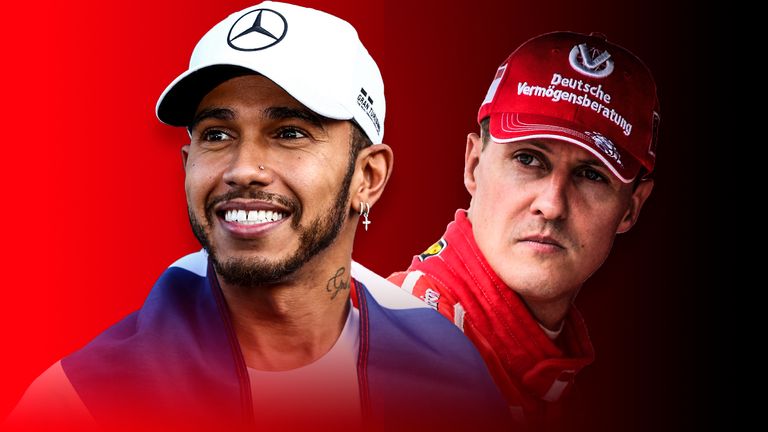 Lewis Hamilton's place in Formula 1's pantheon is already secured thanks to five world championship titles, but what chance does he now have of ending his career as F1's statistical GOAT?
It's a question which is likely to define the next chapter of the Mercedes driver's already-extraordinary career.
"We can't help but look toward Michael Schumacher's tally of seven titles now and begin to think it's just possible to be matched," said Sky F1's Martin Brundle.
But it's not only Schumacher's magic mark of world championships which is increasingly coming into view for the sport's current standard-bearer.
Hamilton's rapid ascent up the all-time tables in recent years means Schumacher's record 91 race victories and 155 podiums are also now firmly in view too for a driver who has already committed at least the next two years to Mercedes and F1.
What next for Hamilton?
Hamilton's most recent contract extension means he has at least the 2019 and 2020 campaigns to help prolong an era of Mercedes success which has now stretched to five seasons.
"This season has absolutely proved to me that Mercedes are completely undimmed by the success they've had so far and are going to be going to six next year and seven the year after," notes Sky F1's Ted Kravitz.
What about seven championships?
Neatly, Hamilton is at the same point of his career as Schumacher – 33 years old and in his 12th season of F1 – when the German himself became a five-time champion in 2002.
Schumacher's more memorable 'first' career continued for four seasons beyond that, with his final two championships coming in 2003 and 2004.
With a new two-year contract beginning in 2019, Hamilton clearly has the time to match the former Ferrari driver.
Most F1 world titles
"Absolutely he can get to seven," added Kravitz.
But whether or not he has privately set himself any remaining career targets, Hamilton is not saying.
"I've not really put any thought towards getting to that number – just because I've been trying to focus on getting this one," said Hamilton. "Whether or not I'm going to have the chance to win more, who knows – but I'm going to give it everything to do so – but I think just one step at a time."
Can Hamilton reach 92 wins?
Given he finished his career with 40 race wins more than any other driver in history, Schumacher's tally of 91 has long been considered impregnable.
But Hamilton is now just 20 back on 71, thanks in large part to winning at least nine races in each of the last five seasons – an unprecedented achievement.
Hamilton win ratio since the start of 2014 is exactly one in two, 49 wins from 98 races. So if he keeps up that rate, Hamilton would require another 42 races to achieve a 92nd career win.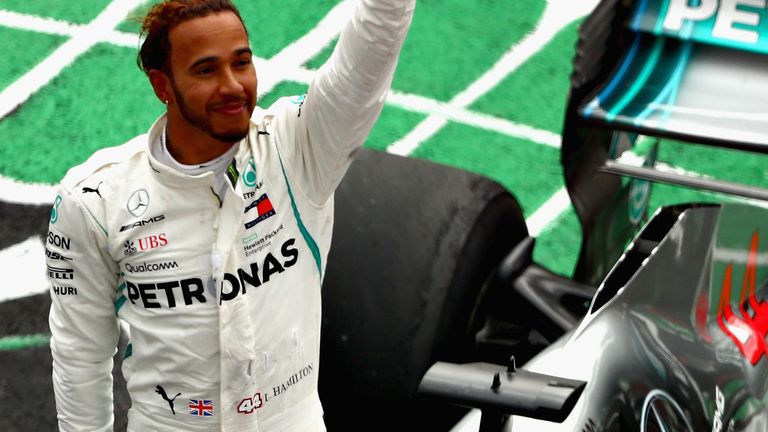 With two grands prix still to come this year, a confirmed 21 races in 2019 and almost certainly at least the same amount the following year, that's a minimum of 44 starts to come before the end of 2020.
That makes it tight, but still just about doable.
"The 91 wins he has, for example, that's a lot of wins. There's still a long way to go but I'm here for a few more years, so I'm hoping I can at least get close," said Hamilton.
One of Schumacher's most impressive records that seems certain to go is the number of podium finishes
Hamilton is 23 top-three appearances away from drawing level and has averaged at least 15 podiums over the last five seasons.
So what do Hamilton and Mercedes say?
On such a run of success, Hamilton and Mercedes will inevitably start as favourites to do it all again next season.
But, as Toto Wolff cautioned in response to forward-looking questions amid Hamilton and Mercedes' Mexico celebrations: "Before reaching seven there is six to win and we haven't scored a single point for that one."
Hamilton is certainly of the same mindset: "Records have never been something that is driving me."
Certainly Ferrari, Red Bull-Honda, and maybe even an as-yet-unconsidered surprise package, will hope they can change F1's current Hamilton-Mercedes championship narrative before too long.
Sky F1's Brazilian GP schedule
Saturday, November 10
1.45pm: Brazilian GP Practice Three build-up
2pm: Brazilian GP Practice Three LIVE!
4pm: Brazilian GP Qualifying build-up
5pm: Brazilian GP Qualifying LIVE!
6.30pm: The F1 Show LIVE!
Sunday, November 11
3.30pm: Pit Lane LIVE!
4.30pm: On The Grid LIVE!
5.10pm: THE BRAZILIAN GP LIVE!
7.30pm: Paddock Live!
Sky Sports F1 is the only place to watch every Formula 1 Grand Prix, qualifying and practice session live in 2018. Get Sky Sports F1.
Comment below to get involved in the debate, but please adhere to our House Rules. If you wish to report any comment, simply click on the down arrow next to the offending comment and click 'Report'.
Source: Read Full Article