Spanning the career of 2018 Hockey Hall of Fame inductee Martin Brodeur
TORONTO – – Growing up the son of Montreal Canadiens team photographer Denis Brodeur, Martin Brodeur had access to the NHL club kids dream about. Brodeur would often go to work with his father and help out with the photography equipment, often getting up close with his idols.
While he got to hang around the likes of Guy Lafleur and Patrick Roy – it was a morning at the old Montreal Forum as an 11-year-old, which stands out to Brodeur now as he gets set to be inducted into the Hockey Hall of Fame on Monday.
"I would go to work with my dad and he'd take some pictures and stuff," Brodeur recalled. "One day, he took me early in warmups and I was kind of right on the boards and Chris Nilan was playing at the time and came over and kind of grabbed me in a head lock and took a picture with me. I thought it was the coolest thing – it was Chris Nilan. He coached me afterwards and I talked to him about it – that was one of the special moments."
Denis Brodeur, who won an Olympic bronze medal for Canada at the 1956 games, also worked as a photographer for the local baseball team exposing his son to legendary Expos as well.
"I didn't really speak English, so anybody that came in (to our house), I couldn't really talk to them at times. Gary Carter (and) Andres Galarraga came in, took a picture with my cat, he was The Big Cat and I had a big cat so my dad thought it'd be a good idea to pose with my cat," Brodeur laughed. "I was really fortunate to grow up in a family with a dad like that, that's for sure.
Fast Start to NHL Career
The younger Brodeur played three seasons with the St. Hyacinthe Lasers of the QMJHL, selected in the first round (20th overall) by the New Jersey Devils at the 1990 NHL Draft.
After a brief stint with the AHL's Utica Devils during the 1992-93 season, Brodeur became a full-time NHLer during the 1993-94 campaign winning the Calder Trophy as the league's top rookie after posting a 27-11-8 record to go along with a .915 save percentage and a 2.40 G.A.A. in 47 regular season games.
It was in the spring of 1994 that Brodeur got his first taste of Stanley Cup playoff action as the Buffalo Sabres and New Jersey Devils met in the first round of the playoffs. Game 6 of the series remains one of Brodeur's favourite games.
MORE: 2018 Hockey Hall of Fame inductee Gary Bettman — "I hope they remember the game got bigger, that it got stronger"
The Sabres eventually won the game 1-0 to force a deciding Game 7, but not before four overtime periods at the Buffalo Memorial Auditorium.
"It's something special. You played four over time periods – that's two full games without a goal and in the playoffs," Brodeur said. "They were playing for their lives. It was Game 6 if we win, we go (on). Next thing you know, its one o'clock in the morning, it's like alright someone's got to give here. I guess I did."
What stands out to Brodeur from that April night in Buffalo were the intermission discussions with healthy scratch Bernie Nicholls.
"In Buffalo, we always dressed in different locker rooms, we had the goalies and trainers on one side, and all the players on the other side. So Bernie would come in, after the first (overtime), he says, 'Marty, if you don't get scored on, for sure this period we're going to win'. He comes in after the second and goes, 'Marty, I'm telling you, if you don't get scored on, we're going to win'. After the third, he goes, 'Alright, I was messing around, if you don't get scored on, we're going to win'. He comes back in after the third overtime and goes, 'Marty you're on your own'.
"We knew what was at stake, it was my first playoff series. For me, it was to clinch to win my first series – it was kind of hard, but I just remember that story because I thought it was funny."
Brodeur and the Devils went on to lose in seven games of the Eastern Conference Final to the New York Rangers in the spring of 1994 — you might have heard of Matteau! Matteau! Matteau!. But the Game 7 overtime loss proved to be valuable as Brodeur backstopped New Jersey to the franchise's first Stanley Cup a year later in the spring of 1995.
"I think both of us were pretty young and naive at the time, we were just kind of out there doing what we could do," recalled Brodeur's teammate Scott Niedermayer. "Probably didn't really understand how tough it is and everything that went into it, but as we got older, and were able to do it again, definitely gives you a different perspective, but very fortunate to have him in the organization when I came along and just sort of ride his coat tails."
Winning, and Losing, the Stanley Cup
The Devils also won the cup in 2000 and 2003 with Brodeur between the pipes, but it was the 2001 loss to the Colorado Avalanche, which stands out as one of the biggest regrets of his 22-year career.
"I went to five Stanley Cups and there's two rings I don't have," Brodeur explained. "I know the one in 2001 against Colorado, I had two games to win. To me, that's my regret: not being able to win when you have the chance.
"Sometimes you look back, and it's not because of you, it's because of the players that never won that are on that team. The fact that you let them down. That's kind of what bothered me the most about not winning."
Adding to the sting was losing to Roy.
"For sure, I think people made a big deal out of it," he said. "You're playing against your idol for a Stanley Cup so it's kind of obvious. I think the fact that Ray Bourque was on the other side didn't really help also for people rooting for the Devils.
"It hurt, I had my family there, it was emotional. I think it was one of the few times I didn't talk to the media after a game. I took it pretty hard."
For his kids, it's the Stanley Cup wins that standout when reflecting on their father's hall of fame career.
"I remember pretty well the Cups," said Anthony Brodeur – now a goaltender at the University of Ottawa. "Dallas in 2000 and then Anaheim 2003 – those are all pretty cool memories just flying back and forth for each game and getting to see everything."  
Great sharing the net today with @abrodeur30! #HHOF2018 pic.twitter.com/kUp0ngn78O
Brodeur's Legacy
Brodeur owns or shares 12 NHL records including wins (691), shutouts (125) and games played (1,266). He is a five-time winner of the William Jennings Trophy for owning the league's best goals-against and a four-time Vezina Trophy winner as the top goaltender.  
The 46-year-old credits his upbringing for his calm demeanor during his playing career.
"This was my home. Regardless of if it was a game or practice. In the locker room, being with the guys, travelling with them, this is what I wanted to do and I was really fortunate to be able to do it for so long," said Brodeur.
"Obviously I was really well coached because (my dad) wanted to make sure I was acting a certain way. Everything was about Jean Beliveau – and I'm like, 'This guy, nobody can be like him dad, I'm sorry. His autograph is way too pretty and everything – you just can't be'. I tried my best to be as close as possible."
My @HockeyHallFame plaque. #HHOF2018 pic.twitter.com/bWiYDonzz3
It's that demeanor, which stands out to Brodeur's teammates as they reflect on his career.
"Just who he is as a person, how he plays the game. He was a great competitor, yet very calm and cool – a mixture of both," said Scott Stevens. "When he was on that ice, he was serious and he was all business, but he had that attitude to be a little relaxed, very down to earth and can handle anything mentally."
On the international stage, Brodeur represented Canada at the 1998, 2002, 2006 and 2010 Olympics. He also wore his country's colours at the 2004 World Cup of Hockey and won a pair of silver medals at the World Championships.
Being able to share the '02 Olympic gold medal experience with his father was special for Brodeur.
"I never thought I was going to be able to do what my dad did. So in '98, to be part of Team Canada, never really played, but was part of the Olympics, but I wasn't really an Olympian – warmups doesn't really count," he said. "Obviously in 2002 when I got a chance to play and that year everyone knows we won the gold medal – my dad was at the games. It was an unbelievable experience to live with him. He was probably more happy than me.
"I had to go and work after, play in the NHL. He was just on cloud 9 there, it was awesome to live it with him."
Brodeur finally stepped away from the game in January 2015 after a brief seven game stint with the St. Louis Blues.
While he admits his style of play is nearly impossible to replicate in today's game where most goaltenders play a butterfly style, his ability with the puck on his stick – he's the only goaltender in NHL history to score a game-winning goal – is something he hopes young goalies will try to emulate.
"To this day, I think that's really important," said Brodeur. "Goalies that are not playing the puck really well, it's tough to go through a whole season, especially when as a team you have to defend so much because your goalie keeps on turning the puck over, not making plays. You have to be part of the defensive squad now.
His Devils teammates appreciated his puck-handling skills.
"It was a big help. When he could go out and play the puck and we didn't have to go do it and take hits as much as some players might have to," said Niedermayer, who spent parts of 12 seasons with Brodeur.
Final Word
Similarly, for Anthony Brodeur, being around the rink meant being around his father, but the hall of fame weekend in Toronto has put things into perspective for the 23-year-old, who got to play in the Legends game with his dad on Sunday.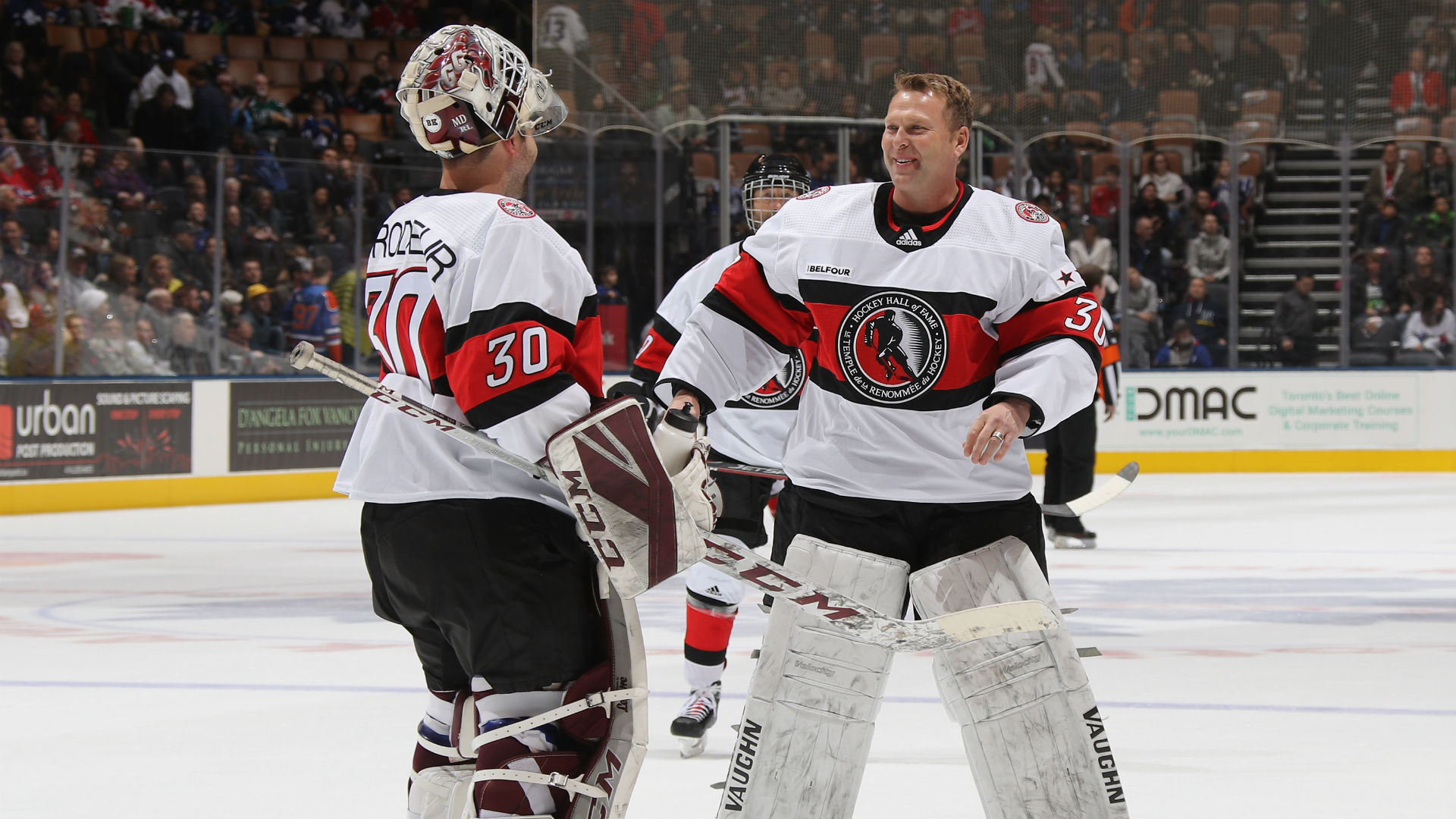 "It's unreal. You grow up and you never really think about anything. For me, it was just my dad, normal," said Anthony Brodeur. "But it's really cool. It's a once in a life time thing, and it's pretty surreal to see him up there, see the praise he gets from everybody, it's absolutely unbelievable.
"Seeing him up there getting that jacket, he got his ring the other day and (Monday–the induction) – it helps it sink in, just realize what he really did, but for me, he was just always my dad."
Source: Read Full Article