Nick Mullens Kicked Ass And Then Cried And It Was Awesome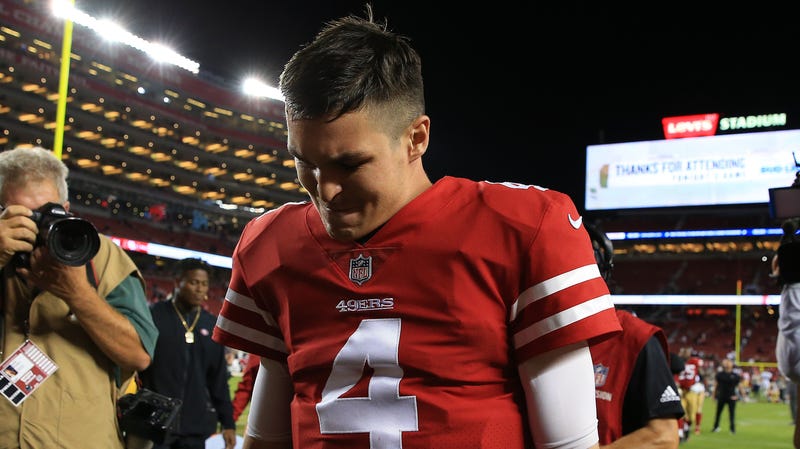 Perhaps it was giving too much credit to a pathetic Oakland Raiders squad to have thought that 49ers quarterback Nick Mullens, who started last night's game despite never having taken a snap in regular-season NFL action, was going to have a hard time. But even though it came against a team as lifeless as the Raiders, it's hard not to be impressed by the debut of the undrafted free agent from Southern Miss. Three touchdowns, 262 yards, and no interceptions looks good no matter when or where it happens. His 151.9 passer rating was the best mark set by a quarterback making his debut since the 1970 merger.
It was fun to see Mullens and the Niners stomp out Gruden's band of losers on national TV, and it was just as fun to watch the rookie try to grasp his own success immediately after the game. His postgame interview with Erin Andrews, which started with him fighting back tears and ended with him sheepishly blurting out, "Go Niners!" as if he was a fan being interviewed on the street, is an all-timer:
And then he got in the locker room and did this:
This is all just incredibly endearing, and the sort of thing that it feels like we see less and less of in today's NFL. Every player and prospect and coach and team is so thoroughly inspected and analyzed that it sometimes feels impossible for anything truly surprising to happen. But that's exactly what Mullens gave us last night, a perfectly pleasant surprise nestled in the middle of an NFL season that was ready to forget all about the San Francisco 49ers. Maybe he'll have a few more for us.
Source: Read Full Article