Kansas City Chiefs 51-54 Los Angeles Rams: Hosts win Monday night record-breaker
The Los Angeles Rams beat the Kansas City Chiefs in a simply stunning Monday Night Football matchup, triumphing 54-51 in arguably one of the greatest NFL games ever played.
It's the first time in NFL history both teams have scored over 50 points and their combined 105 is a MNF record haul, spanning 773 games.
The teams also combined for over 1,000 yards of offense – of which, quarterbacks Patrick Mahomes and Jared Goff threw for a staggering 478 and 413 yards, respectively, with the former throwing six touchdown passes.
Incredibly, given the final scoreline, both defenses showed up in flashes too. The Rams forced five turnovers, with Aaron Donald twice ripping the ball loose on strip sacks of Mahomes – one returned for a touchdown by Samson Ebukam, who would also return an interception for a score.
The Chiefs D forced two turnovers of their own, including a two-yard fumble recovery for a TD by Allen Bailey that gave them the lead back, 44-40 in the fourth quarter, after they had trailed by 10 at the end of the third.
There were six lead changes on the night – including four alone in the fourth quarter – but Kansas City initially started the game sluggishly, going behind 13-0 early on after two Goff scoring strikes to Robert Woods and Josh Reynolds.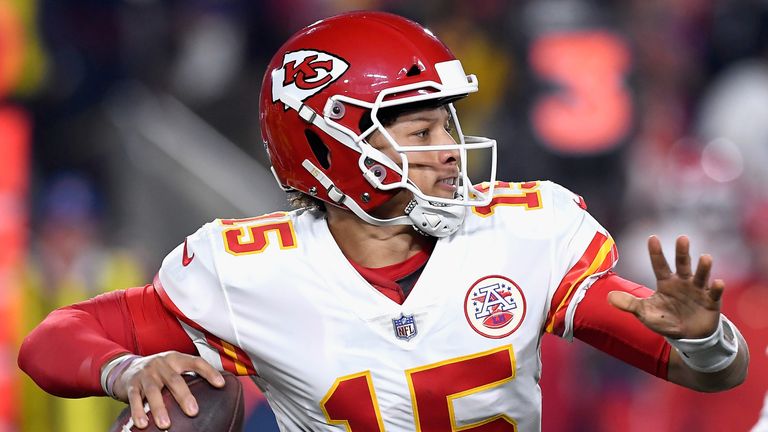 Second-year superstar quarterback Mahomes brought the Chiefs roaring back and into the lead with touchdown passes of his own to Tyreek Hill and Kareem Hunt, only for Ebukam's first defensive score to give the Rams the lead back in the second quarter.
It would be all tied up at 23 apiece heading into half-time, with L.A. then drawing first blood after the break as Goff would run it into the endzone himself for a seven-yard TD. But Mahomes and the Chiefs responded right away with a Travis Kelce touchdown to level the game again.
However, it looked like the Rams might streak away when they went up by 10 courtesy of Ebukam's pick six and then, later in the third quarter, when another Mahomes fumble was returned for a touchdown, only for the play to be correctly overturned and ruled as an incomplete pass.
Mahomes quickly put the errors behind him by unleashing a 73-yard scoring strike to a wide-open Hill to start the fourth quarter, while the Chiefs defense then stepped up with a score of their own to wrestle back the lead.
That lead would change hands three more times in the final quarter as both teams continued to trade punches, before the Rams ultimately ran out victorious courtesy of a 40-yard touchdown pass from Goff to tight end Gerald Everett and two late Mahomes interceptions as he desperately tried to bring his team back once more.
FIRST QUARTER
Chiefs 0-6 Rams: Jared Goff seven-yard touchdown pass to Robert Woods (Missed extra point attempt)
Chiefs 0-13 Rams: Goff four-yard touchdown pass to Josh Reynolds (Greg Zuerlein extra point good)
Chiefs 7-13 Rams: Patrick Mahomes 25-yard touchdown pass to Tyreek Hill (Harrison Butker extra point good)
SECOND QUARTER
Chiefs 7-16 Rams: Zuerlein 23-yard field goal
Chiefs 10-16 Rams: Butker 21-yard field goal
Chiefs 17-16 Rams: Mahomes 21-yard touchdown pass to Kareem Hunt (Butker extra point good)
Chiefs 17-23 Rams: Samson Ebukam 11-yard fumble recovery for a touchdown (Zuerlein extra point good)
Chiefs 23-23 Rams: Mahomes eight-yard touchdown pass to Chris Conley (Missed extra point attempt)
THIRD QUARTER
Chiefs 23-30 Rams: Goff seven-yard touchdown run (Zuerlein extra point good)
Chiefs 30-30 Rams: Mahomes four-yard touchdown pass to Travis Kelce (Butker extra point good)
Chiefs 30-33 Rams: Zuerlein 33-yard field goal
Chiefs 30-40 Rams: Ebukam 25-yard interception return for a touchdown (Zuerlein extra point good)
FOURTH QUARTER
Chiefs 37-40 Rams: Mahomes 73-yard touchdown pass to Hill (Butker extra point good)
Chiefs 44-40 Rams: Allen Bailey two-yard fumble recovery for a touchdown (Butker extra point good)
Chiefs 44-47 Rams: Goff seven-yard touchdown pass to Gerald Everett (Zuerlein extra point good)
Chiefs 51-47 Rams: Mahomes 10-yard touchdown pass to Conley (Butker extra point good)
Chiefs 51-54 Rams: Goff 40-yard touchdown pass to Everett (Zuerlein extra point good)
Game's key stats
Source: Read Full Article