Jets And Dolphins Will Play On The Same Mud Pit Duke And Miami Mucked About In Yesterday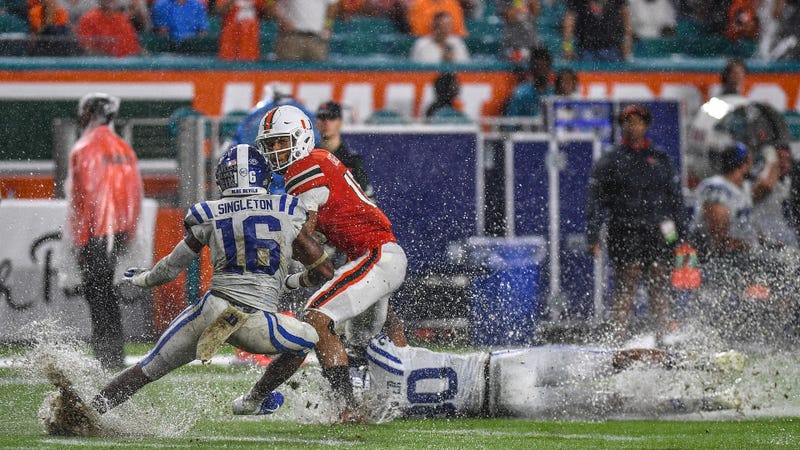 A combination of heavy rain and dozens of large, cleated football players stomping around on it for a couple hours meant yesterday's Duke-Miami game, played for some reason in the Dolphins' stadium, took place on top of a surface that looked more like a swamp than a football field. Which is bad news for the Jets and the Dolphins, since they have to play on the same field here in a couple hours.
While fans of football teams not located in South Florida might find it cute that the Hurricanes were so optimistic about their prospects this year that they believed a late-season matchup with Duke would be relevant enough to justify being held in Miami's NFL stadium, the reality that a more or less meaningless game of the college Miami team might wind up hurting the chances of the pro Miami team to get a home win has to sting for local fans. As these highlights from yesterday's game show, the only kind of football capable of being played on a bog like that is the ugly variety:
People around the NFL don't sound too thrilled about the situation, either. ESPN's Adam Schefter reports that multiple league sources reached out to express concern about the state of the field, with one calling it "horrendous" and a "complete shitshow." "One source blamed the NFL for allowing the field to be in such poor shape for the Jets for two straight years," Schefter writes, though I'm not too sure what the issue there is. A water-logged, mucky, slip-and-slide game should be way more entertaining than the typical Jets-Dolphins affair.
[ESPN]
Source: Read Full Article