28 wins, 13 opposing QBs: Inside Tom Brady's Bills dominance
Tom Brady is one of Buffalo's greatest quarterbacks. Seriously. That's how good he has been over the past 19 seasons in the one time a year in which his Patriots play in Orchard Park, New York.
Should Brady and the Patriots defeat the Bills on Monday Night Football, the 41-year-old quarterback will improve his record to 15-2 at New Era Field/Ralph Wilson Stadium, good enough for the third-most wins on those grounds, trailing Buffalo greats Jim Kelly (59) and Joe Ferguson (46).
In all, Brady is 28-3 against Buffalo, the most wins by a quarterback against a single team — and his 25 wins against the Jets and 22 vs. the Dolphins also crack the top five. He has started all but three games against the Bills since 2001, missing one in 2016 while he served his Deflategate suspension and two in 2008 after he tore his ACL in Week 1. Jacoby Brissett started for Brady in 2016, a 16-0 loss. Matt Cassel helped notch a pair of wins in 2008.
It is a story of pure dominance. In one corner you have Brady, arguably the best quarterback of all time and a surefire Hall of Famer with five Super Bowl championships and three MVPs. In the other, there lies a team still seeking just one Super Bowl championship and without even an AFC East division title since 1995, well before Brady entered the league. It's David vs. Goliath, except in this case, Goliath always wins.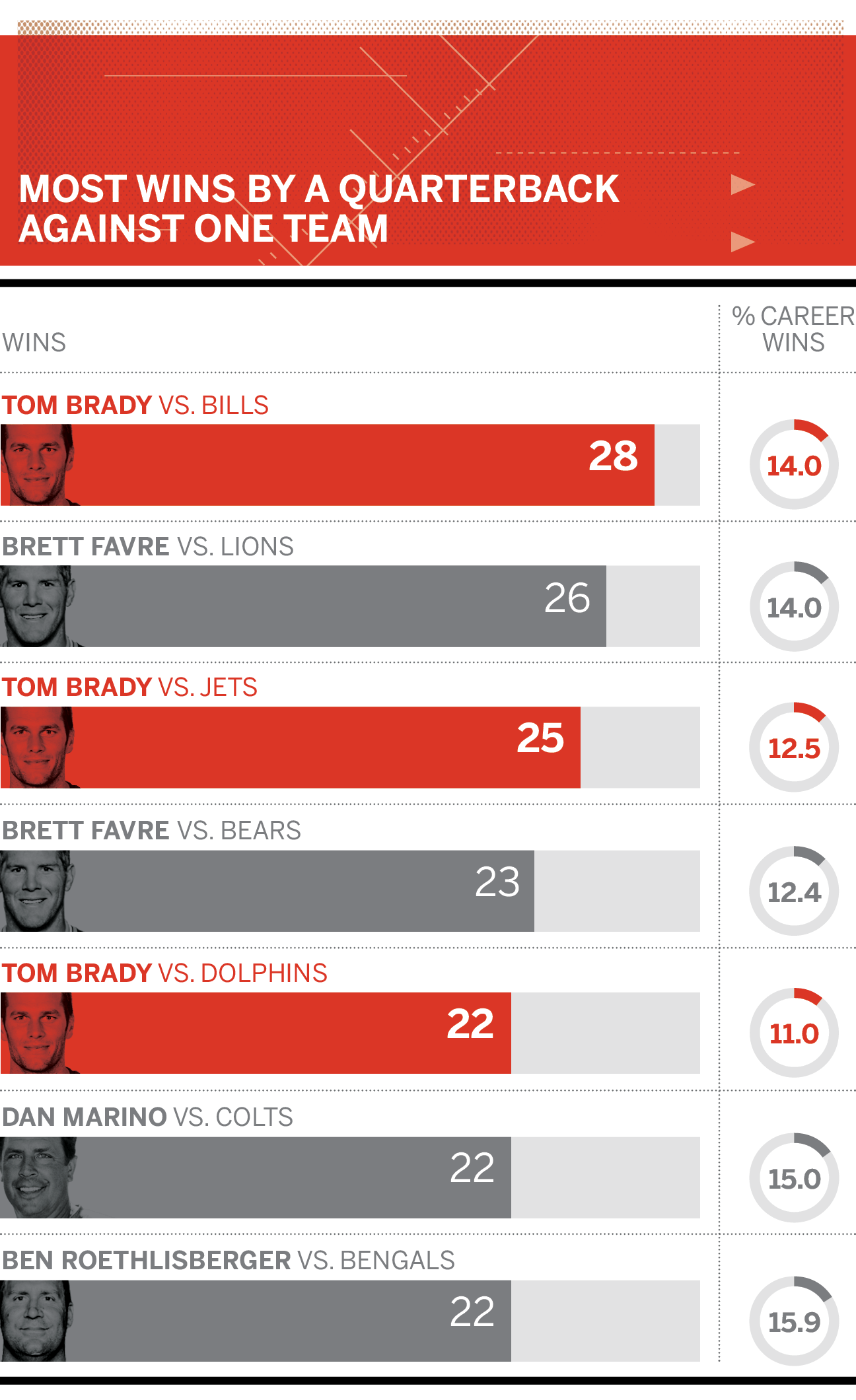 A baker's dozen under center
Check out this stat line: 4,239 yards, 31 touchdowns, 10 interceptions and a 64.1 completion percentage. No, those aren't Brady's 2017 MVP campaign totals, although they're close. They are instead Brady's 16-game averages in games against Buffalo, and they are downright devastating for the Bills Mafia.
The Bills have traveled a very different path than their division mate, navigating a seemingly endless ride on the quarterback carousel. Thirteen QBs have taken a snap for Buffalo when Brady has been in uniform on the other sideline.
The most notable was Drew Bledsoe, who started 42 games for Buffalo, including six against New England, after moving on from the Pats when Brady secured the starting job. Ryan Fitzpatrick started seven against New England. Bledsoe and Tyrod Taylor have each won 14 games in Buffalo, the same number as Brady prior to this season's Week 8 Monday Night Football game.
Beyond those few big names, it's a who's who of obscurity. Rob Johnson, who never won more than four games in a season over a nine-year career. Alex Van Pelt, who threw 24 interceptions in his career and just 16 touchdowns. Kelly Holcomb, who averaged a slim 6.6 yards per attempt over 893 career passes. Travis Brown, whose NFL career spanned four games and 29 completions over three seasons.
On Monday night, Derek Anderson, a former sixth-rounder who has just once started at least 10 games in a season over his 13-year career, joins the list as No. 14, starting in place of injured rookie Josh Allen.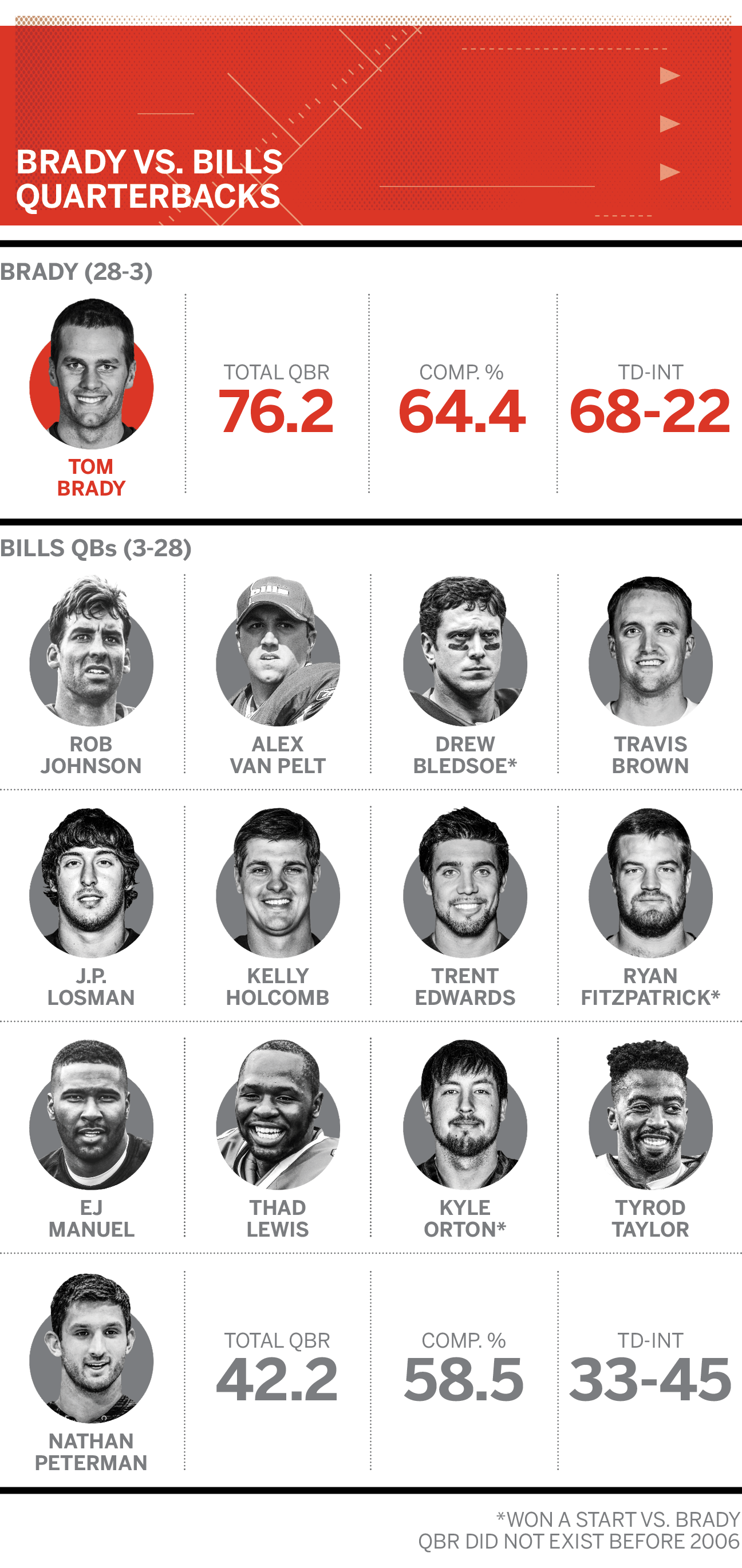 A long 18 years in Buffalo
Orchard Park is roughly 500 miles from Foxborough, but the distance between the two franchises on the football field seems far greater. The Bills have made the playoffs once during the Belichick-Brady reign to the East — the Pats have only missed the playoffs twice in that time.
The Bills have employed eight different head coaches against the Patriots in that same span to direct that hodgepodge of mediocrity at quarterback. Doug Marrone, Chan Gailey and Greg Williams are the only ones who've coached the Bills to a victory over those 31 tries. After the Bills stunned the Patriots with a 31-0 victory in Week 1 of the 2003 season, perhaps Brady's worst outing against the team in throwing four interceptions, the Bills didn't beat them again for nearly eight years.
New England won 15 consecutive games against Buffalo before finally losing Sept. 25, 2011, 34-31.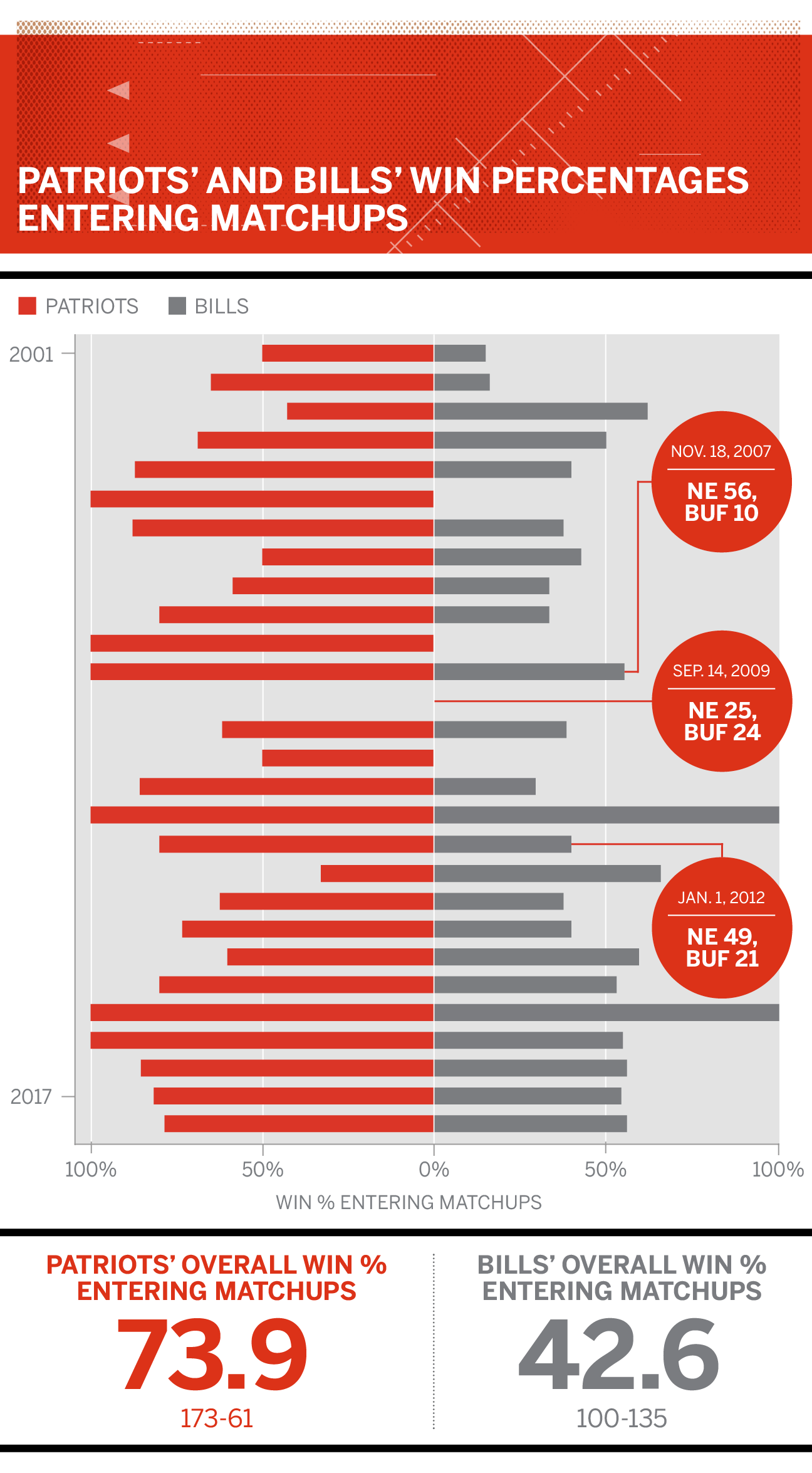 It has been a tortuous road for the Bills, but three games stand out as particularly emblematic of the two very different fortunes these franchises have experienced:
Nov. 18, 2007: The Patriots decimated the Bills, much like they did most regular-season opponents during their historic 2007 season. Brady threw five touchdowns and finished with a nearly perfect 146.1 passer rating. His 98.9 Total QBR in the contest stands as the 24th-best single-game rating since the stat starting being tracked in 2006. Randy Moss caught four of Brady's touchdowns, the most the Hall of Fame receiver has ever had in a single game, and posted 10 receptions for 128 yards. Patriots 56, Bills 10
Sept. 14, 2009: The Bills had a 24-13 lead against the Patriots with 5:32 remaining, which we all know is far too much time for Brady. He trotted onto the field and completed 12 of 14 passes for 112 yards and two TDs to give New England the lead in the closing minutes. After the first touchdown, Leodis McKelvin's costly fumble on a kick return gave the Patriots the ball at the 31-yard line. Brady then easily capped off the comeback soon after with a 16-yard pass to Benjamin Watson. Patriots 25, Bills 24
Jan. 1, 2012: Buffalo dominated the first quarter and surged to a 21-0 lead, but the Patriots never flinched and scored on seven of their next eight possessions. Brady was 2-of-5 for 11 yards in the first quarter but completed the next 21-of-30 for 327 yards, three touchdowns and an interception. Patriots 49, Bills 21
Source: Read Full Article