Steph Curry and Kevin Durant lead the way as Golden State Warriors resist late Brooklyn Nets rally
Kevin Durant hit a jump-shot with 1:42 remaining before Stephen Curry added three 40 seconds later as the Golden State Warriors resisted a late rally from the Brooklyn Nets to win 120-114 and record their fourth straight win on Sunday.
Durant and Curry combined for 69 points on the night, with Durant's hoop with 5:43 left giving them a 110-99 lead, only for the Nets to hit back with the next nine points to get within two as the Warriors were held scoreless for four minutes.
But Durant put an end to that drought with his jumper and after Joe Harris missed a three-pointer at the other end, Curry eased the Warriors' nerves with his seventh long-range effort of the game,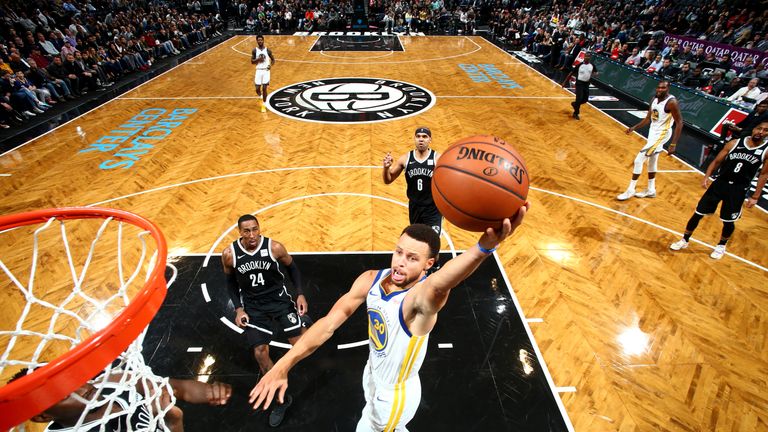 Curry finished the game with 35 points, going 7-for-15 from range and 11-for-26 overall, while Durant hit 11 of his 20 shots for 34 points. He also grabbed eight rebounds and dished out six assists.
Klay Thompson added 18 points for the Warriors, who were playing consecutive road games at New York and Brooklyn for the first time in their history and complete a four-day three-game trip in Chicago on Monday.
Game leaders
Golden State
Points: Steph Curry – 35
Assists: Draymond Green – 13
Rebounds: Kevin Durant – 8
Brooklyn
Points: D'Angelo Russell – 25
Assists: Caris LeVert – 7
Rebounds: Ed Davis – 7
It was the Nets' seventh straight loss to the Warriors, with D'Angelo Russell top-scoring for the hosts with 25 points. The 22-year-old also posted six rebounds and six assists, while Caris LeVert finished the game with 23 points.
Allen Crabbe had 14 points, Spencer Dinwiddie 12 and Jarrett Allen 11 for Brooklyn, who made 20 three-pointers and outscored Golden State 60-33 from beyond the arc.
Sunday night's results
Sky Sports is the new home of the NBA in the UK with live coverage throughout the week, including selected live games free to all Sky subscribers via Sky Sports Mix.
And www.skysports.com/nba will be your home for news, reports, video and features throughout the season while you can follow us @SkySportsNBA
Source: Read Full Article