NBA: Which players, teams and themes dominated Week Two of the season?
Every Tuesday, we will look back over the previous seven days of NBA action and identify the five biggest winners. Which players, teams and themes dominated Week Two of the NBA season?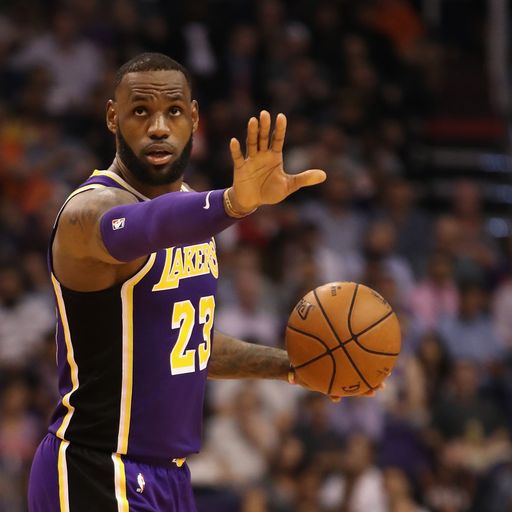 NBA alerts on your phone!
Receive the latest NBA news, top plays & features with the Sky Sports app – find out more
Anthony Davis (New Orleans Pelicans)
Already established as a consensus top-five player in the league, 'The Brow' has started the new season looking dead set on asserting himself as the NBA's most dominant superstar.
Davis averaged 27.3 points, 13.3 rebounds, 3.8 blocks and 2.5 steals per game as the Pelicans won their opening four games. He was absent (elbow injury) as they lost their unbeaten record in a 132-111 loss to the Utah Jazz on Saturday night.
The 25-year-old has been the centrepiece as the Pelicans have romped to a league-leading mark of 124.8 points per game. They also laid down an early marker with an impressive win over last season's Western Conference finalists, the Houston Rockets.
After years of surrounding their young superstar with ill-fitting pieces, the Pelicans and coach Alvin Gentry appear to have found the formula to allow Davis to thrive.
Milwaukee Bucks
The summer appointment of coach Mike Budenholzer and the rapid development of star player Giannis Antetekounmpo earned the Bucks some lofty predictions in the pre-season.
Two weeks into the season, they have lived up to every single one of them.
Six wins from six games over the opening two weeks of the season (they went to 7-0 with a victory over the previously-unbeaten Toronto Raptors on Monday night) exceeds expectations.
Budenholzer has opened up the Bucks' offense. They are averaging 120 points per game and, in the biggest shift from last season, lead the league in three-pointers made (109).
That improved outside shooting has allowed Antetekounmpo to thrive closer to the basket. The 'Greek Freak' is averaging 25 points, 14.2 rebounds, 5.7 assists and 1.7 blocks per game and, of the early season MVP contenders, only Anthony Davis has outshone him so far.
Never write off former league MVPs
The common thinking before the start of the season ranked Stephen Curry and Kevin Durant as outsiders to win Most Valuable Player because, as team-mates, they would ultimately take votes from each other. After all, how can you be an MVP if there is doubt over whether you are the best player on your team?
Curry and Durant spent the last seven days making a mockery of those assertions.
Through seven games, Durant averaged 30.3 PPG on 55.6 per cent shooting. His ruthless efficiency was on full display on Friday night at Madison Square Garden where his 25-point fourth quarter outburst turned the Golden State Warriors' game with the New York Knicks from a tight affair into a blowout in eight explosive fourth-quarter minutes.
Curry was even more impressive, dropping 51 points (including 11 three-pointers) on the Washington Wizards on Wednesday night in just three quarters before pouring in another 35 as the Warriors saw off the Brooklyn Nets on Sunday. In the process, Curry set a new NBA record, making five or more three-balls in seven consecutive games.
Curry leads the league in points per game (32.5) and three-pointers made (48) with a 54.3 field goal percentage and a scarcely believable 51.6 per cent on three-point shots made. Consider him actively interested in winning league MVP honours for a third time.
The return of Blake Griffin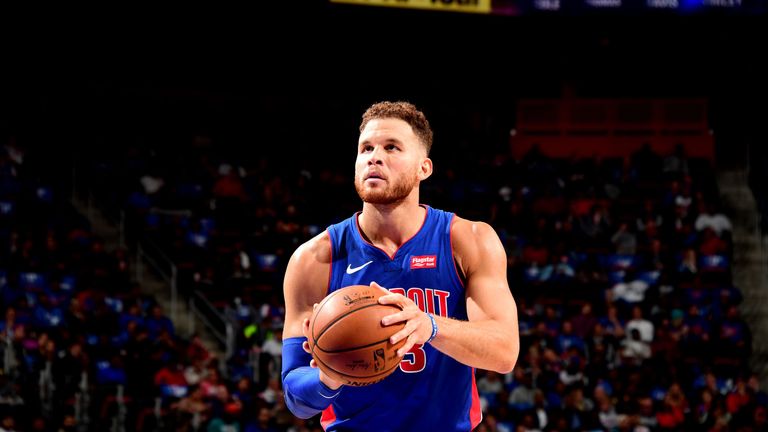 When the Detroit Pistons acquired Griffin from the Los Angeles Clippers via trade last season, the deal was met with shrugs. It felt like an admission from the west coast team that Blake was no longer the uber-athletic, powerful, 'Lob City' dunking machine of his early NBA days.
What that did not take into account was Griffin's ability, under new Pistons coach Dwayne Casey, to re-invent his game. He has swapped catching lob passes and shooting from the mid-range for muscular drives to the basket and more three-point shots. He has also assumed point-forward duties and is making plays for his team-mates. And it is working.
Griffin scored a career-high 50 points (including a game-winning 'And 1') as the Pistons outlasted the Philadelphia 76ers 133-132 in overtime last Tuesday. Through five games he is averaging 28.4 points (with a field-goal percentage of 50.5), 10.0 rebounds and 4.6 assists.
Regardless of whether Griffin can sustain these gaudy numbers or avoid yet another injury, it is great to have him back among the league's top stars.
Jayson Tatum (Boston Celtics)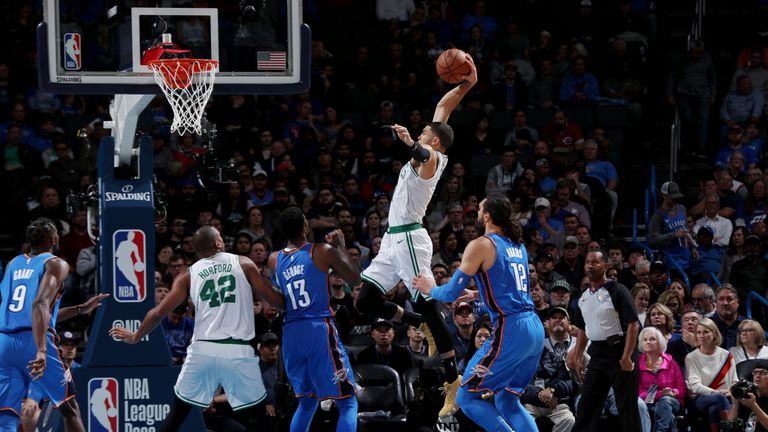 With Celtics leaders Kyrie Irving and Gordon Hayward not yet fully up to speed following their respective surgeries and rehabilitation, the path has been clear for Tatum to assert his attitude and talent in Boston.
Remember last season's playoffs when Tatum made a point of dunking on LeBron James? This week he was at it again, throwing down a huge slam on another NBA superstar. This time All-Star Paul George was his victim as the Celtics rolled to a 101-95 Thursday night road win over the Oklahoma City Thunder.
The 20-year-old Tatum is not posting the enormous stat-lines of Davis, Curry and Griffin. It is his attitude that is making people take notice. In just his second year in the league, Tatum's fearlessless and willingness to take on responsibility make it clear he will be Boston's star man in seasons to come.
Sky Sports is the new home of the NBA in the UK with live coverage throughout the week, including selected live games free to all Sky subscribers via Sky Sports Mix.
And www.skysports.com/nba will be your home for news, reports, video and features throughout the season while you can follow us @SkySportsNBA
Source: Read Full Article