NBA round-up: Joel Embiid scores 41 points as Philadelphia 76ers beat Los Angeles Clippers
Joel Embiid top-scored with 41 points as the Philadelphia 76ers beat the Los Angeles Clippers to improve their season record to 5-4.
Thursday night's results
Los Angeles Clippers 113-122 Philadelphia 76ers
Joel Embiid scored a season-high 41 points to go along with 13 rebounds and four blocked shots to lift the Philadelphia 76ers past the visiting Los Angeles Clippers 122-113.
It was Embiid's sixth game this season with at least 30 points and 10 rebounds.
JJ Redick added 18 points, Ben Simmons had 14 points and 11 assists, and Landry Shamet scored 13 points for the Sixers, who won their second in a row.
Markelle Fultz also scored 12.
Pistons @ Sixers free live stream
Watch the Pistons take on the 76ers via our free live stream on Saturday at 5pm – find out more
The Sixers have won 15 straight home games, the longest active streak in the league and their longest since they won 24 straight in the 1982-83 season.
Lou Williams paced the Clippers with 26 points of the bench while Danilo Gallinari added 25 and Tobias Harris had 24. Boban Marjanovic had 15 points and 11 rebounds as the Clippers fell to a second successive loss.
Embiid scored a game-high 24 points in the first half on 10-of-16 shooting to carry the Sixers to a 72-57 lead. Picking up three fouls prevented him from scoring more, though he was still the first Philadelphia player to score at least 24 points in a first half since Allen Iverson on November 27, 2006, at Miami.
Oklahoma City Thunder 111-107 Charlotte Hornets
Russell Westbrook narrowly missed his first triple-double of the season with 29 points, 10 assists and eight rebounds as the Oklahoma City Thunder rallied from a 19-point second-half deficit to beat the host Charlotte Hornets 111-107 on Thursday night.
Westbrook scored 13 of his points in the fourth quarter as the Thunder stormed back after trailing 66-47 midway through the third quarter. Westbrook's drive with 35.1 seconds remaining gave the Thunder a 108-102 lead, and the Hornets never got closer than three.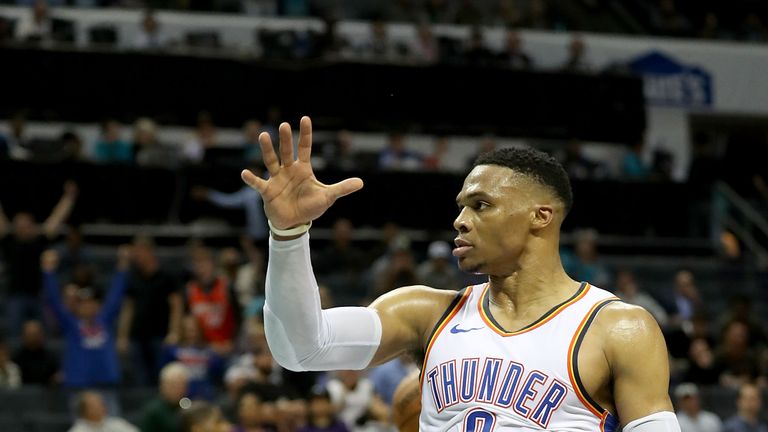 The Thunder have won three straight.
Alex Abrines added 25 points for the Thunder, Dennis Schroder scored 21, Paul George finished with 11 points and 10 rebounds, and Jerami Grant scored 10.
Denver Nuggets 110-91 Cleveland Cavaliers
Juan Hernangomez came off the bench to score 23 points and Paul Millsap had 16 points and six rebounds as the Denver Nuggets overcame a sluggish first quarter to beat the host Cleveland Cavaliers 110-91.
Gary Harris scored 14 as the Nuggets won their third in a row and second in as many nights. Denver's star center, Nikola Jokic, had only four points on 2-of-5 shooting, but his production was not needed.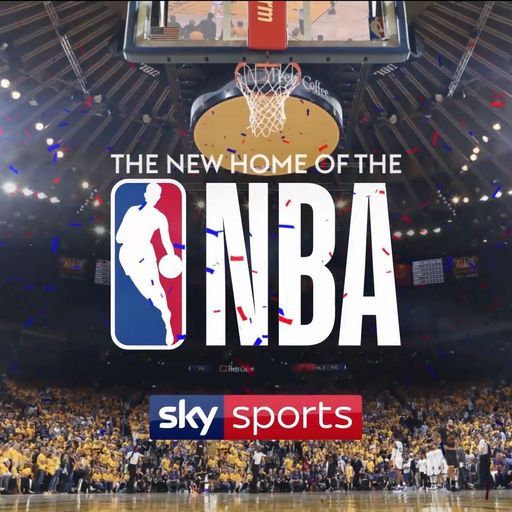 Get NBA news on your phone
Want the latest NBA news, features and highlights on your phone? Find out more
Jordan Clarkson scored 17 points and Cedi Osman had 13 points for Cleveland.
The Nuggets outscored the Cavaliers 35-15 in the second quarter to take a 50-42 half-time lead before pulling away in the third and closing out the game with a 14-4 fourth-quarter run.
Sacramento Kings 146-115 Atlanta Hawks
The Sacramento Kings, powered by a triple-double from De'Aaron Fox and 27 points from Buddy Hield, became the latest team to exploit the Atlanta Hawks' third-quarter troubles as they coasted to a 146-115 road win, extending their winning streak to five games.
Fox, the second-year pro from Kentucky, scored a career-high 31 points. He was 9-for-13 from the floor and added 15 assists and 10 rebounds. Hield scored 20 or more points for the fifth straight game. He was 10-for-17 from the floor, including 5-for-7 on 3-pointers, and added five rebounds, six assists and two steals.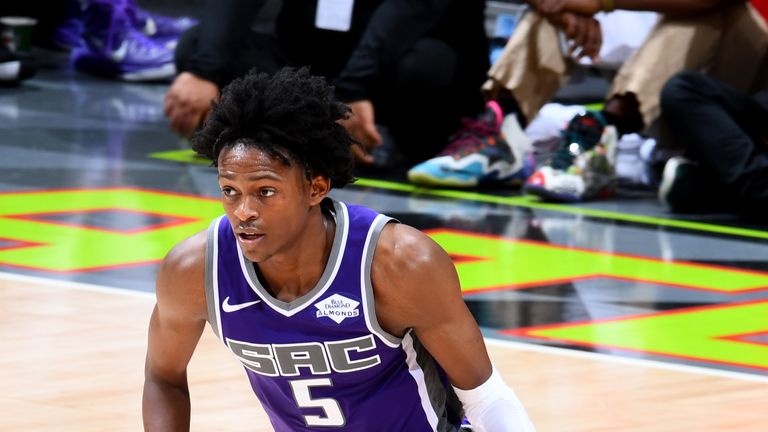 The Kings (6-3) won in Atlanta for the first time since 2006, breaking an 11-game road losing streak. Sacramento also got 19 points from Nemanja Bjelica and 18 points and five rebounds from first-round draft pick Marvin Bagley III.
The Hawks (2-6) lost their fourth straight game. Atlanta got a season-high 23 points from Jeremy Lin, who was 8-for-13 from the field. Rookie Trae Young and Kent Bazemore each scored 14 for the Hawks. Young had 10 assists, but committed eight of the team's 22 turnovers.
Milwaukee Bucks 117-113 Boston Celtics
The Boston Celtics nearly blew a 15-point fourth-quarter lead Thursday night, but they took advantage of a missed free throw by Eric Bledsoe with 12.8 seconds left to hand the visiting Milwaukee Bucks their first loss of the season, 117-113.
The Celtics used three-point shooting to begin each half with a dominant run, allowing them to lead most of the way en route to their fourth straight win.
But while the Celtics were missing their last six shots and mixing in a turnover, the Bucks rallied from a 113-104 deficit with 3:48 remaining to get within 113-111 before Bledsoe missed his first of two free throws after stealing the ball from Jayson Tatum and getting fouled with 12.8 seconds to go.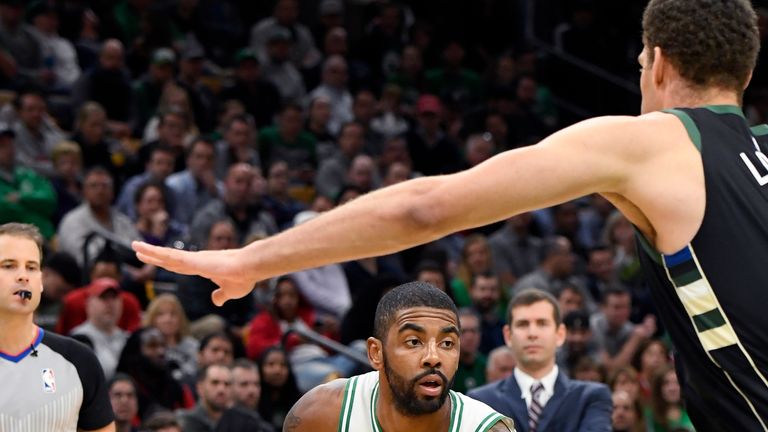 Bledsoe made his second shot to get the Bucks within one, and the Celtics' Kyrie Irving then hit two free throws to make it 115-112.
The Celtics fouled Giannis Antetokounmpo with four seconds left, and he intentionally missed his second foul shot after making the first. Boston's Al Horford got the rebound and dropped in two clinching free throws with 2.5 seconds to go.
New Orleans Pelicans 119-132 Portland Trail Blazers
Damian Lillard scored 26 points as the Portland Trail Blazers beat the visiting New Orleans Pelicans 132-119.
Jusuf Nurkic scored 20 points and collected nine rebounds, and Al-Farouq Aminu contributed a season-high 17 points and 10 boards for the Trail Blazers, who won their third straight game.
Evan Turner added a season-high 14 points, seven rebounds and seven assists off the Portland bench.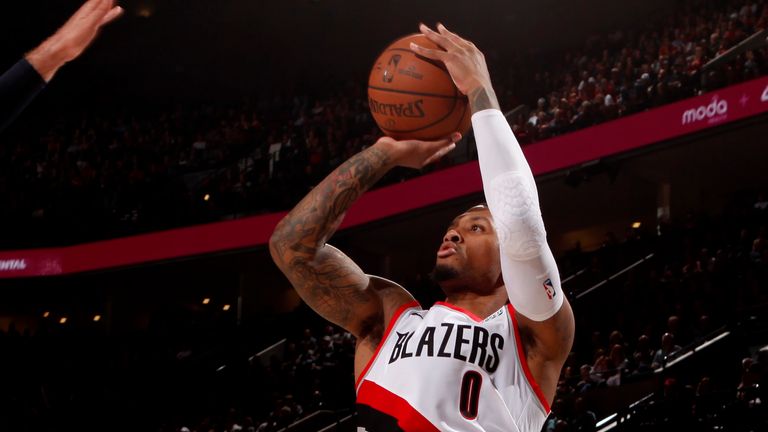 Julius Randle scored a season-high 29 points, E'Twaun Moore had 19 points, and Jrue Holiday scored 17 points and added 10 assists for the Pelicans, who lost for the fourth straight time.
The Pelicans were without big man Anthony Davis for the third time in four games. He missed back-to-back games with a sprained right elbow before playing 41 minutes against Golden State.
Portland held a huge advantage from three-point range. The Blazers were 18 for 35 from beyond the arc compared to New Orleans' eight for 29.
Watch the Detroit Pistons take on the Philadelphia 76ers via a free live stream on skysports.com and the Sky Sports app on Saturday at 5pm
On Saturday, November 10, you will be able to follow the Milwaukee Bucks @ Los Angeles Clippers, also available on a free live stream, from 8:30pm on skysports.com and the Sky Sports app.
Sky Sports is the new home of the NBA in the UK with live coverage throughout the week, including selected live games free to all Sky subscribers via Sky Sports Mix.
And www.skysports.com/nba will be your home for news, reports, video and features throughout the season while you can follow us @SkySportsNBA
Source: Read Full Article