Klay Thompson scores 10 fourth-quarter points as Golden State Warriors beat Minnesota Timberwolves
Klay Thompson scored 10 of his 22 points in the first six minutes of the fourth quarter to help the Golden State Warriors overcome a deficit to beat the Minnesota Timberwolves 116-99 in Oakland.
Game leaders
Minnesota Timberwolves
Points: Andrew Wiggins – 22
Assists: Tyus Jones – 9
Rebounds: Karl-Anthony Towns – 11
Golden State Warriors
Points: Kevin Durant – 33
Assists: Draymond Green -11
Rebounds: Kevin Durant – 13
Kevin Durant led all scorers with 33 points and Stephen Curry dropped in 28 with nine rebounds and seven assists for the Warriors, who won their seventh straight, but failed to reach 120 points for the first time during the streak.
Andrew Wiggins had 22 points and Jimmy Butler scored 21 for the Timberwolves, who lost Derrick Rose five minutes into his first stint off the bench with an ankle injury. Rose was coming off a career-high 50-point explosion Wednesday at Utah.
After leading by as many as 12 in the first half, the Warriors found themselves down 87-83 at the start of the fourth quarter before Thompson caught fire.
Watch Pistons @ Sixers free on Sky Sports
Watch the Pistons take on the 76ers via our free live stream on Saturday at 5pm
Having traded baskets with Butler, Thompson then buried consecutive three-pointers to put Golden State ahead for good 91-89 with 10:19 remaining.
Thompson added another hoop while Alfonzo McKinnie connected on a pair, including a three-pointer, as the Warriors completed a 25-6 run that opened a 108-93 lead with 2:54 to go.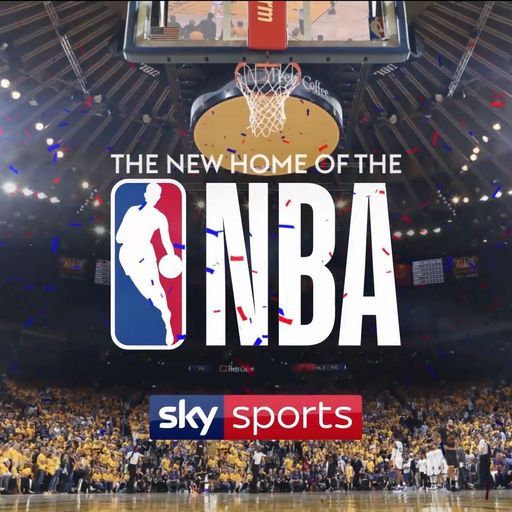 Get NBA news on your phone
Want the latest NBA news, features and highlights on your phone? Find out more
The Timberwolves, who had won their previous two games, were held to three field goals in the first nine minutes of the final period, all by Butler.
Thompson and Curry each buried four three-pointers and Durant chipped in with three as Golden State shot 13-for-34 (38.2 per cent) from beyond the arc.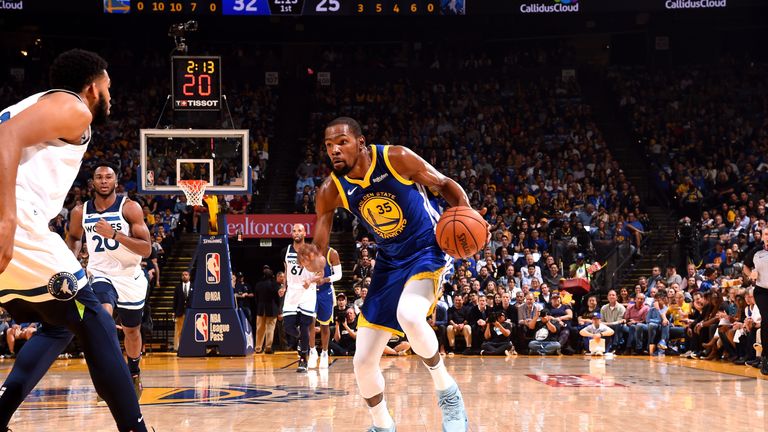 Durant led all players with 13 rebounds, giving him a double-double, while Draymond Green had a game-high 11 assists to complement nine points and nine rebounds.
Karl-Anthony Towns notched a 13-point, 11-rebound double-double for the Timberwolves, who were opening a five-game road trip.
Josh Okogie (15 points) and Taj Gibson (12) also scored in double figures for Minnesota.
The Timberwolves matched the Warriors' 39 points on three-pointers, but they needed 11 more attempts, finishing 13-for-45 (28.9 per cent).
Friday night's results
Watch the Detroit Pistons take on the Philadelphia 76ers via a free live stream on skysports.com and the Sky Sports app on Saturday at 5pm
On Saturday November 10, you will be able to follow the Milwaukee Bucks @ Los Angeles Clippers, also available on a free live stream, from 8:30pm on skysports.com and the Sky Sports app.
Sky Sports is the new home of the NBA in the UK with live coverage throughout the week, including selected live games free to all Sky subscribers via Sky Sports Mix.
And www.skysports.com/nba will be your home for news, reports, video and features throughout the season while you can follow us @SkySportsNBA
Source: Read Full Article