It's Just Always Gonna Be Like This For The Wizards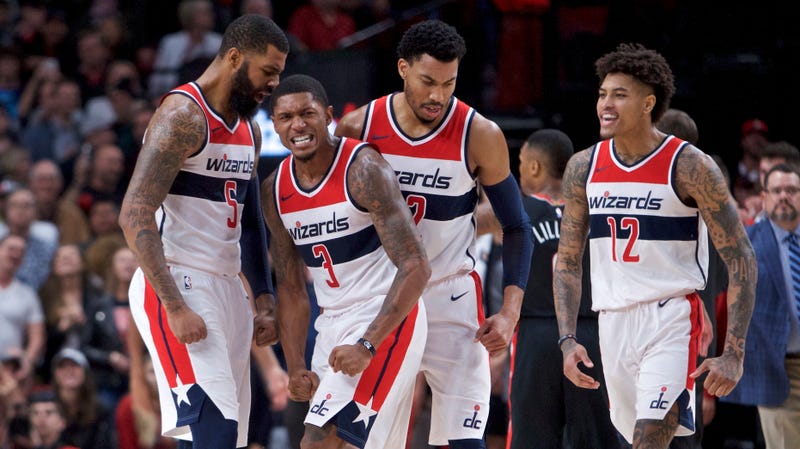 Dwight Howard hasn't played yet. He's out with, literally, a sore ass. The guy starting in his place, Ian Mahinmi, has played a total of 33 minutes in three games; he's committed 10 fouls and made one shot. The guy backing him up, Jason Smith, has a minus-22 net rating in 44 minutes and is shooting 36-percent from the floor. The team's best center right now is Jeff Green; they are, by miles, the worst rebounding team in the NBA. Meanwhile, Otto Porter has made 18 percent of his three-point attempts and John Wall is shooting eight percent from outside the arc. All of this is to say: The Washington Wizards are having an extremely normal Washington Wizards season.
It's always going to be like this for the Wizards. They will always be a mess. Even at their very best they will always teeter on the precipice of absurdist comedy. They're not the East's bushy-tailed young upstart anymore; they're the upstart's wayward elder cousin who shows up to the cookout unexpectedly and everyone looks at each other nervously and says "I didn't know he was out already" and then you hear sirens in the far distance and realize that he has broken out of prison again. I don't know why it's like this, but I have learned to accept it. They are my dear, sweet, chalk-munching basketball sons. I don't know what the macaroni art is intended to depict, but I am proud of them for gluing more of the noodles to the paper than to their own hair.
They won last night! In overtime, in Portland, over a hot Trail Blazers team that hadn't yet lost a game. That's something. Wall, Porter, and Bradley Beal combined to miss 39 shot attempts in the game. Mahinmi left in the first quarter with back spasms and did not return—but before that, he committed two fouls in four minutes and bricked a three-point attempt off the top left corner of the backboard. At one point, crazy-eyed Kelly Oubre missed a dunk attempt and the ball deflected off Porter's face and went out of bounds. Somehow, at the end, they had more points than the Blazers. I don't ask why! I'm just relieved they didn't swallow their own tongues.
Markieff Morris hit a career-high six three-pointers, in 10 attempts; Al-Farouq Aminu and Jusuf Nurkić kept leaving him open, possibly for reasons, and he kept knocking them in. He hit a huge one with 1:40 left in regulation to give the Wizards a two-point lead, and another with just over a minute left to break a tie at 105, and then two more in overtime, including a dagger with 38 seconds left to stretch a one-point lead to four and put the Blazers in panic mode. Oubre muscled in a tough and-one bucket with 2:20 left in regulation, to wipe away a three-point Portland lead. And Beal, on his way to 25 points (on, uh, 25 shots), did this to poor Aminu:
Advertisement
Wall, turns out, isn't so much fat as he is an extremely powerful and ruggedly handsome orc-man, now. He's got a fun new LeBron-ish wrinkle in his game, where when one of his signature warp-speed first-step drives doesn't get him past his man, he slows up into a sort of still-very-fast quasi-backdown dribble and bashes his way under the basket with his newly broadened shoulders, then uses the rim to shield himself from shot blockers. In one sense, he used this new move to great effect last night against soft defenders like Damian Lillard and Nik Stauskas, as it led to several point-blank shot attempts. In another sense, he shot 5-for-19 from the floor.
But whatever! The Wizards won! Lillard drove three quarters of the length of the floor in the final seconds for what would have been the game-winning layup, but Porter, who had five fouls and missed all four of his three-point attempts and is off to a dreadful start to the 2018-19 season, snaked one of his endless, jointless noodle-arms in there and slapped it away, and that was that.
Advertisement
The Wizards are 1-2 now, they're in Oakland to face the Warriors tomorrow night, and they will lose by 75,000 points. But I bet their jerseys will be right-side-out!
Source: Read Full Article