Daryl Morey Is Daring Tom Thibodeau To Say No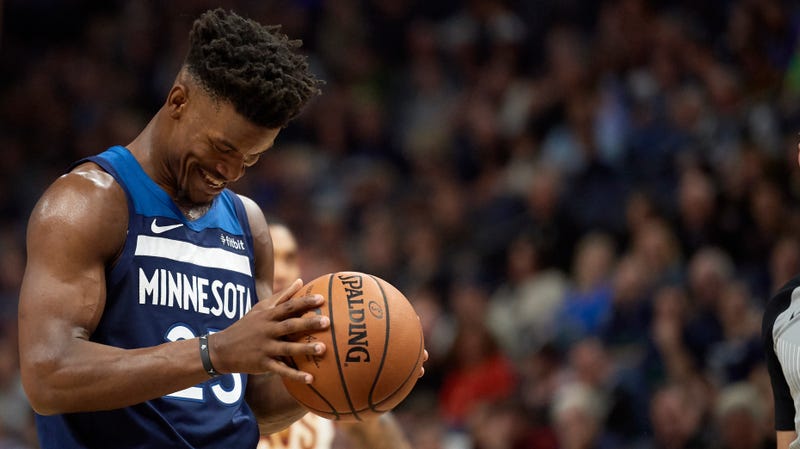 Jimmy Butler's trade demand has yet to be fulfilled at least in part due to a conflict of priorities inside the Timberwolves organization. Owner Glen Taylor reportedly favors a quick resolution and may be willing to trade Butler for players or picks with more long term than immediate value. Head coach and team president Tom Thibodeau is notoriously unwilling to give an inch on immediate success, and prefers to drive a harder bargain, even at the expense of dragging this mess out further into the regular season. Since Taylor is apparently unwilling to fire Thibodeau, for the time being the organization is following Thibodeau's approach.
The immediate effect of this foot-dragging approach is that Butler's teammates are in hell, enduring Butler's crap while also playing generally lousy, uninspired basketball. But suddenly there's light at the end of the tunnel: Daryl Morey and the Rockets have now reportedly offered the Timberwolves a package incredibly overloaded with future assets, the kind of thing that would cause any general manager who wasn't also tasked with coaching the team on a nightly basis to do backflips:
Woj shared a little more detail in the published story: the picks are spread out over seven years—the maximum allowed by league rules that also prohibit the trading of consecutive future first-round picks—and include "limited" protections. There would have to be some salary matching, as well—my guess is P.J. Tucker and Eric Gordon, who make about $21.5 million between them, or about a million more per year than Butler is paid on his current contract, which expires after next season. Houston figures to be great with or without Butler, and so you may be inclined to think future Rockets picks are worth shit, but then you remember that Jimmy Butler and James Harden are both 29, and Chris Paul is 33, and it's very possible that three years from now the Rockets will be a pile of shit. Lightly protected future Rockets picks may wind up being enormously valuable.
The Indiana Pacers got Paul George for Victor Oladipo and Domantas Sabonis, in a deal that was panned at the time. The Wolves got Butler and the 16th pick in the 2017 draft for Kris Dunn, Zach LaVine, and the seventh pick, in another deal that was panned in its immediate aftermath. Four lightly protected first round picks is an enormous haul of future assets, and it's also almost certainly the best package the team could possibly hope to squeeze out of this situation. Taylor and Thibodeau haven't been on the same page in months, and if they can't get together now, for a package that would make the Wolves movers and shakers in the draft for most of the next decade, there's no reason to believe they ever will.
Source: Read Full Article