Kubrat Pulev v Hughie Fury: Briton mentally ready for IBF world-title eliminator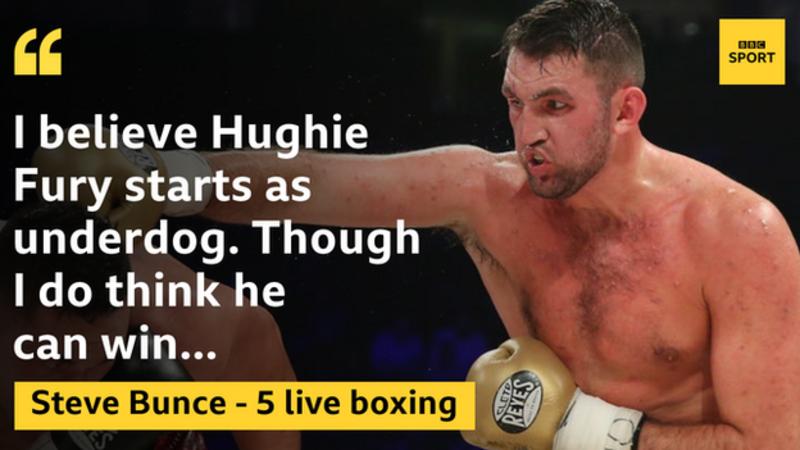 Hughie Fury says he is physically and mentally better than ever before as he prepares to take on Kubrat Pulev.
Fury, 24, faces Bulgarian Pulev in Sofia on Saturday in a final eliminator for a shot at British IBF world heavyweight champion Anthony Joshua.
Pulev, 37, is the bookmakers' favourite but Fury insists he has "no problem" with his rival's home advantage.
"He might see it as an advantage, but the pressure is on him. I will fight anyone, anywhere," said the Briton.
"Pulev is a tough opponent but this is the best I have ever felt going into a fight both physically and mentally and I'm ready to go there and get the win."
Pulev was set to face Joshua in 2017 but withdrew two weeks before the bout because of injury. His 26-fight record includes just one loss – to Wladimir Klitschko – and he has commended Fury for travelling to take a contest others turned down.
Fury has rebuilt following defeat by New Zealander Joseph Parker 13 months ago – his only world-title shot and defeat to date.
He claimed the British title in May with a stoppage win and his father and trainer Peter – who guided his nephew Tyson Fury to world title glory in 2015 – is adamant Britain has a "fabulous talent" on its hands given his son's age.
The training methods remain traditional and Peter Fury believes a focus on outdoor work aids fighters mentally, adding that a "cooped up" athlete can be fit but "unhealthy".
"I know about the scientific stuff but you can over exaggerate boxing," he told 5 live Boxing.
"Sometimes the most simple methods get lost. Ultimately, if a fighter can fight, he can train in a hay barn.
"I don't think anyone can tell me about training and what my fighters need to do. You've never ever seen any of my fighters not being able to do the rounds.
"More so than anything, to be a world-level boxer you have to have the skill. You have to implement the skill and do things differently in that ring.
"At world level, if you only have two gears and your opponent has 10, you're in serious trouble.
"The human mind runs everything, it is an incredible thing. If you haven't got the mental ability to accept what I am telling you and you can't dig deep to have that mental will to take you through hard times, then you're not going to be a world champion."
Listen: 5 live boxing – 'Hughie's big chance'
'Fascinating turn among heavyweight elite' – analysis
BBC Radio 5 live boxing analyst Steve Bunce:
We don't get many final eliminators and if this one holds, the winner gets Joshua. He, at the moment, happens to have Wembley booked but no opponent in April. So in theory, the winner gets a crack at him – possibly as soon as early next year.
We have given Pulev a lot of praise in the past and I believe Hughie starts an underdog, although I do think he can win.
BBC Sport boxing correspondent Mike Costello:
Peter Fury has told me that Hughie Fury's right hand has been underestimated, partly because he has hidden it.
There is this passion and belief in speaking to Hughie and Peter that they can do it this weekend. I think they can and this makes it fascinating at the top end of the heavyweight division at the moment.
Source: Read Full Article