NBA round-up: Victor Oladipo caps frantic finish as Indiana Pacers edge Boston Celtics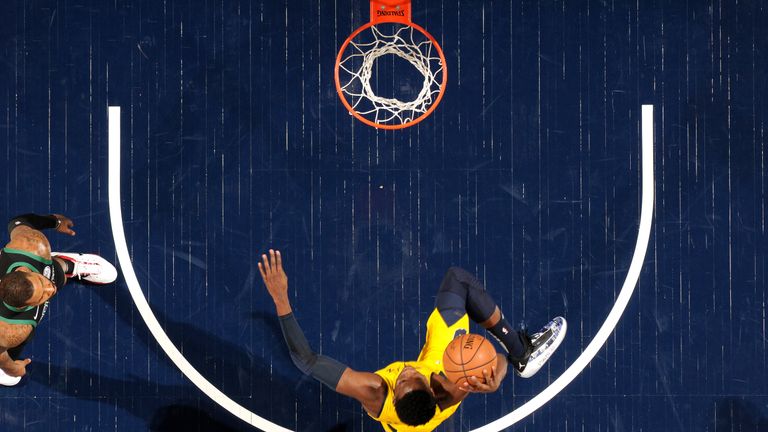 The Indiana Pacers edged out the Boston Celtics on Saturday night while the Houston Rockets won their second straight and Denver improved to 8-1.
Saturday's results
Boston Celtics 101-102 Indiana Pacers
Victor Oladipo capped a wild finish with a go-ahead three-pointer with 3.4 seconds left to seal a 102-101 win for the Indiana Pacers over the Boston Celtics.
Having won both games in Indiana last season, the Celtics looked poised for another win in the Pacers building when Kyrie Irving hit consecutive three-pointers in the final 1:08 – the second putting Boston up 101-97 with just 38.1 seconds to play.
But after Oladipo halved the deficit with two free throws with 29.2 seconds left, the Pacers got a shot at the win when Irving couldn't complete a drive with 11.7 seconds to go.
And Oladipo collected the defensive rebound before connecting from 27 feet for the game-winner.
The Celtics had one final possession, but Oladipo completed the job with a stolen pass from Gordon Hayward to run out the clock.
He finished with game highs in points (24) and rebounds (12) for the Pacers, while Marcus Morris had 23 points and Irving 18 for the Celtics.
Until the final seconds, neither team led by more than three points in a fourth quarter that featured 11 lead changes.
Houston Rockets 96-88 Chicago Bulls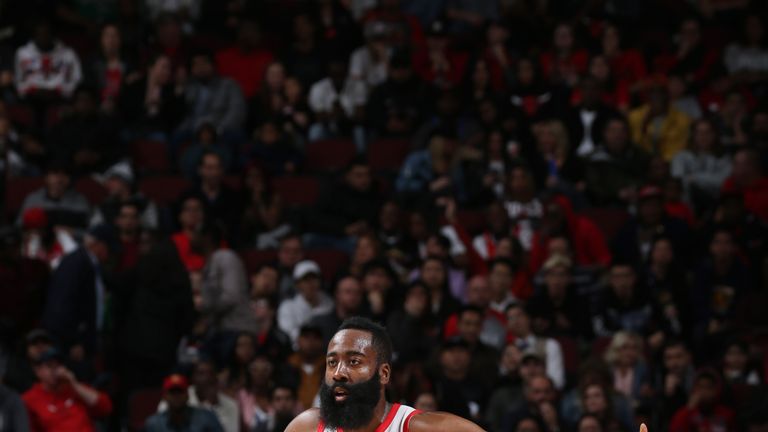 James Harden scored 25 points, dished seven assists and added four steals as the Houston Rockets pulled away for a 96-88 win over the Chicago Bulls.
Harden, playing in his first game after missing three straight with a hamstring problem, scored 11 unanswered points in a third-quarter run that pushed Houston's lead out to 71-59.
Carmelo Anthony (17 points) and James Ennis III (15 points) were among three other Rockets to finish in double figures as Houston won their second straight game having dropped the previous four.
Trailing by 17 points with nine minutes to play, the Bulls rallied with a 16-4 run to close the game 87-82 with 4:01 remaining, but the Rockets answered with Clint Capela's alley-oop slam dunk on a feed by PJ Tucker.
Zach LaVine led the hosts with 21 points, while Jabari Parker added 15 for the Bulls, who have lost four in a row and 1-5 at home this season.
Harden delivered several highlight-reel passes among his seven assists – breaking a double team and lobbing a pass toward Capela for a slam dunk in the first quarter before a behind-the-back bounce pass toward the low post for Isaiah Hartenstein's easy layup in the second.
Miami Heat 118-123 Atlanta Hawks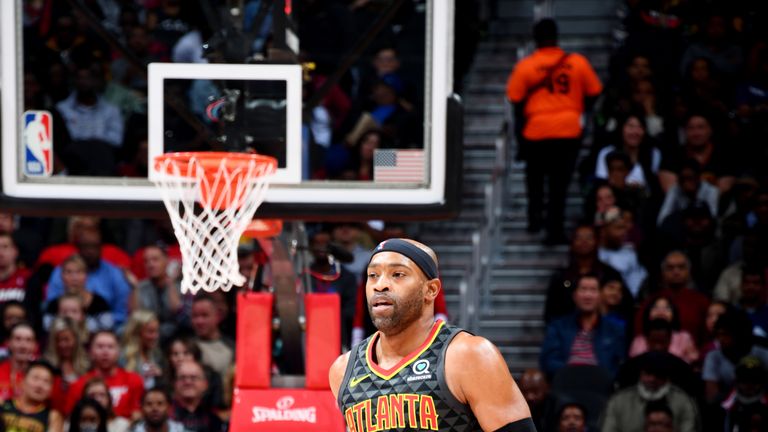 Vince Carter scored the go-ahead basket and added an assist and a free throw in the final minutes to help the Atlanta Hawks to a 123-118 win over the visiting Miami Heat.
The victory snapped a four-game losing streak for Atlanta while extending Miami's skid to three games.
Carter (12 points) knocked down a jumper with 2:39 left to give Atlanta a 120-118 lead, then set up Kent Bazemore's bucket with 2:00 left to put the Hawks ahead for good. He later made the free throw to expand the lead to five points.
Atlanta also got 24 points and 15 assists from Trae Young, who joined Dominique Wilkins as the only players in Hawks franchise history to score at least 10 points in their first nine games in the NBA.
Miami got another superb scoring night from guard Josh Richardson, who set a career high with 32 points, breaking the mark of 31 he established two games ago. Richardson was 6 of 10 on 3-point attempts.
The Hawks jumped out to a 41-31 lead after the first quarter and led 74-68 at half-time and unlike the last four games, they didn't experience a third-quarter meltdown and instead stretched their lead to 102-93.
New Orleans 95-109 San Antonio Spurs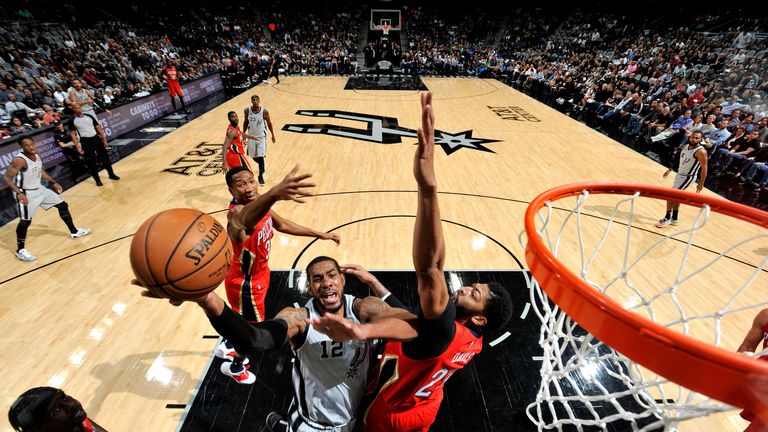 LaMarcus Aldridge and DeMar DeRozan paced the way for host San Antonio as New Orleans suffered a fifth straight loss with a 109-95 defeat to the Spurs.
Aldridge scored 22 points, grabbed 12 rebounds and dished out six assists, while DeRozan recorded 26 points as the Spurs won their fourth straight.
Jrue Holiday led the Pelicans with a season-high 29 points and eight assists, with Nikola Mirotic claiming a 22-point, 16-rebound double-double.
The Spurs went on two long runs in the first half to take control only to then see their 20-point lead nearly evaporate in the third as Holiday led an 8-0 New Orleans run that cut the deficit to 91-78 and then to 102-94 with a step-back jumper with 3:11 remaining.
But the Pelicans, playing for the fifth time in eight days, would get no closer.
A 14-0 run had earlier put the Spurs ahead before another spurt, this time a 12-0 run, opened up a 48-29 lead as New Orleans turned the ball over 10 times in the first half.
Utah Jazz 88-103 Denver Nuggets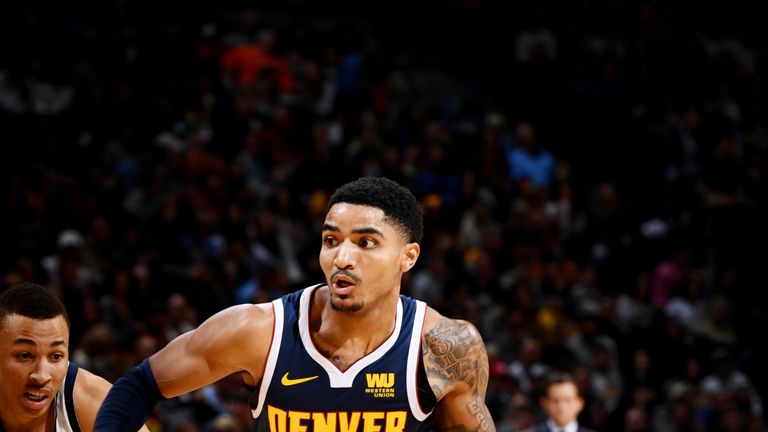 Gary Harris scored 20 points and Jamal Murray 19 as Denver used a big fourth quarter to beat Utah.
Nikola Jokic had 16 assists and 10 rebounds, but missed a triple-double with just seven points for the 8-1 Nuggets, who outscored Utah 35-15 in the final 15 minutes.
The Jazz, who have lost three in a row, got a scare when Donovan Mitchell was helped off the court midway through the fourth, but he returned a few minutes later and finished the night with 16 points.
Denver came into the night hitting 30.4 per cent of its 3-pointers and got two big ones early in the fourth quarter during an 18-0 run that turned a 77-71 deficit into an 89-77 lead halfway through the period.
Malik Beasley's 3 from the top gave the Nuggets the lead and Mason Plumlee, who had attempted just one 3-point shot all season, hit one in front of the Denver bench to beat the shot clock and make it 82-77 with 8:36 left. It was the first made three of his career.
In all, the Nuggets outscored the Jazz 24-3 in the game-changing run.
Cleveland Cavaliers 94-126 Charlotte Hornets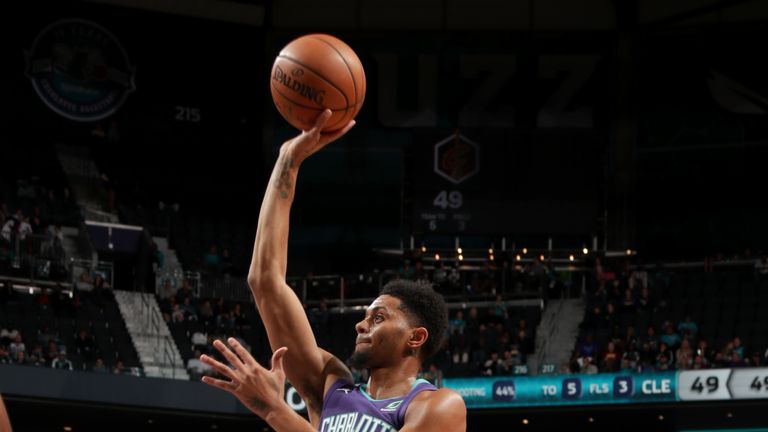 Jeremy Lamb scored a season-high 19 points as the Charlotte Hornets eased to an easy 126-94 victory over the struggling Cleveland Cavaliers.
The win snapped a nine-game losing streak to the Cavaliers for the Hornets, who led by as many as 13 in the first half before being pegged back for a 59-52 half-time lead.
The deluge came in the third as Charlotte outscored Cleveland 34-21 for a 93-73 lead and from there the lead increased to as many as 32 in the fourth quarter.
Kemba Walker added 18 points for the Hornets, and five others came off the bench to score in double figures.
The Hornets had lost four of their previous six overall. They shot 56.5 per cent from the field and were 10 of 30 from 3-point range while holding the Cavs to 43.2 per cent shooting from the field.
JR Smith led Cleveland with 14 points while Jordan Clarkson scored 13 and Sam Dekker and Kyle Korver chipped in 11 apiece, but the Cavs, who were missing Kevin Love for the fifth straight game with a foot injury, are now 1-2 since Larry Drew was named acting coach earlier in the week.
Live NBA: Sacramento @ Milwaukee
November 4, 2018, 8:30pm
Live on
On Saturday November 10, you will be able to follow the Milwaukee Bucks @ Los Angeles Clippers, also available on a free live stream, from 8:30pm on skysports.com and the Sky Sports app.
Sky Sports is the new home of the NBA in the UK with live coverage throughout the week, including selected live games free to all Sky subscribers via Sky Sports Mix.
And www.skysports.com/nba will be your home for news, reports, video and features throughout the season while you can follow us @SkySportsNBA
Source: Read Full Article