T20 legend to make BBL debut
All the talk was about AB de Villiers leading into today's Big Bash fixture, but a Test paceman has stolen the show with a ferocious spell in the Powerplay.
Flashback: AB de Villiers smashes fastest ever ODI ton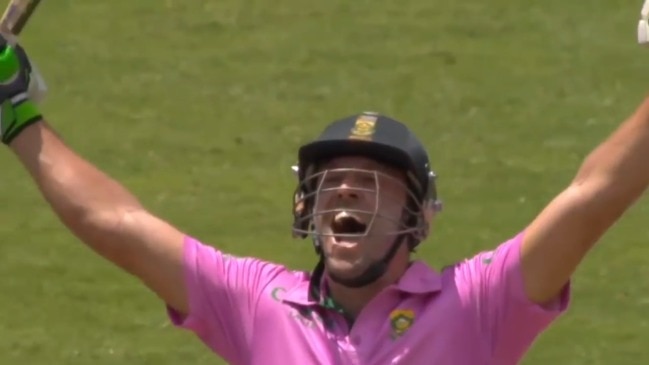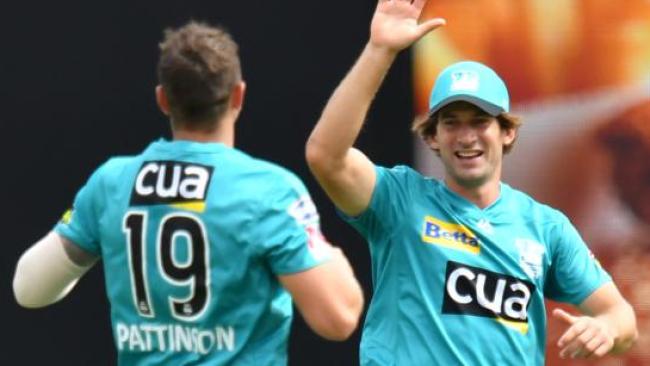 Welcome to our live coverage of the BBL clash between the Brisbane Heat and Adelaide Strikers at the Gabba.
All eyes are on the Heat's latest debutant – cricket legend and T20 superstar AB de Villiers.
De Villiers replaces English import Tom Banton at the top of the order, and will form a daunting partnership with skipper Chris Lynn.
Both teams sit in the middle of the BBL ladder, and need to manage a streak of victories to book a spot in the knockout stage.
Watch every single KFC BBL match LIVE & On-Demand on KAYO with FOX CRICKET's unmatched commentary line-up. New to Kayo? Get your 14-day free trial & start streaming instantly >
Play is scheduled to commence at 3:40pm AEST
Live Updates
Lalor's juggling act removes Short
Josh Lalor has held onto a superb return catch, removing Strikers batsman Matt Short for 11.
Short pushed a length delivery back towards Lalor, who frantically threw his hands at the ball.
The ball popped out of his grasp, ricocheted off his wrist and was eventually taken with an outstretched left arm on the third attempt.
Short departs, and Lalor secures his first wicket of the match.
WICKET | Juggling Josh Lalor puts the Strikers on 5-55!

📺 Stream #BBL09 ad-break free on Kayo: https://t.co/CfILOrTeyB

📝 Live Blog: https://t.co/QRlnEh5NTJ pic.twitter.com/r9qIJmaITb

Great catch by Josh Lalor#BBL09 pic.twitter.com/77RvdbYmko

The Strikers are in dire straits at 5/55 after eight overs.

Pattinson snares four in the Powerplay

All the talk leading into this fixture was about AB de Villiers, but James Pattinson is putting on a pace bowling masterclass at the Gabba.

The Australian paceman has claimed four wickets in the Powerplay to leave the Strikers reeling at 4/48 after six overs.

Incredibly, all four wickets were caught by wicket keeper Jimmy Pierson. The all-time BBL record is five catches in an innings.

Pattinson's fourth wicket was another feather down the leg side, with Harry Neilson the unlucky batsman walking back to the pavilion for nine.

WICKET | It's the Brisbane Heat show… with the ball!

James Pattinson's 4-18 off 2.2 overs.

📺 Stream #BBL09 ad-break free on Kayo: https://t.co/CfILOrTeyB

📝 Live Blog: https://t.co/QRlnEh5NTJ pic.twitter.com/xUy9nyVCEg

Fox hyper-ventilating about ab de villiers but way strikers are – going 4 down and a dropped catch in six overs – he might be lucky to get a hit. #anticlimax? #BBL09

Ctrl-C, Ctrl-V getting a workout for the scorers at the Gabba 🤓 #BBL09 pic.twitter.com/z1XNDD3hYb

Pattinson currently has the superb figures of 4/31 after three overs.

Pattinson strikes thrice to leave visitors reeling

Australian paceman James Pattinson has dismantled the Strikers top order, claiming three key scalps in less than two over.

After removing Phillip Salt, Pattinson cramped skipper Travis Head with a brutal delivery on the hips that seamed slightly off the surface.

The top edge was taken by wicketkeeper Jimmy Pierson, who almost collided with teammate Mujeeb while completing the catch.

WICKET | Jimmy Peirson takes the catch in difficult circumstances! Travis Head's gone early.

📺 Stream #BBL09 ad-break free on Kayo: https://t.co/CfILOrTeyB

📝 Live Blog: https://t.co/QRlnEh5NTJ pic.twitter.com/fSjx5EDn2i

In his second over, Pattinson found the outside edge of opening batsman Jake Weatherald, and Pierson accepted his third catch of the Powerplay.

Weatherald attempted a wild slash on the backfoot, gifting an easy catch behind the stumps.

The Strikers are in deep trouble at 3/31 after five overs.

Salt departs early

Travis Head won the toss and the Strikers chose to bat first in Brisbane.

Unfortunately, Head soon came to regret that decision when star opening batsman Phillip Salt was dismissed for seven.

Paceman James Pattinson bowled full down the leg side, and a fine outside edge was taken by wicketkeeper Jimmy Person.

James Pattinson with an early one for the @HeatBBL!#BBL09 pic.twitter.com/wvZy88SL41

Head comes in next at No. 3, with the Strikers are 1/9 after 1.2 overs.

AB De Villiers to debut

One of Wisden's five Cricketers of the Decade makes his debut for the Heat in the BBL this afternoon.

AB de Villiers was given his cap from former Australian cricketer Andrew Symonds, who is arguably the biggest Heat fans on the planet.

"Feel free to score as many runs as you want"@RoySymonds63 welcomes @ABdeVilliers17 to Brisbane. Thanks @HeatBBL for the access. 🤛

📺 Stream #BBL09 ad-break free on Kayo: https://t.co/CfILOrTeyB

📝 Live Blog: https://t.co/QRlnEh5NTJ pic.twitter.com/hNjT9t17ru

The South African replaces Tom Banton, who lit up the Big Bash with some impressive cameos over the past few weeks.

How good. @ABdeVilliers17 playing in our @BBL – doesn't get any better than this! #BBL09 #CricketNuffy🤓

De Villiers and skipper Chris Lynn will form an explosive partnership, a daunting task for the Strikers on Tuesday.

Source: Read Full Article