Super-sub Marnus ready for another Archer grilling after saving day
London: Marnus Labuschagne will approach the third Test as if he is starting it this time after joining the second match of the series in extraordinary circumstances and then playing a lead role in saving it for Australia.
Having first shot to attention as a super-sub in 2014 when he took a diving catch during the Gabba Test, the 25-year-old made a success of becoming Test cricket's first concussion substitute with a determined half-century as Australia salvaged a draw on the final evening at Lord's to retain a 1-0 series advantage.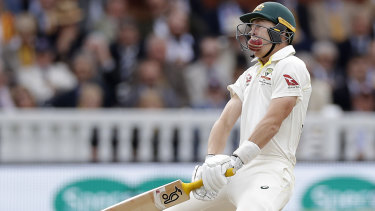 Marnus Lubuschagne gets hit in the grill by Jofra Archer.Credit:AAP
Labuschagne was having a net session against Mitchell Starc and James Pattinson on Sunday morning when Australian captain Tim Paine approached.
"He looked at me and said 'you're in mate'," Labuschagne said. "I was like 'righto'. I still finished my net, had a few more balls and then walked out and said 'righto, now it's time to focus and get your mind'."
He certainly had to do that given he knew he would be facing the express Archer, who had rattled Smith with nasty short balls that struck him on the forearm and then the neck and ultimately put him out of the second Test.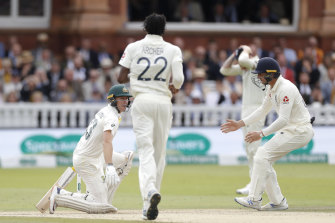 Marnus Labuschagne gets to his feet after being hit by Jofra Archer.Credit:Getty Images
Labuschagne himself was knocked over by an Archer bouncer when it slammed into his helmet second ball but he was passed fit to continue by team doctor Richard Saw.
"It got me flush but it was just 'get up and get on with it'. It got me quite flush in the grille so it took most of the blow," he said. "You get up and try and act cool. Then it was just about trying to refocus and make sure you're watching that ball again. I watched that one pretty close.
"I think what it does do is it makes you on. It means there is no mucking around. You're watching the ball and you're trying to work as hard as you can to see that ball as early as you can. That's the benefit of facing someone that fast in your first few balls.
Marnus Labuschagne acknowledges the crowd after reaching 50.Credit:AP
"Personally, being out there is probably less nerve-racking than being off the field. When [Smith] got hit, I had a bit of a sick feeling. You're kind of helpless, but when you're out there you're in the contest and the adrenaline is rushing. Pretty much all you're doing is trying to watch that ball.
"When you're off field and your hands are tied . . . it's a little bit of a shock to the system. But when you're out there, it's all guns blazing – just watching the ball as hard as you can."
Smith's concussion and the stunning entry of Archer into Test cricket and the Ashes has changed the tone of the series significantly with the Barbados-born speedster posing a constant threat now.
"It may be a thing for the rest of the series but it's our job as batters, we've got to find a way to score off those balls or get out of the way," Labuschagne said.
Source: Read Full Article