'An example of how not to do it': Devil's bargain behind record low cricket crowds
An inconsequential one-day series between Australia and England, watched by meagre crowds in an off-peak November timeslot, has provided a chilling preview of the international cricket landscape over the next four years.
That's because the future tours program for 2023-2027, announced in August, was the result of a devil's bargain reluctantly struck between the International Cricket Council and the boards of the game's richest member nations, including Australia, England and India.
A record-low crowd of 10,406 watched Australia complete a 3-0 whitewash against England with a thumping 221-run win at the MCG on Tuesday night. The previous lowest mark for a men's one-day international featuring Australia at the MCG came in 1979 during the World Series era when 12,077 saw the hosts take on England.
A lone spectator at the MCG.Credit:AP
It was a freezing night in Melbourne and a poor look for cricket, following crowds of 16,993 and 15,428 in Sydney and Adelaide, respectively. But there is much more limited-overs cricket without context to come.
The calendar strips away the World Cup Super League qualification system for ODI matches to allow cricket's biggest nations to schedule bilateral cricket pretty much as they please, in return for the ICC's introduction of more frequent global events.
Australia will play a total of 52 bilateral matches against England and India in all formats over the future tours program period, as opposed to 83 games against all other countries combined. In the longer 2018 to 2023 cycle, Australia scheduled 68 games against England and India as opposed to 106 games against the rest.
Calculated as days of content, the unevenness becomes clearer: 132 days of red and white-ball cricket (about 46 per cent of the total) against England and India, and 158 days versus the rest of the world.
At the recent ICC meetings around the T20 World Cup final in Melbourne, Zimbabwe Cricket's chair Tavengwa Mukuhlani briefly challenged the re-election of Greg Barclay, partly on the basis that someone needed to speak up for smaller nations who had gleaned so little international cricket from the FTP.
England's Moeen Ali hits the ball into the air.Credit:Getty Images
Senior cricket sources have told The Age and The Sydney Morning Herald the insistence of the former ICC chief executive, Manu Sawhney, that more global events be added to the fixture served to widen a chasm between rich and poor nations.
The calendar of World Cups and Champions Trophy events that reaped a US$3 billion broadcast deal with Disney Star resulted in the richer boards pressing for greater freedom around those tournaments, meaning a forthcoming glut of matches without context.
Test matches, which are now part of a world championship cycle, are less of an issue than the carpet of white ball games that, without the context of a World Cup, are sinking in public esteem and willingness to pay for them.
England's white ball captain, Jos Buttler, could not have been clearer in his views. Neither the increasing frequency of global events, nor the looming influx of series without greater meaning, enthused him.
"Just to take care of it, find a way to keep it all relevant," Buttler told the BBC about his message to administrators. "Maybe the ICC tournaments should be a little bit more spread out: it gives you a little bit more time to prepare and it makes them probably a bit more special when they do come around as well.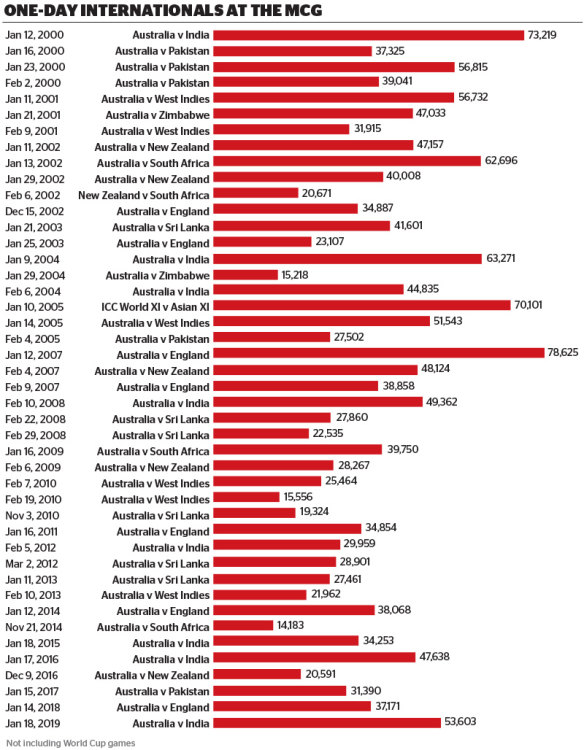 ODI crowds at the MCG (excluding the World Cup).Credit:The Age
"The landscape of cricket has changed dramatically over the last few years, and we're in a different time. Lots of people are talking about how you keep bilateral cricket relevant and I think this series is a good example of how probably not to do it.
"I feel a bit for the players, to be honest – the ones who are young and coming into the game at the moment. You want to play all formats and I don't think the schedule really gives you that chance at the minute."
That schedule, however, is locked into place until 2027. Players already being courted by a growing number of well-financed Twenty20 franchise leagues are going to find it harder and harder to put national commitments first – even when they do mean something.
News, results and expert analysis from the weekend of sport sent every Monday. Sign up for our Sport newsletter.
Most Viewed in Sport
From our partners
Source: Read Full Article