Luka Doncic caps Dallas Mavericks' comeback win over Portland Trail Blazers
Luka Doncic led a remarkable fightback by the Dallas Mavericks over the Portland Trail Blazers on Sunday, while there were also wins for Orlando and Sacramento.
Sunday's results
Portland Trail Blazers 101-102 Dallas Mavericks
Rookie sensation Luka Doncic is gaining the reputation as one of the league's best clutch performers and he did it again on Sunday with 28 points to give the Dallas Mavericks a 102-101 comeback win over the Portland Trail Blazers.
Doncic scored 13 points in the fourth quarter, a period in which Dallas trailed 96-81 with 10:43 to play – a lead Portland built on Damian Lillard's incredible 21-point third quarter, all of which came in the final 5:19 of the period.
Lillard, who started the game 2 of 11 from the field but finished with 30 points on 10-of-23 shooting, made eight consecutive shots, including five three-pointers for a 92-78 lead after three quarters, and it seemed the Trail Blazers were going to pick up a big road win with a date at Oklahoma City coming.

Live NBA: Milwaukee @ Indiana


But Doncic, who scored 13 of the final 19 points of the game, and his retooled Mavs consisting of three former bench players in the starting line-up, had other plans.
Portland were held scoreless for seven minutes of the fourth quarter and limited to just nine points, marking the first time Portland have lost this season in the 34 games when they have led after three quarters.
Newcomer Tim Hardaway Jr., acquired in the deal with the New York Knicks along with Kristaps Porzingis, scored 24 points on 9-of-18 shooting, while Dwight Powell had 13 points off the bench and Dorian Finney-Smith added 11.
Orlando Magic 124-108 Atlanta Hawks
Center Nikola Vucevic scored 19 points to lead seven Orlando players in double figures as the Magic completed a back-to-back road sweep with a 124-108 drubbing of the Atlanta Hawks on Sunday.
Vucevic was 8 of 13 from the field and added 12 rebounds, while the Magic also got 18 points from Terrence Ross, 17 each from Jonathan Isaac and Evan Fournier and 14 points from D.J. Augustin.
Aaron Gordon, who played despite a sore back, also scored 12 with Wes Iwundu adding 10.
Augustin played a flawless floor game, handing out 10 assists and not committing a turnover.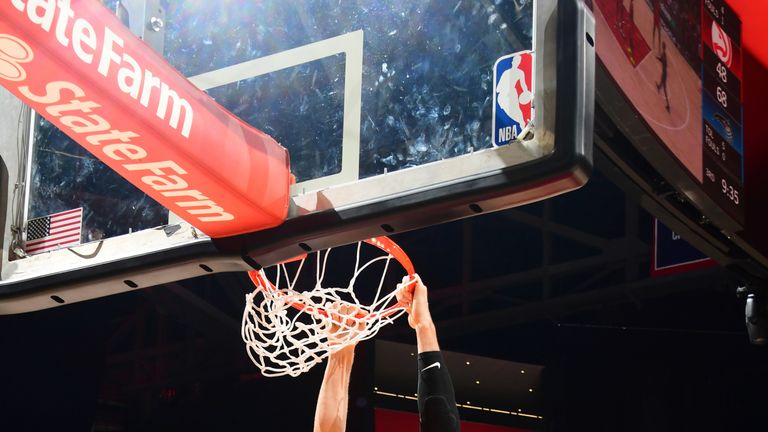 The Magic, fresh from a 20-point win over the Eastern Conference-leading Milwaukee Bucks on Saturday, showed no lack of energy in the runaway win, shooting 47.3 from the floor and pouring in 13 three-pointers to secure their fourth victory in five games.
The defeat was Atlanta's third straight and second to Orlando this season.
John Collins, who played despite a sore right knee, scored 15 points for the Hawks, who also got 16 points from Alex Len, 15 points from Kevin Huerter and 13 points and seven assists from Trae Young.
Phoenix Suns 104-117 Sacramento Kings
Rookie Marvin Bagley III scored a career-high 32 points as the host Sacramento Kings coasted to a 117-104 victory over the struggling Phoenix Suns.
Bagley shot 10 of 15 from the field and 11 of 13 from the free-throw line to eclipse his previous high of 24 points, which he recorded on Monday in Sacramento's win over San Antonio.
Buddy Hield chipped in 18 points while Bogdan Bogdanovic added 14 for the Kings, who ended a six-game homestand 5-1 and avenged a 26-turnover performance in a 115-111 setback to Phoenix last month.
Devin Booker collected 27 points and eight rebounds in his return from a two-game absence due to a hamstring injury for the Suns, who have lost 14 in a row.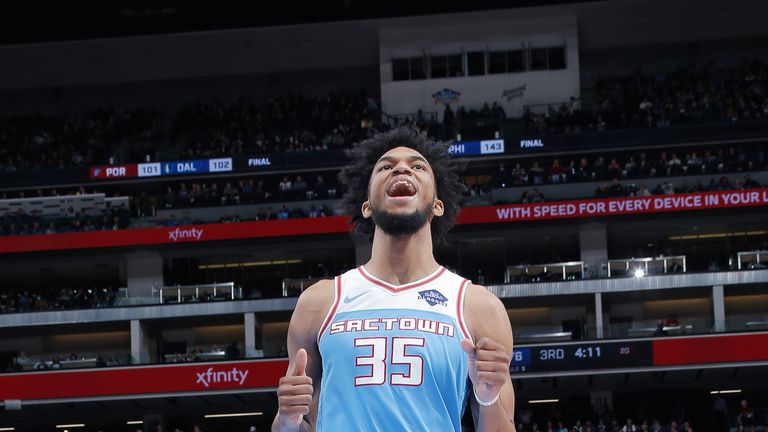 Booker briefly exited the contest after knocking knees with Bogdanovic with 1:32 remaining in the third quarter, but he returned to start the fourth quarter and drilled a three-pointer to trim what was once a 25-point deficit for Phoenix to 12 at 87-75.
But he then picked up his fifth foul on the ensuing possession and Bagley made two jumpers and five free throws in an 85-second span to stretch Sacramento's lead to 96-77 and make the game safe.
LA Lakers 120-143 Philadelphia 76ers
Joel Embiid scored 37 points and grabbed 14 rebounds to lead the Philadelphia 76ers to a 143-120 victory over the Los Angeles Lakers.
Full report here…
Miami Heat 118-120 Golden State Warriors
DeMarcus Cousins made two tie-breaking free throws after retrieving Kevin Durant's missed three-pointer with 5.4 seconds remaining as the Golden State Warriors survived a three-point-shooting assault by the Miami Heat to cling on for 120-118 victory in Oakland.
Full report here…
Source: Read Full Article